2011 NFL Predictions: New England Patriots Will Go 18-1, Win the Super Bowl
August 6, 2011
Dilip Vishwanat/Getty Images
What fun is it to look back and say you knew an outcome was going to happen, yet have no proof of it. You are just another loud-mouth talking head living vicariously through the success of your favorite team, avoiding the risk and reward of life.
Sticking my neck out, on paper, is fun for me.  I'm done jumping out of planes and jumping off cliffs into the ocean.  My bold moves these days come from my predicting the future.
In 2009, I got it right (well, half right).  I predicted the lowly New Orleans Saints would make it to the Super Bowl to represent the NFC.  The half I got wrong was that I believe they would play the Patriots. Here is the proof. 
This year, I've already predicted a paradigm shift in how to attack defenses based on the talent Bill Belichick has amassed on his Patriots 2011 squad.  You can read about that one here.
Yet after the Albert Haynesworth acquisition and hearing his mind set, as well as observing a couple early practices, it's time to stick my neck out:
The Patriots go 18-1 again, but unlike 2007, their sole loss is not in the Super Bowl.  Given the Jets mindset, I'll give them a win against the Patriots this year.  But that's it.  This team is too talented, has too much depth, is too hungry and is too well-coached not to go all the way this year.
This is an odd year due to the lockout.  The uniqueness of challenges facing teams to evaluate and stack a roster, as well as to adapt to installing the offense and defense in a compressed time frame, are also factors that lead me to my prediction.
It's probably cliche at this point, but Bill Belichick will do a better job sifting through the distractions, honing down the core components, and re-organizing the process of team building and coaching so as to prepare his staff and his team better than anyone else.
In Bill we trust.  This type of curve ball is exactly where he separates himself from the crowd, and I think it will show itself throughout the season.
Throw in that you have the best quarterback in the NFL (although I acknowledge the injured Peyton Manning, Drew Brees, Philip Rivers and Aaron Rodgers as close seconds, so cool your jets my friends) and the odds are in your favor.  
The Patriots have no weaknesses, including when the inevitable injuries occur, unless they stack up at offensive tackle.  Let's break it down a bit.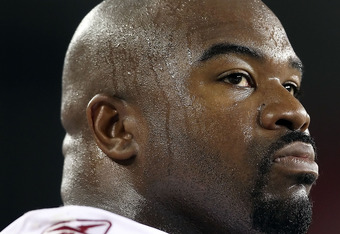 Christian Petersen/Getty Images
In the trenches on offense, the Patriots made the two absolutely critical moves they had to make:
The made peace with Logan Mankins and he is a happy camper.
They re-upped Matt Light so they are not relying to keep Tom Brady's head on his shoulders
In the trenches, based on the two moves above, the Patriots are in great shape.  Had they been able to keep a healthy Nick Kaczur I would feel they had one of the best lines in the league.  As it stands, their starters still qualify for such accolades, but their depth, although solid, could be improved.
On the left side, you have old reliable and still athletic and powerful Light.  An early injury could expose a weakness, but if he holds up, by mid-season the rookie Nate Solder will be capable.  
They also have Mark LeVoir, who's been around for a while now.  However, the most likely scenario if Light went down and Solder wasn't holding up would be to put Sebastian Vollmer back over there.  He is clearly an All-Pro talent on either side.
Of course, having Makins back at left guard makes helps out any tackle over there.  Mankins has yet to miss a practice or game in seven years, other than when he chose to stay home last year.  He will continue to maul people each week.
On the right side, Vollmer has emerged as perhaps the best, and certainly one of the best right tackles in the league.  However, right tackle and center are the only two potential weaknesses on this team.  Their starters are dominant, but the depth is questionable.  
At center you have unproven Ryan Wendell, although he appears that he can hold up based on recent performances.  At right tackle, the back up plan consists of possibly Solder and another rookie, Marcus Cannon, although projected to be a guard.  
Given Cannon underwent chemotherapy recently to thwart testicular cancer, I'd say his contributions are unlikely.  That leaves Kyle Hix, another rookie, as Kaczur was sent packing as he didn't want to take a pay cut.  So it will be interesting to see what shakes out in camp for the depth on the line.  
For the guard spots having Mankins, Dan Connolly, Rich Ohrnberger, Quinn Ojinnaka and a couple more big bodies bodes well for the team with the best offensive line coach in the league in Dante Scarnecchia.
Their skill positions are off the charts.  I refer you back to my article above when I talk about how overwhelming and unstoppable I believe the Patriots offense will be given the tight end talents they have.
However, since I wrote that, they have acquired Chad Ochocinco, who has talents they were potentially lacking on the outside of the field.  He's committed and motivated, so I believe he will blossom into the system.  
Yet, Taylor Price appears to be emerging in practice as a sure-handed speedster who can work the sidelines and smoke any corner going deep.  Given what appears to be his coming-out, along with Chad, the one perceived weakness of this offense appears to be addressed, and addressed with depth.
On special teams, Stephen Gostkowski, by all accounts, has recovered fully from a dramatic thigh injury where a quad muscle tore completely.  His ability to put the kickoffs in the end zone consistently and his field goal accuracy are among the best in the league.
The most interesting man in the NFL, Zoltan Mesko, had an above-average season as a rookie, and will be improved this year.  Tom Brady can always back him up in a pinch.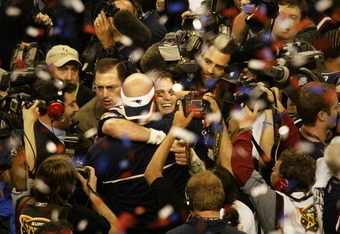 Ronald Martinez/Getty Images
Julian Edelmen, who can back up Welker due to his quickness and ability to run routes well within five yards of the line of scrimmage, will lead the league in punt returning yardage and touchdowns in 2011. This will be due to his superior talent and due to the increased number of attempts he will have based on what is shaping up to be a dominant defense.  
Last season, Edelmen appeared as if he was going to score on almost every return.  It seems he can elude the first two guys on his own consistently, so he doesn't need much help to snap of big gains on every attempt.
On defense, like many, I was surprised to see Ty Warren released.  In offseason interviews, he professed to be in top-notch condition after missing last year due to a hip surgery.  Yet, clearly the big move was getting Haynesworth.
The man got paid, and paid literally a ton of cash depending on the denominations you receive it in. So he's not worried about money.  Also, the man got properly motivated by all the shenanigans of the Mike Shanahan saga.  
A dominant force like Haynesworth who is properly motivated and properly paid on a team with a legit shot to win a Lombardi trophy means that many back up quarterbacks are going to get their shot this season.
The question is not can Haynesworth dominate anybody he faces in the league.  The question is whether he chooses to.  Haynesworth will play his ass off every week and have the best season of his career.
The Patriots have a lot of big, young bodies on the defensive line.  It is again the strength of their defense.  It will be very entertaining to see Haynesworth and Vince Wilfork play together.   That lack of pressure on the quarterback the Patriots have been crippled by recently is a thing of the past.  Belichick himself could get double-digit sacks rushing behind Haynesworth and Wilfork and Ron Brace.  
Rob Ninkovich, Jermaine Cunningham, Jerod Mayo, Gary Guyton and Brandon Spikes are all going to have their moments having free rides to sacks.  I'm sure the corners and safeties will get in on the action as well.  
Myron Pryor and Mike Wright, who have decent sack totals given their positions and the schemes they Patriots have run, will also be beneficiaries of the Haynesworth factor.
The Patriots have a deep and talented your corps of linebackers.  They have an experienced and tested group of safeties with a lot of depth, and they have one of the best group of corners they've ever had.
Devin McCourty, Leigh Bodden, Kyle Arrington, Darius Butler and Ras-I Dowling leave a lot of question marks for most.  But this humble amateur sports writer sees them emerging as the best group of corners in the AFC.  
In part, they will play so well and look so good because the Patriots are going to do what their rival Jets had hoped and boasted they would do over the years, which is blitz on any and every down.  The Jets couldn't do that consistently.  They didn't hold on to and develop the talent to be able to get an effective pass rush.
The Patriots are going to push the pocket from all directions and be a dominant defense, assuming they can ever get on the field.
They have starting quality depth everywhere on the team, including at quarterback.  Don't misunderstand, if Brady goes down, there is no telling how far the team could fall.  Yet Brian Hoyer is a quality quarterback and can hold down the ship if Brady misses some games in the regular season.
18-1.  The talk with be whether the this is a new dynasty emerging—or is it a continuation of the same era.