Belichick's New England Patriots Will Prove to Be Trend Setters in 2011
July 3, 2011
Jim Rogash/Getty Images
Bill Belichick may finally be able to hatch a game changing brain-child on the NFL, and amazingly trump the enormous laurels he's already put down in history, much to the delight of the New England faithful.
All the brilliant football minds he's known and drawn from, the endless hours of tape he has watched, and his 30 plus years of experience on the sidelines, no doubt have inspired his imagination with football schemes unique to his frontal lobe.
I predict by the end of the 2011 season, we will see Belichick's football vision of the general theory of relativity.  Like the brilliant patent clerk toiling away for years with ideas that none other had had before him, Belichick will publish his theories to the football world this season.
Belichick's brilliance on the grid-iron has been widely talked about.  He is considered one of the best defensive minds in the game's history.  I contend that to be the best defensive mind you must understand offenses better than anyone else.  After all, how can you build the most effective defense unless your vision and knowledge of offenses is superior?
The key cog to Bill's vision is the tight end.  The utilization of the tight ends gives the offense its flavor. With creative use of the right spices, a brilliant cook can take the same pasta dish and turn it into a weeks worth of specialty dishes at a fine restaurant.
Every other position is what it is.  A top tailback who can run inside, outside, and can catch the ball like a top wide can be an ingredient to diversify an offense.  But the real key to changing the game and rendering traditional defensive schemes and personnel helpless is the deployment of multiple tight end sets.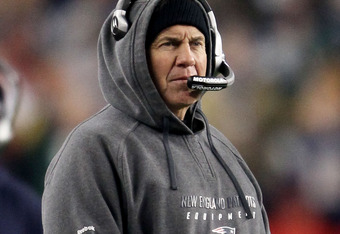 Elsa/Getty Images
A variety of multiple tight end sets is not a new concept to the NFL.  Yet Bill's constant pursuit of just the right type of tight end talent clearly tips us off to the idea that Bill's genius football mind has a vision we have yet to see.  

Given the incredible and diverse talents of Rob Gronkowski and Aaron Hernandez, I believe this is the year we see a new paradigm in football.  One that will have defenses confused and helpless.  One that will inspire new defensive concepts, and one that will be emulated by the rest of the league. 
Bill has been chasing this vision for his entire tenure in New England.  Let's take a quick recap of Bill's drafting history as it relates to this versatile position:
2000 Draft Class  (1 of 10 picks)
Dave Stachelski    Rd 5
2001 Draft Class  (2 of 10 picks)
Jabari Holloway    Rd 4
Arthur Love          Rd 6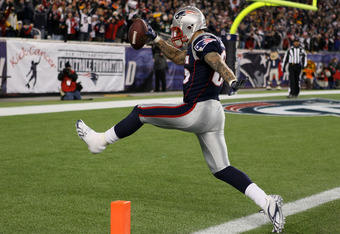 Elsa/Getty Images
2002 Draft Class  (1 of 6 picks)
Daniel Graham     Rd 1
2003 Draft Class  (1 of 10 picks)
Spencer Nead      Rd 7
2004 Draft Class  (1 of 8 picks)
Benjamin Watson Rd 1
2005 Draft Class  (1 of 7 picks)
Andy Stokes        Rd 7
2006 Draft Class  (2 of 10 picks)
David Thomas       Rd 3
Garret Mills           Rd 4
2007 Draft Class  (0 of 9 picks)
A horrific draft class -- the only survivor being Brandon Meriweather
2008 Draft Class  (0 of 7 picks)
2009 Draft Class  (0 of 12 picks)
2010 Draft Class  (2 of 12 picks)
Rob Gronkowski   Rd 2
Aaron Hernandez  Rd 4
2011 Draft Class   (1 of 9 picks)
Lee Smith            Rd 5
Do the math and Belichick has commited greater than 10% of his draft picks to the tight end position since he has been in New England.
My personal grade for Bill's tight end draft picks prior to 2010 is a C.  If it were not for Graham, I would have given Bill a failing grade here.  Although Graham turned out to be a disappointment as a pass catcher relative to the lofty expectations, he turned out to be a valuable asset blocking for Antowain Smith, Corey Dillon, and Kevin Faulk during their 2003 and 2004 title seasons.
Ben Watson was a huge disappointment.  Injury slowed him early, but after that he never became a good route runner, turned out to have inconsistent hands, and never developed a chemistry with Tom Brady.  He seems to be a better fit in Cleveland and should help McCoy  there.
Dave Thomas had the diversity Bill was seeking all these years, but his lack of size and speed prevented him from becoming a unique match up problem for a defense even though he is a versatile and outstanding tight end.
Rob Gronkowski is a mix of Daniel Graham's relentless, physical blocking and Ben Coates' dominance in the middle of the field and the red zone.  However, the Gronk brings other talents that will put him in the hall one day.  He can also go deep and has the hands of a wide out a la future hall of famer Tony Gonzalez.  
Gronkowski is a unique talent that Belichick will use to show us new ways to break down a defense.
Aaron Hernandez has the size of a tight end, the speed of a receiver, fantastic hands, and is an elusive runner.  He can play the role of a true tight end very well, even though he is not a top notch blocker. He is also a match-up nightmare for a defense, but in a different way than Gronkowski.  
On any given play Gronkowski can be a dominant run blocker, a mid-range passing threat that will draw double coverage, or a deep threat both up the seam and to the deep corner.  
Aaron Hernandez on the other hand, can be an average and adequate run blocker, play the role of a Wes Welker to move the chains on very short routes, be a deep threat inside or outside, and can run a reverse.
Those diverse and complimentary threats by these two guys, coupled with the dominant blocking of Algae Crumpler were on full display last year.  We saw how effective it was, even though they were just babies learning to walk.  We saw how dominant that combination of players could be even though the Patriots didn't have a true deep threat at receiver to stretch the field.
In 2011, with two rookie running backs in Stevan Ridley and Shane Vereen that have the skill sets of Corey Dillon and Kevin Faulk respectively (they have the potential, we of course won't know what that translates to especially given the lock-out), we will see a unique blend of pressures put on a defense.
I'm definitely sticking my neck out believing these two young running backs can reach their potential in their rookie seasons.  But if they do not, then my prediction will simply be delayed one season, until 2012.
With these two outstanding and unique tight-end talents on the field simultaneously, along with a running game that can control a defense, you put a unique set of challenges on a defense.  Linebackers and safeties will simply be over matched.  They will have to guess what to do on any given play.  They won't have the schemes to defend against the variety of options that can be thrown at them.
With the multiple tight end threats that will disguise and confuse the pre-snap defensive calls, the receiving threat of two tight ends that span the entire field, the physical inside and outside running threats of strong backs who can also catch the ball, and who will have potentially 7 or 8 run blockers blocking for them (5 lineman plus the 2 or possibly 3 tight-ends), there are simply too many threats to account for from the same personnel groupings.
In addition to this, to have to deal with Wes Welker and Tom Brady, I see an exciting and unique style of offense that will force new defensive concepts.  Also, if Taylor Price can get on the field and become a legitimate deep threat for a defense to consider, we might see the most dominant offense in NFL history.
There are a lot of things that have to go right in any season for things to gel.  This year, the Patriots need to get Logan Mankins signed first and foremost.  After that, they also need to lock up Matt Light for another season.  They can't let this potential revolutionary masterpiece be undermined by a rookie left tackle's growing pains.
The 2011 New England Patriot offense will start another chapter in the ongoing Belichick legacy of greatness, and it will be a turning point in the evolution of the game.