NFL Rant Featuring Fat Albert, McNabb Unleashed, Flacco's Flak and Osi's Dillema
August 4, 2011
Christian Petersen/Getty Images
Fat Albert falls upward!
Albert Haynesworth got his wish in a trade to the New England Patriots after two miserable seasons in Washington.
"It's a refresher, I love it," Haynesworth said Tuesday after the team's three-hour practice. "It kind of revived me."
I'm over people having to coddle professional football players. Well, non-quarterbacks.
Haynesworth was the highest-paid defensive lineman in the NFL. What gives him the right to tell the coaches what position he should play?
If you are the highest-paid lawyer in a firm, do you not take the toughest cases? "Whoa, I never said I wanted to go to trial."
If you are the highest-paid surgeon, do you expect someone else to perform the brain surgery? I'm not trying to say knee surgery is easy, but let's face it, it's not brain surgery.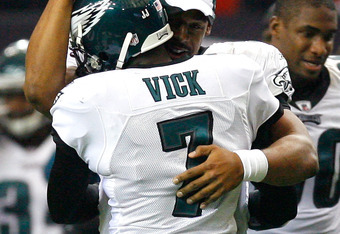 Kevin C. Cox/Getty Images
Haynesworth came into camp way overweight last season, so Mike Shanahan expected him to perform physical tests before he could practice. "Wow, Albert, you sure look fat. Not to mention you are breathing heavily just trying to put your uniform on. Why don't you try running the forty in less than ten seconds and we can see if you could stay on the field for more than two plays at a time."
Yes, I am sure Haynesworth will be just fine in New England. As was Randy Moss after he threw a similar temper tantrum in Oakland, prompting Al Davis to dump him on the Patriots.
When will GMs learn that you should dump your high talent in the NFC West (not with the Patriots) where there is no surrounding high talent. Larry Fitzgerald may be the best wide receiver in the NFL. Big whoop! Patrick Willis is probably the best linebacker in the NFL. Now I can wet my pants. 
McNabb talks Eagles super signings
Donovan McNabb was quoted as saying:
"Then, you've got to worry about DeSean (Jackson). When he comes back are you going to give DeSean the ball or throw it to (Jeremy) Maclin? Remember, you have to give LeSean McCoy the ball, too. And then at the end you still have to pay Mike Vick. They have more problems than people are looking at."
McNabb, how about you worry more about the Vikings and less about how Vick is going to spread the ball around. Yes, it's a quarterback's nightmare to have a plethora of talent around him.
Yes, they have to pay Vick, but I like McNabb's optimism that the Eagles have problems.
McNabb has no room to point at other quarterbacks or teams when he is setting new lows in his career. Last season, McNabb lost his starting job to Rex Grossman in Washington. Now, McNabb is competing for a job against rookie Christian Ponder. The 23-year-old Ponder threw for a marvelous 170 yards a game in the ACC. By marvelous, I really mean mediocre.
McNabb is acting like the guy who was dumped before prom. Meanwhile, his former date is now getting a makeover and dating the most popular guy in school. 
Joe Flacco thinks he's pretty damn good
He said it. He also said it doesn't matter what other people think. Here's the direct quote (for more of an impact, read this in a Pee-Wee Herman voice):
"What motivates me is being the best quarterback in the world," Flacco said as players reported to team headquarters. "You don't play this game to be average. I play this game to be the best. It doesn't matter what other people say. I think I'm pretty damn good. I don't need to go out and tell everybody that and show it on every given Sunday. I go out there and I play. You can think what you want about me. The bottom line is: I'm going to feel pretty good about myself no matter what you say."
I know what you are, but who are you?
I personally think he is a big, tall, goofy, overrated quarterback. Ben Roethlisberger used to hold those credentials—until he won a Super Bowl, fell off his motorcycle, won another Super Bowl, got accused of rape and then lost in the Super Bowl. How does Flacco compete with that?
Flacco has technically gotten better each season, just check his quarterback ratings increase. Still, he's not leading his team to victory, but he isn't leading his team to defeat either.
The best part of the Flacco quote is, "I think I'm pretty damn good. I don't need to go out and tell everybody that and show it on every given Sunday." Really? If he knows he's that good, why doesn't he show it every Sunday?
The fact that Flacco can give himself gold stars is pretty admirable, considering his playoff stats are horrendous—except that game against the Chiefs. His three quarterback ratings in three playoff losses? 18.2, 48.4 and 61.1.
That might be why Flacco is catching flak—he doesn't show it every Sunday. But at least Flacco can feel good about himself after another playoff loss.
Bron Bron for Tebow
 Tim Tebow just received an endorsement from NBA star LeBron James. James tweeted: "Listened to Merril Hoge today on SC and he was just blasting Tebow. The man hasn't even play a full season and its only his 2nd year in. Guys get on that TV and act like they was all WORLD when they played. How bout encouraging him and wishing him the best instead of hating!!"
I'd hate to be  Hoge right about now. I bet his face is red.
LeBron is right on…It's only Tebow's second season.
I guess James doesn't know what makes good TV. It's why Hoge gets the title of analyst—he analyzes. If James wants to watch the "encouragers" he should flip to the Real Housewives of Atlanta. "Oh Damn, Shaunice got a big butt."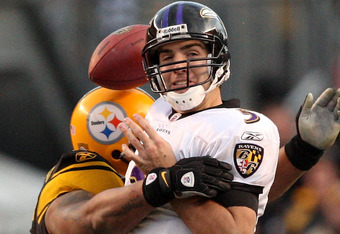 Karl Walter/Getty Images
The best thing for Tebow is allowing Orton to start and create a controversy. The Broncos are going 4-12 no matter who the starter is this year.
Giants have a problem with Osi
Osi Umenyiora wants out, and the Giants are holding their ground. In an account of "he-said-he-said," Umenyiora made a claim that the Giants GM Reese offered to pay him top dollar back in 2008 if he was playing at a high level.
It's too bad Umenyiora missed the 2008 season, slowly recovered in 2009 and had a decent 2010. Umenyiora has two years left on a six-year contract. He has only three seasons of double-digit sack numbers. Since Michael Strahan retired, Umenyiora has hardly been the man.
Why wouldn't he be upset? He may not be any good in two years, so obviously he wants to sign a big contract as soon as he can. Unfortunately for Umenyiora, even if he signs a big, long contract, whatever team (probably Denver) will just release him in a couple years when he becomes an offensive tackle's hitting pad.