NFL Free Agency: Nnamdi Asomugha's Impact on Jets' Defense Could Be Historic
July 27, 2011
Ezra Shaw/Getty Images
I never lie to my readers so I won't start now: I'm still not over it.
"It" could mean many things for Jets fans but I hope that most of my fellow Jets fans realize that this is the 2011 AFC Championship Game. But it's not the whole game that I can't get over. The Jets were outplayed in the 1st half and tried to pull off a 2nd half comeback that made me proud, yet left me disappointed.
No, the "it" I am referring to was the last play, the play that sealed the Jets' fate, that 3rd and however long to go play that the Steelers converted, effectively sending the Jets home. I still haven't watched that play, I don't know who caught the pass (I think Mike Wallace) and I don't know who the Jet was who thought Roethlisberger was going to run. I can't bring myself to watch it.
With the lockout going on, I didn't want to discuss the Jets or football. When my friends would be talking about football, I chose not to partake because the NFL was never going to play again in my eyes. Not to mention that when the lockout was over, the Jets had some problems.
The NFL lockout ended and I was happy to get my Sundays back but I wasn't overly excited. I knew the Jets would lose some key pieces and there was a pretty good chance they would not be as good as last year.
My mood changed today.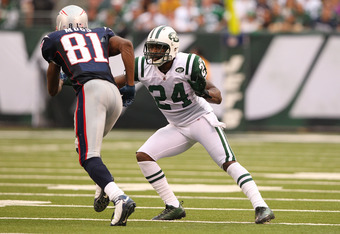 Al Bello/Getty Images
First, the Jets signed Santonio Holmes to a five year, $50 million contract that, according to Pro Football Talk, has a cap hit of only $2.45 million this year. This is quite a steal for the Jets this year because of how many free agents they have.
This leaves room to sign Nnamdi Asomugha, who can be signed for a good deal (although he would probably still need to take a pay cut, just not a huge one) while still leaving room to sign others. I can't tell you how excited I am about the possibility of Revis and Asomugha playing together. I can't think of another cornerback tandem in football history that could match the skill of these two players.
Revis is already on board. He said today "We want to see it. Hopefully it will happen" (Manish Mehta of the New York Daily News). He also called Asomugha "the best CB in the league. Me and him as a tandem would be unbelievable. It would be awesome"
So this all looks really good on paper, but let's analyze this from an on-field perspective. Assuming everything works out with Asomugha, the Jets are still going to be weak up front on the defensive line. Last year the Jets had trouble getting to the quarterback when they didn't blitz, and even when they did blitz, they still had trouble.
The Jets ranked 3rd last year in rush defense, although in some games the defense looked like they were having trouble stopping it (particularly against Houston and the 1st half of the AFC championship game against Pittsburgh). If the Jets can keep that up, they will have a formidable defense this year.
And maybe, if they play to their potential, be amongst the greatest of all-time.
 It is no secret that the Jets like to blitz, as they were amongst the league leaders in blitz percentage the last two seasons under Rex Ryan. But it was when the blitz failed that the Jets were left out to dry. As great as the Jets secondary was, especially in 2009, it is hard for the secondary to hold tight to receivers when six or seven blitzers can't get to the quarterback.
But if the Jets get Asomugha, what options does a quarterback have? His top two receivers are going to be covered by arguably the two best cornerbacks in all of football. Typically the Jets would play man-to-man with Revis and then hope for the best with the other cornerback and safeties.
Now with Asomugha added into the mix, where will the quarterback throw? You might say pick out the weakest cornerback in a 3 wide set, which would be Kyle Wilson, who was a first-round pick in 2010. I'll take my chances.
The Jets' core nucleus on defense will be back. Bart Scott, Calvin Pace, Mike DeVito, Jim Leonhard, the quarterback of the defense, and Revis will all be Jets next season. The impact of Jim Leonhard returning after missing the 2010 season starting with the Monday Night Massacre in New England will be gigantic for this team.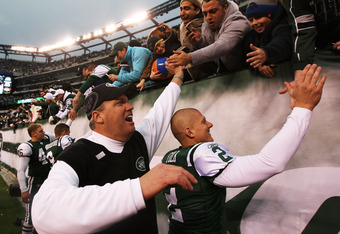 Al Bello/Getty Images
With Asomugha, the Jets' blitz will have more room for error with another shut down cornerback. Now instead of knowing they have to get to the quarterback in five or six seconds unless the secondary will be picked apart, they now may have the flexibility of seven or eight seconds to get pressure.
This also allows for Mike Tannenbaum to sign cheaper players on the defensive line because the secondary will be such a strength. I'm really looking forward to seeing what Muhammad Wilkerson, the defensive end chosen in the first round, can do on the defensive line and if he can have an impact.
Let's not forget the Rex Ryan factor as well. Ryan has always been known as a player-friendly coach, having been named the coach players would most like to play for in a Sports Illustrated anonymous poll last year. In his book, he talks about how he got the most out of players such as Sam Adams in Baltimore. He also resurrected the career of Trevor Pryce, who had been cast away by the Ravens. Rex Ryan can inspire players to do more than they are capable of, and that is what the Jets need along the defensive line.
Someone will have to step up on the defensive line to provide a pass rush without the blitz so that it may be possible to drop one more player into coverage. Remember, a shutdown corner who a coach can rely on in 1-on-1 situations means that another player is free to blitz. With two shutdown corners, the Jets can blitz an extra guy or two to make up for a lack of a pass rush.
The Jets always rely on defense, it is Rex Ryan's bread and butter. Mark Sanchez is not one of the best quarterbacks in the league but no one is asking him to be. Sanchez knows how to manage a game. The Jets are a ground-and-pound team, ranking fourth last year in rushing yards.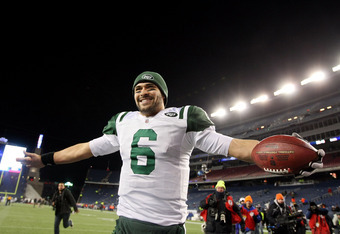 Al Bello/Getty Images
Sanchez will also be better. He may not take leaps and bounds from last year, but he is continuing to mature as a quarterback. The Jets should rely on the pass more this year with Sanchez at the helm.
 The Jets defense is not going to be as good as the 1985 Bears or the 2000 Ravens (both had coaches with the last name Ryan on them) but there is no reason why the Jets cannot be the best defense this year if they sign Nnamdi Asomugha. The Jets could very well be the best defense of the year, and maybe, if they play to their potential and sign Asomugha, we can look back at this defense and be reminded of greatness.
But it all starts with signing Asomugha, and before we talk about greatness, a Lombardi Trophy has to be in Florham Park, right next to the 1969 trophy.
Thanks for the read and feel free to comment.
Keep the military in your thoughts and prayers