Kobe Bryant: Is Lakers Star Near the End of the Road with a Slipping Franchise?
December 23, 2011
Harry How/Getty Images
Right now I know one thing for sure: Kobe Bryant isn't looking like Kobe—and the Los Angeles Lakers self-destructed on national television in the 2011 NBA Playoffs. 
Kobe couldn't close, much like LeBron the 2011 Finals, and the Purple and Gold looked inept at times.  In fact, they looked a step slower.
They couldn't get there first, and the other teams were beating them (I borrowed that "couldn't get there" from Jerry West).  Kobe looked slow and the end of his playing career is finally in sight.
To make matters worse, I'm one of the Lakers' biggest fans.
I've got the purple and gold shoes, the gold and black Kobe models and the list goes on.  But I'm hurting man.  Kobe is looking like the end is closer than we all want to believe, and this year he needs help.  
He can't do it alone anymore, and the Lakers lack a confident No. 2 guy to step up and take over the game.  Paul Gasol looked scared or distracted and wasn't a positive factor in the Conference Finals.  I'll never forget Coach Phil Jackson poking Gasol in the chest during a timeout on the sidelines against Dallas.
Kobe looks hobbled at times.  He's had trouble with his ankle, knee and fingers; his knee procedure over in Germany was quite surprising and makes one wonder how nagging his injuries are. 
He's going into his 16th year and the wear and tear must be tough.  Still, something is off with Bryant and we all see it.
Perhaps we don't want to admit he won't play forever.
And unless he recovers fully and gets a point guard and consistent No. 2 scoring option, he could be in for some long twilight years. 
The young guys are taking over the league and Kobe hears the footsteps.
Russell Westbrook, Chris Paul, John Wall and Derrick Rose have kicked it up a notch, and some of these talented point guards play above the rim.  Kobe isn't playing above the rim like he used to. Times are changing.
No. 24 is still the most popular professional basketball player in the world, with LeBron trailing slightly.
But those days of Kobe flying around the cup are over.  Long gone.  He can still get up and down the court, but not night-in, night-out.  Hard to admit.  Hard to accept.
Father Time caught up with him, and I hear he's undefeated.  That won't stop Kobe from playing a few more years, but like most aging superstars, it won't be pretty.  I'm not hating.  We've all seen it before.
Look, I'm not saying Kobe won't come out "all guns blazing" this year, but 22 points per game isn't exactly dominating in the NBA.  His diminished offensive input is desperately needed, but it's not enough. 
If Kobe were dropping closer to 30 a game, It'd be a different story.  He's not the closer like we've seen in the past and that's the major reason the Lakers are slipping as a franchise.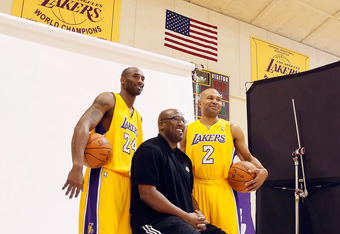 Jeff Gross/Getty Images
The days of Dr. Jerry Buss calling the shots are over, and it shows. 
His son, Jim, is now running the show and his first official business was to hire former Cleveland Cavaliers Coach Mike Brown.  Although he's a decent coach, it wasn't exactly a huge announcement or hire.  It lacked the necessary fanfare that goes along with Lakerland.
I'm not sure what's going on in the front office.  They knew Phil Jackson was planning to retire for years, and still didn't have a very good plan when he left.  Jim Buss isn't setting the world on fire as he takes the helm of the Lakers, and in Southern California that could be a problem.
I'll say this about Dr. Buss: He's a winner and always had the Lakers in the hunt for a ring.  Jerry West invented showtime and the party was underway at the old Forum.  They've got the championship banners to prove it.
But with him stepping aside, where does the franchise go?
Jim is now in Dr. Buss's role, and it's tough to fill a legend's shoes.  I don't care if you are the son.  No disrespect to Jim, but he's facing perhaps an unwinnable battle.
Seventeen NBA Championships decorate the team and its image.  Man, talk about pressure.  If Jim Buss doesn't win, what happens?  Does Jeannie Buss assume control?  Who knows.
Maybe I'm jumping the gun here.  I don't like what I've seen so far, and I've been following this team since the West-Chamberlain days.  The team appears to be losing some luster, and Kobe seems less dominating.
Ethan Miller/Getty Images
A declining Kobe means someone has to step up.  Or at the very least, Buss has to make some key signings. 
So far, zilch. 
Josh McRoberts isn't a good replacement for Lamar Odom's shooting, passing, rebounding and ball-handling skills.  Blue-collar players like Troy Murphy are adequate, but I don't see them as part of a championship team.  Shannon Brown is off to the Phoenix Suns, and now you know the rest of the story.
Personal problems with his marriage to Vanessa aside, it was gonna be a tough year for Kobe anyway.
He's pissed the Lakers got pushed around by Dallas last year, and wanted some payback.  But one morning he woke up and Odom was in Texas, Brown was Arizona and his career just got more complicated.
We should all be grateful we had the chance to see Kobe Bryant play basketball.
He was a joy to watch as a 17-year-old in the NBA.  He was so young, his father, Joe "JellyBean" Bryant, had to co-sign his first NBA contract.
We watched him develop into a champion with Shaq.  We watched him win more championships with Fisher, Gasol, Farmar and company.  It was fun.  And I thank him for the enjoyment.
He's already developed the "Jordan in The Later Years" approach.  He mostly shoots jumps shots and rarely attacks the cup like he used to.  He does more than most players his age, but in the latter stages of his career he's getting hammered.
Deandre Jordan of the Clippers showed us that. Too much of that, and No. 24 will start missing games—something he hates to do.
I fear Kobe and Mike Brown won't work.  Not that Brown isn't a good coach, but perhaps not the right kind of coach for Kobe during the twilight of his career.  Brown needs thoroughbreds like LeBron to run the court and L.A. doesn't have that right now.
Winning one more ring for Kobe would be the icing on the cake.  Will it happen?  Maybe, but not this year and not with this team.
Kobe's perfect career ending would involve Orlando Magic center Dwight Howard.  And I'm not sure David Stern would let that happen, just as he denied the deal that would have made Chris Paul Kobe's Laker teammate.
Kobe can still play, but his championship days appear to be long gone, thanks to age and a meddlesome commissioner.