NBA Finals 2011: The Miami Heat Revolution Will Be Televised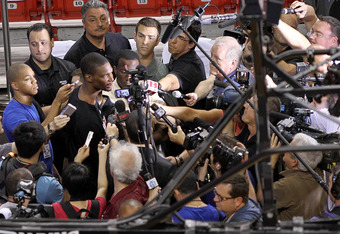 Mike Ehrmann/Getty Images
Legendary poet Gil Scott-Heron was wrong. The revolution will not only be televised, but it is happening as we speak.
It didn't begin this past July as many people have suggested. No... This started long before "The Decision." The genesis of this movement came way before Cleveland Cavaliers' owner Dan Gilbert took to his computer to type 421 words of vitriol in Comic Sans font.
See, the seeds of the revolution were planted in the minds of LeBron James and Dwyane Wade and Chris Bosh several years ago.
Truth be told, this was all started by Danny Ainge.
Back in the summer of 2007, the oft-maligned Celtics GM acquired Ray Allen and Kevin Garnett in separate blockbuster deals. The duo, along with Celtics' stalwart Paul Pierce, combined to create one of the more imposing trios in basketball history.
The following June, Boston's "Big Three" collected the first championship rings of their careers.
And so it began.
Weeks later, James, Wade and Bosh discussed the possibility of joining forces during the 2008 Olympics. All three were set to be free agents in the summer of 2010, and the Celtics' success taught them—and all of us—a very important lesson.
The "super team" strategy actually works.
"[The Celtics] set the blueprint for us when they decided to make the trade for [Garnett] and for Ray [Allen]," said James, earlier this postseason. "Seeing guys make sacrifices to come together and play as one. They set the blueprint and went out there and did it."
Many argued that Boston's title run was an aberration—an outlier of sorts. Each member of the Celtics' core group was over 30 years of age by the time they had joined forces. Three perennial All-Stars in their prime—James, Wade and Bosh—obviously couldn't put aside their egos (and ignore their respective bank accounts) to accomplish a singular goal, could they?
In a word? Yes.
Two summers after capturing the gold medal together in Beijing, Miami's version of the "Big Three" chose to forego personal accolades for the benefit of the greater team. At its very essence, it's what team sports is all about.
Granted, they are each being paid handsomely to ply their trade in one of the most beautiful cities in the world. But they could have easily gone their separate ways, signed more lucrative deals, and racked up far more individual accomplishments than they will as a unit.
Instead, they chose to link up, and infamously vowed to bring "not one, not two, not three...", but several championships to South Florida, angering those who quickly accused James of taking the easy way out in his quest for a ring.
Miami's 9-8 start only emboldened the doubters. November's "Bumpgate" only caused speculation that Heat coach Erik Spoelstra wasn't long for the bench.
As recently as March, cynics were overjoyed at reports of players crying in the locker room following a defeat to the Chicago Bulls.
Let it be known that the Heat dynasty started not with a bang, but with a whimper. Literally.
Four nights after the Bulls loss, the Heat finished the regular season by winning 15 of their final 18 games. They haven't played to their full capabilities for an entire 48 minutes during this post-season, yet they've rolled through the 76ers, Celtics and Bulls to the tune of a 12-3 record.
The naysayers who thought that the Heat couldn't play selfless basketball have been sorely mistaken. Those who said that James wasn't clutch have been silenced following his performance in the Eastern Conference playoffs.
The highlights are on SportsCenter, NBA TV, and your late-night local news. And they all tell the same story.
The revolution is here. And it's only just begun.
While the culmination may occur in June, it likely only marks the beginning of Miami's reign. Wade is the oldest of the Miami threesome, and he hasn't even turned 30 yet. So, barring injuries, for one to assume that the Heat's dominance will be short-lived is extremely short-sighted.
Many have yet to come to grips with that reality. For them, Miami's successes will always go down as smooth as a spoonful of castor oil.
For others, the revolution will be a glorious occasion. The eventual hoisting of the Larry O'Brien trophy will be a moment of vindication for Spoelstra, who has been under the white-hot glare of media scrutiny ever since James told the world where he decided to take his talents to.
For Spoelstra, a championship victory will taste sweeter than the finest Cuban cigars, several of which will undoubtedly be lit to mark the official coronation of the "Three Kings", or "The Heatles", or whatever the celebratory T-shirts will read.
You can turn off the television and deny it all you want. But the revolution is here: live and in living color.
Enjoy the show.
This article is
What is the duplicate article?
Why is this article offensive?
Where is this article plagiarized from?
Why is this article poorly edited?

Miami Heat: Like this team?