2011 NFL Draft Results: Redskins Turn Draft Strategy Upside Down
May 4, 2011
Chris Trotman/Getty Images
If you are a true, die-hard fan of the Washington Redskins, you probably thought that this year's NFL Draft was like a mysterious TV script out of a new Twilight Zone series.  
If its premiere show was slated for release this spring, it would go something like this:
Washington owner Daniel Snyder sits anxiously in the Redskins War Room in Ashburn, Virginia. But in contrast to a decade of calling the shots, he has little input on draft decisions in 2011.
In fact, he has tried to remain quiet lately, after a disappointing 6-10 season and a tumultuous year, which culminated in a bitter feud and a defamation of character lawsuit against Washington City Newspaper.  
Aside from the draft, the only thing on Snyder's mind is a future without Albert Haynesworth and Donovan McNabb, who together have cost him nearly $56 million in two years. It's okay for him to daydream.  At least for now.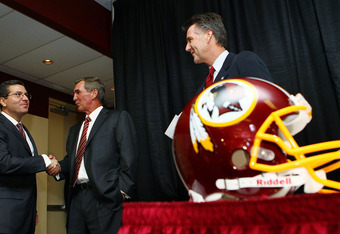 Win McNamee/Getty Images
In the meantime, a couple of stern men sit stone-faced, at the head of an eight-foot long table that is covered with laptops, paperwork and statistical data from college pro days and the NFL Combine.
With a look of concern, Mr. Snyder resembles a captain who is lost at sea.  Then again, that may be an understatement.  Since former executive vice president of football operations Vinny Cerrato stepped down in December of 2009, Daniel has been without a navigator.  
Even former offensive consultant Sherman Lewis jumped ship. The team's emergency play-caller during the Jim Zorn era eagerly went back into retirement to call bingo games in senior centers.
So, for the second consecutive year, General Manager Bruce Allen and no-nonsense coach Mike Shanahan manage the draft. Both men have heard the old war stories of Cerrato's incompetence and Snyder's insistence to trade away valuable draft picks for big-name free agents and over-the-hill has-beens.  
And since beginning their Redskins voyage a year ago, Allen and Shanahan have thought long and hard about salvaging a vessel that sunk long ago.  
In an article from October of 2009, Washington Post writer Sally Jenkins quoted a longtime NFL general manager who has worked for owners who are similar to Snyder.
"There are a handful of franchises in the league where the owners think they're football men, and want to make football decisions," he said.  "And it just doesn't seem to work. It may be a reason why those franchises continue to struggle."
To his credit, Snyder seems to have finally got the message. Allen and Shanahan are respected men with experienced football minds.  Both of them have built winners before and Snyder just needs to stay out of their way.
Now let's return to Washington's new, regularly scheduled program.  
On screen, Shanahan and Allen are the center of attention and in full command, but they are heavily scrutinized by critics and fans, who have chided them for the acquisition, benching, re-signing and benching again of McNabb.  
Acquiring the veteran signal-caller from Philadelphia may have seemed like Snyder's doing, but reports have surfaced that suggest that Shanahan and Allan believed McNabb was "the guy" that could help turn the Redskins fortunes around.  We all know how that turned out, so this year's lottery of picks have added importance.
With the 10th overall choice in the draft, the Redskins have plenty of options.  They can try to trade up to take a stab at the top-rated signal callers or they can stand pat and draft the best player available.  
Following Carolina's pick of Auburn's Cam Newton at No. 1 and Denver's choice of Texas A & M's Von Miller, the Redskins are one of many teams that float trade offers to the Buffalo Bills by phone.  But the Bills don't bite and instead rejoice, by selecting perhaps the draft's most dominating player, Marcell Dareus of Alabama.    
Seven picks later, the Redskins are finally on the clock and Missouri's Blaine Gabbert is there for the taking.  Snyder is sweating bullets, but Washington passes on the potential franchise quarterback and instead trades with Jacksonville to acquire a second pick in Round Two (No. 49 overall).
Equipped with the Jaguars 16th overall selection, the Redskins choose Purdue defensive end Ryan Kerrigan, an overachiever, who never quits on a play.  "Kerrigan reminds me, as far as his size and traits, of Randy White," said former Dallas personnel genius Gil Brandt, who now works as a draft guru for NFL.com.  "It doesn't mean he'll be a Hall of Famer like White was, but there is some similarity."  
Mr. Snyder is still reeling from the thought of Rex Grossman being his starting quarterback, but he will welcome a Randy White clone over a lazy Haynesworth any day.
The rest of Washington's draft was so mind-boggling, I thought the team's owner had been hypnotized or dragged out of the room.  If you were keeping score at home, you probably felt like you were in your own twilight zone by the end of the draft.
A friend of mine who bleeds burgundy and gold waited patiently for the Redskins to take a quarterback because McNabb is not expected back, Grossman is a free agent and John Beck has yet to win a game in four NFL starts.  But four field generals were gone in round one and two more were plucked by the time Washington picked in round two.  
"They have to take Ryan Mallet," my friend screamed through the ear piece of my cell phone. But that refrain would be repeated over and over, as the Arkansas quarterback with the questionable past continued to free-fall into the third round.  Washington actually passed on Mallet four times to the chagrin of my friend, who probably felt as helpless as Snyder.
 Mallet was eventually taken with the 10th pick of the third round by New England, which will make him an understudy to Tom Brady.  I bet they are both excited about that.
Washington stayed put with the 41st overall pick to select 6'4", 310 pound Clemson defensive tackle Jarvis Jenkins, but Allen shopped the 49th pick (that he received in the Jacksonville swap) to Indianapolis for the Colts 53rd pick and a fifth-rounder.  Then, when it came time to use the 53rd pick, the Redskins traded down again.
Washington's next trade partner was Chicago, which gave up its 62nd pick and a fourth-round choice (No. 127).  But Allen was not satisfied.  He traded down for the third time in three rounds (with Miami) to score big with the Dolphins' 79th pick in Round 3.  
That choice turned out to be University of Miami wide receiver Leonard Hankerson, whose 13 touchdowns last year broke Michael Irvin's single-season touchdown record with the Hurricanes. Hankerson's ball skills should help out the Redskins, who may be in jeopardy of losing Santana Moss.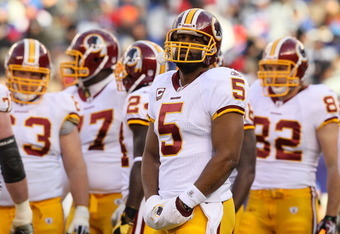 Jim McIsaac/Getty Images
Are you still with me?  I hope so, because even Mr. Snyder has started to nod off.
In their trade with the Dolphins, the Redskins also got Miami's 146th pick in Round 5 and the 217th selection in Round 7.  But they were not done wheeling and dealing.  
By the time the fourth round came along, they got on the phone with the Houston Texans.  This time, they gave up two fifth-rounders (including the one they received from the Colts) to move up from the 127th pick in the fourth to the 105th.  And with that selection, Washington chose Nebraska running back Roy Helu.  
Helu might be just what the doctor ordered for Mike Shanahan.  According to NFL.com, Helu is a versatile, downhill runner with solid receiving skills.  In other words, he is the "one-cut" feature back that Shanahan loves to build his offense around.
I can add to the confusion, but will save you the hassle of rifling though your medicine cabinet for migraine medication.
Here is the rest of Washington's 2011 Draft Class, with descriptions in parentheses:
Rd 5, No. 146:  Dejon Gomes, DB, Nebraska (Should be a special team player and backup corner)
Rd 5, No. 155:  Niles Paul, WR, Nebraska (At 6'1", 224 pounds, he is big and physical like Hankerson) 
That's three Cornhuskers in a row, in case you didn't notice.
Rd 6, No. 177:  Evan Royster, RB, Penn State (Penn State's All-Time Leading Rusher) 
Rd 6, No. 178:  Aldrick Robinson, WR, SMU (At 5'10", 184, he could play in the slot)
Rd 7, No. 213:  Brandyn Thompson, DB, Boise State (Small, but solid defensive back)  
Rd 7, No. 217:  Maurice Hurt, OL, Florida (Possible reserve with ACC experience) 
Rd 7, No. 224:  Markus White, DE, Florida State (Teammate of new Minnesota QB Christian Ponder and one of only three Seminoles drafted this year) 
Rd 7, No. 253:  Chris Neild, NT, West Virginia (2011 marked the second year in a row that the Redskins took a Mountaineer in the final round)  
When the dust settled, the Redskins went from just a few picks (eight) to double digit ones (12), thanks to five draft-day trades and the ingenuity of a GM, his coach and a hard-working staff of scouts.  
Some media operations even compared Washington's draft strategy to the style used by New England head coach Bill Belichick.  Belichick has three Super Bowl rings and the Patriots have remained one of the NFL's best teams by constantly reloading through the draft.    
As Shakespeare once wrote, "What's past is prologue" and merely sets the scene for greatness.  With Snyder relinquishing some of his control, maybe the Redskins can put the ineptitude of the past behind them and build towards a successful future.
Together, Allen and Shanahan filled needs that have been left unattended to for far too long.  And like the old Twilight Zone, there may be a moral to the new story.  Hope springs eternal at Redskins Park.  Hope springs eternal.