Chicago Bulls: Big Men Are Too Big, Too Strong, Too Good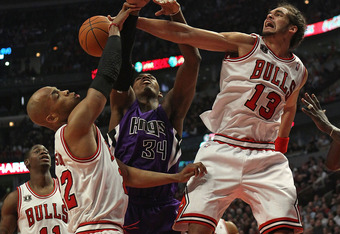 Jonathan Daniel/Getty Images
Two games, two blowout victories for the Chicago Bulls.
After whipping the sad unit known as the Sacramento Kings 132-92 on Monday night, the Bulls did more of the same to the Atlanta Hawks Tuesday night, cruising to a 114-81 victory.
At a remarkable 51-19, the Bulls have taken over the No. 1 seed in the Eastern Conference and are poised to do something not seen in the city of Chicago since a fella named Jordan roamed the perimeter.
This Bulls team is good. Scary good.
Winners of 10 of their last 11 games, the Bulls made a huge statement last night in Atlanta in taking out the Hawks (a good team, by the way) by halftime and, for the second night in a row, resting their starters for the fourth quarter.
For a team that has only lost five games since February, what makes the Bulls so dangerous?
It's Derrick Rose.
It's Luol Deng.
It's the deep, versatile bench.
And, of course, it's new head coach Tom Thibodeau, a sure finalist for NBA Coach of the Year.
But what ultimately gives the Bulls the biggest edge and makes them a threat to win the Eastern Conference and bring home the franchise's first NBA championship since 1998, is their highly talented front court.
The Bulls' big boys can bruise, bang, and board—their impact on the game can't be denied.
While everyone will deservedly give credit for Derrick Rose as the reason for the team's quick turnaround, it's the front court of Joakim Noah, Carlos Boozer, Taj Gibson, Kurt Thomas, and Omer Asik that make the Bulls truly stand out.
Noah, finally healthy again after having thumb surgery in December, has done what he always does.
That is, rebounding.
Noah is fifth in the league in rebounding at 11.2 rebounds-per-game (he doesn't technically qualify yet due to his missed time) and has increased his scoring almost four points higher than his career average to a respectable 12.4.
Whatever the Bulls get offensively out of Noah has always just been icing on the cake as his rebounding and interior defense is where he makes his millions—and he earns every penny with his intense defense and emotional play.
Jonathan Daniel/Getty Images
His new running mate for 2010-11, Carlos Boozer, has missed time, too, with injuries.
But Boozer has recovered from his latest injury setback (sprained ankle) to solidify the Bulls' frontcourt yet again.
He wasn't needed much in their last two blowout victories, but Boozer will be needed down the stretch for the Bulls to secure the No. 1 seed and make a deep playoff run.
Boozer, an All-Star snub, is averaging 18 points-per-game this season, while helping Noah on the boards with over nine a game.
The low-post scoring has fit very nicely with Derrick Rose's perimeter scoring and forward Luol Deng chipping in offensively on the wing.
In Noah and Boozer, the Bulls have arguably the best power forward-center combination of any NBA team.
In looking at other contenders in the East, the Bulls clearly have the best starting front court.
The Celtics have Hall of Famer Kevin Garnett, sure, while the Orlando Magic will counter with superstar Dwight Howard—and then there's that Chris Bosh character on Miami—but the Bulls have the ability to out-perform them in a seven-game playoff series.
There's a reason the Bulls are second overall in the NBA at 44.3 rebounds-per-game.
But it's not just the starters that can impact the Bulls' front court and cause problems for the opposition.
In Taj Gibson, Kurt Thomas, and now rookie Omer Asik, the Bulls can throw multiple big bodies at a team and wear them down for a full 48 minutes.
Gibson and Thomas have flourished in roles as both starters and reserves this season; Gibson was a starter when Boozer sat out the season's first month and Thomas filled in for Noah in December.
Both have chipped in their fair share of points and have kept opponents off the glass, too.
Gibson scores seven points-per-game and grabs nearly six rebounds a night as the team's top big man back-up.
The veteran Thomas is actually the team's third-leading rebounder at 6.2 rebounds-per-game.
Rookie Omer Asik is even getting into the act.
The Turkish Delight celebrated St. Patrick's Day in fine style, grabbing 16 rebounds while sneaking in 11 points.
Asik then scored another 14 points Monday night in the Kings' route.
Jonathan Daniel/Getty Images
On the year, Asik is averaging just four rebounds a night, but Omer's numbers have increased in his last ten games.
He won't win any beauty pageants, but he is a very solid contributor on a team filled with solid contributors.
Gibson, Thomas, and Asik are instrumental to the Bulls' success and provide quality minutes with their rebounding and scoring that allow Tom Thibodeau to avoid over-working his starting duo of Noah and Boozer.
When all five are healthy and able to play, the Bulls have the best unit of big men in the NBA.
When you have an MVP like Derrick Rose, you're already going to have good things happen to you.
But when you can combine his insane talents with the support of a fantastic five in the front court, then you have the Eastern Conference's No. 1 team.
The Bulls will likely go as far as Derrick Rose takes them, yes, but he'll get a lift from his big buddies along the way.
This article is
What is the duplicate article?
Why is this article offensive?
Where is this article plagiarized from?
Why is this article poorly edited?

Chicago Bulls: Like this team?