Derrick Rose Is an MVP Candidate, but How Far Can He Really Take the Bulls?
December 13, 2010
Jonathan Daniel/Getty Images
Derrick Rose is in his third season in the NBA. That means this is the season where the training wheels come off. For two years, Bulls fans have watched the hometown hero go from the first pick in the 2008 draft to an outright star in his third year in the league. Derrick Rose's game has continued to improve from his Rookie of the Year status he arrived with, fresh from only a year of college.
The Bulls' front office was confronted with a decision in 2008. Do they take the player who many people considered the best player in the draft, Micheal Beasley, who was also the player that most thought would serve as a franchise player to build a team around? Or do they take the hometown point guard, Derrick Rose? There had been only two point guards selected first overall in the previous 30 years of the NBA Draft and they were two of the best ever, Allen Iverson and Magic Johnson.
In hindsight, it was an easy decision and the Bulls made the right choice. Though, Beasley is a very good wing, he has not been the franchise player that most people predicted. Rose has blossomed into one of the league's elite point guards. Although the position is not ideal for a leading scorer, having such a reliable offensive weapon with the ball in his hands so often can create scoring opportunities that are not there for other teams with a lesser scoring threat at point guard.
Rose is essentially a once-in-a-generation type of point guard. He is 6'3, 190 pounds and physically as strong as they come at that size. I believe he is the fastest player in the league, going from baseline to baseline with a ball in his hands, and nobody can convince me otherwise. He gets to the basket as good as Dwayne Wade or any other guard and is also a great finisher. He can do everything that you see from the best shooting guards, but he can dish out eight assists per game.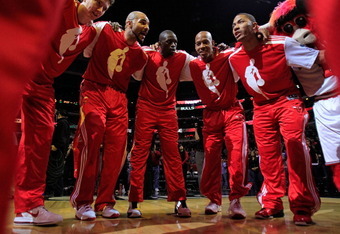 Jonathan Daniel/Getty Images
That is what has made Rose worthy of that first overall draft spot as a point guard, but now the Bulls are learning what must be built around him in order to bring the city of Chicago the championships it has missed since the departure of Jordan. One thing they do not need is the addition of a big time scorer, a la the LeBron James type of player. My opinion is that would take away from what Rose is to the team. They made the right move, bringing in a post man that scores and plays defense down low. They also did a good job finding a shooter with Kyle Korver.
The problem with the Bulls is the lack of versatility. Outside of Rose and Carlos Boozer, they are mostly a team of players that can do one or two things very well. There are people that will say Joakim Noah is now a real scoring threat and is therefore a versatile player, as he has been one of the best rebounders/defenders. I see a lot of baskets coming from his four offensive rebounds per game more than anything else though. He is still improving as an interior passer and he has also improved his mid-range jumper, but it is still tough to watch at times.
The two remaining starters are Luol Deng and Keith Bogans. Both are good defensive players, but on offense they are extremely one-dimensional. In Bogan's case, he is actually zero-dimensional. It is pretty much a 4-on-5 offensive set when he is in the game on offense because the defense can be sure he is no threat. Really, how many starters in the league average numbers like four ppg, two rpg and one apg? Deng is a slasher that can occasionally be a good perimeter shooter.
The guards off the bench are Korver and Ronny Brewer, a shooter and a slasher. When you see the word slasher for a basketball player, typically what that is saying, is that they are athletic and can finish, but there is not much else to their game. That is the story with Brewer and Deng. Korver cannot create much of a shot on his own, instead he is mostly just a spot-up shooter that is deadly from the 3-point line.
The only reason the Bulls' offense works at all is because of Rose. He is the best scorer, passer, ball handler, and with his much improved jump shot, one of the team's best shooters. Without Rose the Bulls have no way of creating chances to score, the same way the Cavaliers seem to get nothing, but 15-foot jump shots without LeBron.
My point is that Rose is, in my eyes, the most valuable player to the success of his team, more so than anybody else. The one other person I would have in this category is Amar'e Stoudemire, but Raymond Felton has been a huge part of the Knicks' success this season. Carmelo Anthony and Chris Paul are always in this category as well, but both are looking for a way out of their team. Dirk Nowitzki is so important to the Mavs, but that team is loaded with offensive weapons. Rose is the Chicago Bulls' offense.
Don't expect Rose's name to drop out of the MVP race until the very end and, if the Bulls are still looking like contenders come playoff time, we will know it is because Rose has reached his potential. He is playing the best ball of his career right now, but can he maintain that in a playoff series where the opponents focus their defense on how to stop him? Last year, he averaged nearly 27 points against the Cavs, but his Bulls were no match for the Cleveland LeBron's.
Right now the Bulls are on the fringe of contending. They are probably not among the top five teams considered, but they can't be eliminated from the conversation. They have the most electric point guard in the league and now with a healthy Boozer, they have one of the best starting post players as well. Boozer is off to a slow start on the boards, but he is a very good rebounder, averaging 11 per game last season. Like the rest of the team, he will rely on Rose to get him chances to score. Rose has a lot of guys to get involved, but most important is his own scoring.