Indianapolis Colts President Bill Polian Is the Biggest Cheater in the NFL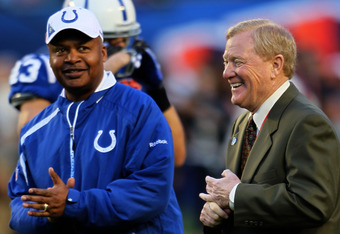 Andy Lyons/Getty Images
On Sunday, with the Indianapolis Colts facing a key fourth down late in the game, Philadelphia Eagles defensive end Trent Cole sacked Peyton Manning, causing a fumble and ending the game.
Not so fast.
Cole was flagged for unnecessary roughness because as he was reaching for Manning's arm, he brushed his helmet with his hand on the way by. I say brushed because that's what he did. Manning probably didn't even feel it.
The Colts gained 15 yards on the penalty and had a second chance to win the game. Thankfully they failed.
I've been joking for years that the Colts have penalties included in their playbook because of all the phantom calls they get. I thought yesterday's call reeked of game-fixing, until I reminded myself of the league's new emphasis on touching helmets.
Then it occurred to me. The officials aren't the ones cheating. It's Colts President Bill Polian.
Move over Bill Belichick, there's a new sheriff in Cheaterville!
Polian is on the NFL's competition committee and as such is in a position to help change the league's rules. Is it a coincidence that the NFL started changing rules left and right to favor offense in the last decade, approximately the same time that the Colts got their hands on franchise quarterback Peyton Manning?
When facing the Patriots in the playoffs in 2003, Manning suffered a brutal defeat. New England played a physical game and outmuscled the Colts. They beat up on Manning's receivers and made them pay for every catch. But they didn't break any rules.
What did the Colts do? They complained vehemently about the Patriots' physical play, and their President Bill Polian helped institute a new rule—illegal contact.
Since then, the Colts have been free to run their timing patterns without fear of interruption and so can any other team. But, if Polian was really concerned about fair competition, he would have taken action sooner. It took his team losing a game to motivate him.
Polian also stood by the Colts' decision to rest starters during the final weeks of the season. This has happened numerous times and in some cases, specifically last season, it completely altered the playoff landscape.
When your team plays its backups and basically forfeits late-season games, and teams like the Jets make the playoffs strictly due to that, is that fair competition Mr. Polian? Didn't think so, but he stands by the team for doing it.
Of course he does, it helped his team get healthy and rested. Just like he stands by illegal contact. It helps finesse team with good offenses get past the league's best defenses. It's no wonder he favors an 18-game season, it gives his team two extra weeks to rest their starters.
This season Polian led the charge to move the umpire from the defensive front to behind the offensive backfield. He cited safety reasons. The league agreed and the change was made.
Good move.
At least, until Polian realized that it might take the official longer to get into position and could slow down his team's no huddle offense. The Colts are crafty. They use no huddle to keep teams from getting the right personnel on the field. They also draw a lot of penalties against the defense by catching them off guard.
Polian was worried that by moving the umpire, the game would slow down, and his team might not be able to use their tricks as easily. So he wanted to move the umpire back to his old spot.
I guess the umpire's safety isn't as important when Polian's Colts are in the hurry-up.
Of course, with the recent emphasis on helmet contact, Polian didn't lead the charge this time, but you can imagine he sat back salivating over all the extra protection the new rules afford his quarterback. Wherever he was when Cole brushed Manning's helmet, you can bet he was smiling.
On a side note, the NFL is handing out fines for accidental helmet contact, yet they still allow players to butt helmets during pregame to pump each other up. Hypocrisy much?
Polian is the most dangerous kind of cheater—the smart kind. His team doesn't break any rules. Instead, he has the rules changed to suit what his team already does.
How is he still on the competition committee? I'm looking at you Mr. Goodell
This article is
What is the duplicate article?
Why is this article offensive?
Where is this article plagiarized from?
Why is this article poorly edited?

Indianapolis Colts: Like this team?