16 Reasons Why Manning Shouldn't Get The MVP : A Video Tour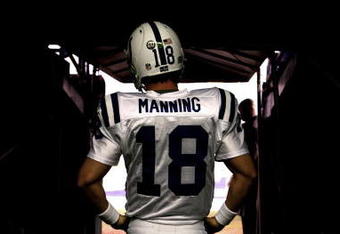 Donald Miralle/Getty Images
In a year when the vertical game saw multiple pilots earning their wings, Peyton Manning tossed more than his share of stink-bombs.
Of the quarterbacks in the playoffs, only rookie Mark Sanchez has more misfires.
After all the give-aways, It's not hard to see why Manning put up 4,500 yards; he had to cover the same ground twice so often. AP writers take note, the fewer interceptions you throw, the more "valuable" you are to your entire team.
Here's a linked video tour...
Week 1:
#1, Picked in the end-zone by a rookie.
Week 3:
Cardinals-Defense-Highlight-WK-03-vs-Colts-2009">#2, That's not your "blind"side...nice audible.
Week 4:
#3, It must have been the headwind.
Week 5:
#4, I'm wearing a backpack, oh well, I'll throw anyway.
Week 9:
Texans-Defense-Highlight-WK-09-vs-Colts-2009"> #5, Just add this negative yardage to my year-end totals.
Week 10:
#6, It's not double coverage if it's far away right?
#7, Sure it's a Patriot...but he was wide open.
Week 11:
#8, I like to throw into crowds of defenders.
#9, When you have a commanding lead, take chances.
Week 12:
#10, They have jump-shots in football right?
#11, Way to telegraph...2 picks, 3rd week in a row.
Week 14:
Broncos-Defense-Highlight-WK-14-vs-Colts-2009"> #14, Part 3, Dessert.
Week 15:
Jaguars-pick-off-Manning"> #15, Finally, a mere one pick game.
Week 17:
#16, With a fox, on a box, down low, in the snow.
Is Manning a great quarterback talent? Sure. Was this an MVP caliber season for him? Maybe, but only if no other quarterbacks had posted equally impressive statistics, on playoff caliber teams, without all the blunders.
Favre had a measly 7 interceptions all year, Rivers had 9, and Brees had 11. Ask the defense trotting out on the field who's most valuable. The guy who lets them start defending from the opposing 20 yard line or the guy that hauls them off the bench to start defending from midfield.
Bottom-line, Manning made his team work harder than necessary this year to win and his quarterback rating reflects that.
| | | | | | | |
| --- | --- | --- | --- | --- | --- | --- |
| | Pct | Avg | TD | Int | Sck | QB-Rate |
| Manning | 68.8 | 7.9 | 33 | 16 | 10 | 99.9 |
| Favre | 68.4 | 7.9 | 33 | 7 | 34 | 107.2 |
| Brees | 70.6 | 8.5 | 34 | 11 | 20 | 109.6 |
| Rivers | 65.2 | 8.8 | 28 | 9 | 25 | 104.4 |
Now take a look at the protection Manning got. He barely got his uniform dirty all year. How is it that a guy with such a great O-line threw so many stinkers? His interception percentage was 2.8%! I think you can arguably subtract that from his completion percentage. Favre's was 1.3%, Brees' was 2.1% and Rivers' was 1.9%.
That makes their adjusted completion percentage.
| | |
| --- | --- |
| | Compl. |
| Manning | 66% |
| Favre | 67.10% |
| Brees | 68.50% |
| Rivers | 63.30% |
It's really no contest, Manning's blunders against the cavalcade of powder-puffs the Colts faced this year eliminates him from consideration for the MVP. Even worse, the two legitimate threats the Colts faced (Patriots and Ravens) were multiple interception games.
Being a valuable quarterback to your team has one main feature, when you are asked to move the ball in the air for your team what was the outcome? More than any other MVP contender, when Manning was asked, he threw a cabbage.
The decision is between Favre and Brees. Their statistics are so close it comes down to intangibles. No question, Brees is the most valuable player on his team. However, that doesn't mean he is the most valuable player in the league.
That honor belongs to a scruffy 40 year old who made three Viking receivers stars and sent two of them to the Pro Bowl. Who provided 19 years of experience and leadership to an offense that was previously one dimensional. And who posted league-rocking stats in a year when most quarterbacks his age would be looking for a porch swing. He's the most valuable player on his team and the most valuable player in the league. Brett Favre.
This article is
What is the duplicate article?
Why is this article offensive?
Where is this article plagiarized from?
Why is this article poorly edited?

Minnesota Vikings: Like this team?