Indianapolis Colts' Decision to Pull Starters Helps Validate BCS System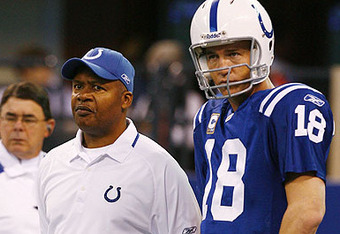 The last undefeated NFL team's run to perfection ended Sunday night as the New York Jets beat the Indianapolis Colts 29-15 in Indianapolis,but the loss didn't come without controversy.
With a 15-10 lead in the third quarter, the Colts decided to pull star quarterback Peyton Manning and many other starters to rest their stars for the playoffs and to avoid injury.
Not risking an injury to preserve a championship opportunity, seems like a logical thing to do. In fact, many teams that have already secured a playoff spot do so, but this time it was different. This loss ruined a perfect season.
This may not have been a damaging loss to the Colts front office.
"The perfect season was never an issue with us," said Colts President Bill Polian. "We've said it time and time again. It's somebody else's issue, not ours."
But Indianapolis fans and players, and the entire football nation, are hurt. The loss kills all momentum and could possibly lead to an early playoff exit. The loss is about more than wins and losses. It hurts competition, hurts the integrity of the game, and ruins the aspect of a perfect season.
So who benefits from the Colts' loss? Not the fans, Not the players, and not even football. But one organization can use this game and the entire Colts season as a trademark for its existence; the Bowl Championship Series.
Otherwise known as the BCS, the Bowl Championship Series is the laughing stock of sports.
It crowns its champion through a computer ranking system and doesn't give all teams a fair chance at a national champion, leaving even some undefeated teams out to dry.
For many, it has ruined college football and the legitimacy of a national championship.
With so many negatives, does the BCS even have any reason for its existence? The truth is, besides money, there aren't many.
But the BCS can point to Sunday's game as a reason it is better than a playoff. The BCS prides itself in validating the regular season and making every game matter and in that respect, it has certainly succeeded.
If Alabama had pulled its starters and taken a loss to Florida, it would have no shot at a National Championship. But the Colts are able to throw away the last few games of their season, ruining the entertainment value of the sport.
In a sense, the BCS is a playoff in itself. Every game is do or die for a chance to play for it all and that makes every game, especially the ones toward the end of the year, important.
College teams have something to play for in every game, unlike NFL teams, who have already clinched home field in the last few games of the season.
To most NFL teams, the regular season means nothing, but to college teams, every game is a must win; one NFL team is an exception to the rule.
The New England Patriots are the only NFL team to ever go 16-0 and as much as I don't respect the Patriots for their cheating scandals and arrogance, I have to respect their integrity for the perfect season.
New England lost its quest for perfection in the Super Bowl, but at least it went down with a fight. Unlike Indianapolis, the Patriots didn't give their season away; they lost in a valiant effort. And even in the loss, their legacy proves them victorious.
They set a standard for all other teams, but the Colts proved that in professional football, living up to that standard means nothing anymore.
But the BCS forces teams to live up to this standard of excellence. I have no doubt that college football's top teams would rest their stars at the end of the season if there were a playoff, thus ruining end of the season rivalries and conference championship games.
Is the BCS the perfect system? Not even close. Should the NFL adopt a similar system? Of course not. But the BCS has come closer to proving its validity through Indianapolis' failure.
So when Bill Polian says that the perfect season was somebody else's issue and not his organization's, I have to disagree.
Coach Jim Caldwell's decision to pull his starters may have possibly saved a sprained ankle, but it ruined a legacy and the excitement of every game. 15-1 may be one win away from 16-0, but it is incomparable in significance.
The BCS knows this and while it may be a flawed system, it gained validity from Indianapolis' loss.
This article is
What is the duplicate article?
Why is this article offensive?
Where is this article plagiarized from?
Why is this article poorly edited?

Indianapolis Colts: Like this team?