Cry Me a River: Why AFC Teams Shouldn't Complain About the Colts' Decision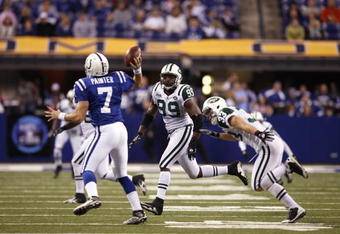 Joe Robbins/Getty Images
I've had enough.
It has certainly been an interesting past 24 hours for Jets fans.
First, yesterday starts out with the Dolphins, Jaguars, and Ravens all losing—which is what the Jets needed in order to have a chance to control their own playoff destiny, just a week after Rex Ryan mistakenly said his team was "out" after a disappointing loss to the Falcons.
But one part still remained.
The Jets had to win. Against an undefeated Colts team.
Difficult task, right?
It depends on how you look at it.
The Colts were only leading 15-10 in the third quarter when they made the decision to bench notable starters such as Peyton Manning, Reggie Wayne, etc.
Immediately the Jets took advantage, forcing backup Colts quarterback Curtis Painter to fumble, which led to a Jets defensive touchdown to give New York the lead.
The men in green never looked back, going on to a 29-15 victory and ending the Colts' quest for perfection.
In the process, the Jets were able to control their own destiny for the playoffs.
With a win against Cincinnati (in the Jets' first appearance in Sunday Night Football and the final game at Giants Stadium), they will make the playoffs.
Seems simple, right?
Well, many analysts feel that a lot of AFC teams were essentially "screwed over" by the Colts' decision to bench their starters.
Teams such as the Ravens, Steelers, Dolphins, Jaguars, Texans, and Titans, were all pretty much knocked out of a shot at the playoffs.
First of all, let me reiterate that when the Colts' starters came out late in the third quarter, the Colts were only ahead 15-10. It's not as if the Colts were blowing the Jets away and suddenly took their foot off the pedal.
The Colts had numerous opportunities in the first half to blow this game wide open with their starters in.
It was very evident that Peyton Manning and his receivers were not on their "A" game, with some noticeable drops by receivers and unusual overthrows by Manning.
Had the Colts been on their "A" game and made the plays they needed to in the first half, its easy to say they would've won this game.
But they weren't.
If Jim Caldwell had decided to stick with his starters the whole way, what's to say the Jets don't win this game even with the starters in?
Second of all, the teams that were "screwed" out of a playoff spot should not complain.
Teams like the Titans and Texans have no right to complain, as they should have beaten the Jets when they had the opportunity to early in the season.
They didn't.
These teams have nobody to blame but themselves.
Had the Jaguars, Dolphins, and Ravens done their jobs yesterday and won the games they were playing, then let's just say I'm not writing this article.
Everyone is so quick to blame the Colts for allowing an "undeserving team" to beat them by benching their starters. How about pointing the finger at yourselves?
You lost. You put yourself in the position for this to happen.
If you take care of business, this doesn't happen.
And also, to keep things in perspective, the Jets aren't in the playoffs yet.
Sure, if the season ended today, they'd be in, but the season doesn't end today.
They still have to beat a darn good Cincinnati Bengals team on Sunday, and that certainly is not a given.
This is the Jets, after all.
For all we know, the "same old Jets" may show up on Sunday night and lay an egg on national television, and it's back to square one.
But the teams that are out of a playoff spot in reality should not blame anybody but themselves.
It's their own fault when you lose seven or eight games and leave things up to tiebreakers.
Like Rex Ryan said, the Colts "earned the right to play this game whatever way they want."
They're a great team, they've gotten this far, and essentially have nothing to play for until the playoffs.
You can't blame them for this decision.
Blame all of those teams for losing yesterday, for this situation to arise.
This article is
What is the duplicate article?
Why is this article offensive?
Where is this article plagiarized from?
Why is this article poorly edited?

New York Jets: Like this team?