Bruce Gradkowski: Our Last Hope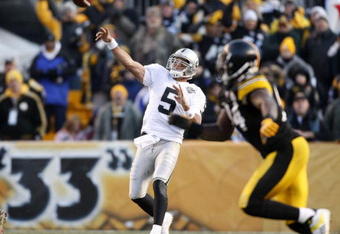 Gregory Shamus/Getty Images
If the Raiders are to avoid losing 11 games for the seventh straight year, quarterback Bruce Gradkowski needs to get healthy before their season finale against Baltimore.
Gradkowski injured both of his knees in Week 14 against Washington, partially tearing his MCL in the right knee.
When JaMarcus Russell took over in the second half of that game, the team totally fell apart, the spark that Gradkowski provided in his four starts was lost, and the team gave up.
After Russell's poor showing in the second half against Washington, the Raiders started Charlie Frye the next week at Denver.
Frye didn't impress anyone, going 9-for-17 passing with an interception before being knocked out of the game with a concussion. Though Frye didn't play great, the running game kept the Raiders going.
Russell took over for Frye and, to the surprise of Raider Nation, led the team on a game-winning touchdown drive.
Russell may have thrown the game-winning pass, but he still played like the old JaMarcus. His inaccuracy and lack of pocket presence were enough for head coach Tom Cable to start Frye against Cleveland.
The Raiders had a great chance to win two games in a row for the first time all season, playing a Cleveland team that had only three wins.
Coming off the Raiders' best running game all season against Denver, the game was looking good for the Silver and Black.
Unfortunately, all hope was thrown out the door as soon as the game started.
On the second play from scrimmage, Frye threw an interception that led to a Jerome Harrison touchdown.
Frye ended the game with 333 yards passing, but his three interceptions were the biggest factor in the loss. Frye's two second half interceptions were inside the Cleveland 20-yard line (Frye also had two picks in the end zone that were overturned, one because of a penalty and the other was out of bounds).
Had Oakland been able to get in the end zone on those drives, it would have had a 23-20 lead.
Instead, Cleveland turned one of those interceptions into a Phil Dawson field goal and ultimately won the game, 23-9.
I'm not going to blame it all on Frye; he did not have much protection during the game and the team continually hurt itself with penalties.
Oakland gave up 30 yards of unsportsmanlike conduct penalties on Cleveland's last drive of the first half that led to a touchdown.
I have been a big supporter of Cable, but he is not without blame for this loss.
The Raiders need to make Michael Bush their primary back. There is no reason he shouldn't get 20 to 25 carries a game.
The Raiders had a 1st-and-goal at the two-yard line and neglected to use the 245-pound Bush, instead throwing four straight passes and turning the ball over on downs.
It has been said that Gradkowski may be able to play against Baltimore, and this fan sure hopes that is true.
The whole team is better with Gradkowski on the field. He is the leader of this team.
Gradkowski's mobility is badly needed with the team's banged-up line. He stays calm in the pocket and does a good job of getting the ball to wide receivers.
In his four starts, Gradkowski has thrown six touchdowns, which is twice as many as Russell and Frye combined.
He did throw three interceptions, but one was a Hail Mary and another bounced off wide receiver Darrius Heyward-Bey's numbers.
Aside from avoiding 11 losses, the Raiders need Gradkowski to start (and play well) so he can convince owner Al Davis to sign him for next year.
If this team is going to break .500 next year, Bruce needs to be under center.
Russell has proved that he can't get it done. There aren't any good free agents available, and the Raiders have never done well drafting quarterbacks.
With that being said, Gradkowski is the best option for the future. He is only 26 years old, has starting experience, and the players respect and believe in him.
It's not certain if he will be ready to go next week, but if he can, I have confidence he will lead this team to victory.
Oakland seems to play better against good teams, and Baltimore is fighting to hold on to a playoff spot.
If the Ravens lose against Oakland they will, more than likely, be eliminated. The Raiders eliminated Tampa Bay from the playoffs in the last game of the season last year, with Michael Bush running for 177 yards and two touchdowns.
What would be a better way to start the New Year than knocking the Ravens out of the playoffs?
If Gradkowski is ready to go and the Raiders pound the rock with Bush, I think a win for the Raiders is likely.
This article is
What is the duplicate article?
Why is this article offensive?
Where is this article plagiarized from?
Why is this article poorly edited?

Oakland Raiders: Like this team?