Is Raiders DT Tommy Kelly Earning His Paycheck? Or Stealing Al Davis's Money?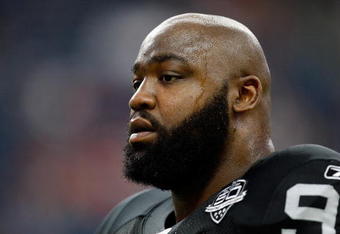 Ronald Martinez/Getty Images
Tommy Kelly has been a center of controversy ever since he signed a seven-year $50.5 million contract prior to the 2008 season. The Raiders had hopes of him replacing the over-hyped, over-paid and over the hill Warren Sapp.
At the time that was the largest contract ever given to a defensive tackle. Which has since then been surpassed by Albert Haynesworth's seven-year $100 million deal including $41 million in guaranteed money.
Kelly has been the victim of finger pointing and blame as fans and critics often place him at the center of the Raiders' struggles against the run.
Is Tommy Kelly just another over-paid walrus in the middle of the Raiders defense, like Warren Sapp and Terdel Sands were? Or are we as fans being too hard on him?
Take a look at the numbers and the answer will be more clear. Last year Kelly ranked sixth in tackles behind the likes of Pat Williams, Kevin Williams, Vince Wilfork, Shaun Rogers and Demato Peko. He also ranked eighth in sacks and deflected two passes.
And this year, despite that Tommy Kelly seems to be the main concern of opposing offenses as they constantly throw double teams at him, he is leading all NFL&year=season_2009&sort=130&timeframe=ToDate" target="_blank">NFL DTs in tackles this year with 46, though he does only have one sack.
So if Tommy Kelly is so good then why do so many people point fingers at him and why is the run defense so bad?
The reason Kelly receives so much blame against the run game is simply because people don't understand what his job is, or the difference between the two DT positions.
Tommy Kelly plays the three technique in this position he lines up on the outside shoulder of the weak-side guard. His job is to penetrate and shoot the B-gap. His job is to hold his gap and disrupt the backfield. Kelly is doing an excellent job at what his position asks.
Then there is the nose-tackle. They line up either in a zero- or one-technique, either head up or on the strong-side shoulder of the center. This is usually the biggest, strongest player on the defense. They are responsible for clogging the middle, holding the A-gap, and commanding double teams.
This is where the true problems lie. The Raiders do not have a true nose-tackle. Gerrard Warren, Desmond Bryant, Richard Seymour, and William Joseph have all taken snaps at nose-tackle this season. But they are all better suited to play the three-technique and in an ideal world they would be backing up Tommy Kelly and rotating in at the three-technique.
The Raiders don't have a player big enough or strong enough to play the nose tackle position. Right now this is the biggest hole on the Raiders defense. And filling it would improve every position on the Raiders defense.
In order for the Raiders defense to truly be formidable they need to find Tommy Kelly a partner in crime in a true nose-tackle. This coming offseason there will be a few options via free agency, draft and trade. Here are some of those options: Vince Wilfork (FA), Tank Tyler (FA), Justin Bannan (FA), Casey Hampton (FA), Aubrayo Franklin (FA), Terrence Cody (draft), Dan Williams (draft), Shaun Rogers (trade).
If the defense doesn't pick up one of these big men in the middle the defense will continue to struggle against the run and people will continue to blindly point fingers at Tommy Kelly.
This article is
What is the duplicate article?
Why is this article offensive?
Where is this article plagiarized from?
Why is this article poorly edited?

Oakland Raiders: Like this team?