Minnesota Vikings Are NFL's Team To Beat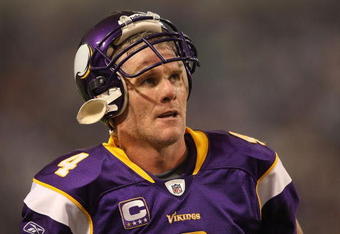 Nick Laham/Getty Images
Keep talking about that "inevitable" match-up between the New Orleans Saints and the Indianapolis Colts . It's not going to happen.
It's not that the Saints and Colts aren't great teams. They are. They haven't lost a game, and for good reason. They have high-powered offenses, great quarterbacks, and good coaching.
But it takes quite a bit of luck to be where they are, too. And sometimes, even after you filter through all the biases fans have for their favorite team or players, we still find a way to skip over the flaws teams of their stature have.
That's not to say the Minnesota Vikings don't have flaws. Naturally, every team in the NFL makes mistakes, and short of the 1972 Miami Dolphins, every team, in every other season in the history of the league, loses.
But just because the Colts and Saints haven't met their match (even though it's arguable they had a few times), it doesn't mean they are the top two teams, and it definitely doesn't mean either of them are going to the Super Bowl.
Just ask the 18-0 2007 New England Patriots. Go sit down and have conversation with that 15-1 Minnesota Vikings team that lost to the Atlanta Falcons in the NFC Championship game over a decade ago.
They'll all say the same thing. Any team can win when everything is on the line.
But this is regurgitation. This is a biased argument coming from a Minnesota Vikings and Brett Favre fan. This is a bunch of crap. Right?
Perhaps, but one might be inclined to start favoring Minnesota when you think about who you'll be betting on in Vegas. Or who you pick in your office pool. Or who you vouch for in front of your family members.
With any argument, it's best to weigh the pro's and con's before tying yourself to a sinking ship:
Indianapolis Colts
The Colts are a damn good football team. They're led by arguably the best quarterback in the league in Peyton Manning, and have shown time and time again how easily they can erase a big deficit, and how easily they can blow an inferior team out of the water.
Their pass defense, although now marred by several injuries, was at one point in this season a very feared group. While they are nowhere near where they were, that pass defense and pass rush is still an elite unit that is doing a fine job. They'll give up big plays, but they still have the ability to clamp down and stop elite offenses.
This is seen best in two games, where they were obliterated (but survived ) against the New England Patriots, and then came back from a first half deficit against the Houston Texans, and swallowed up Matt Schaub in the second half.
So, take them for what you will in the pro's side. They can move the ball through the air with the best of them, they protect their quarterback as good as anybody, and when they aren't facing a dominant passing offense that is on the top of it's game, they still aren't too shabby.
However, in just two sentences, these same "dominant" Colts could, and very likely will, dash all the hopes and dreams of a 19-0 season, and ultimately kill a vision of another Super Bowl ceremony:
They can't run the ball against elite run defenses. And they can't stop the run.
This doesn't mean they can't reach the Super Bowl, but it has strong implications that they won't win.
Both the Vikings and Saints, easily the top two NFC teams, can run the ball at an elite level, protect their quarterback, and throw the ball extremely well.
This means the Colts would be forced to stop the Saints and Vikings, concentrating on both offensives sides of the ball, while also facing an elite run defense in Minnesota, and a very good Saints pass defense.
Verdict : This Colts defense looked very good to start the season, but ultimately, it won't be able to shutdown an opposing team that can run and pass the ball better than they can on an overall level. That, and you simply won't win a championship if you can't run the ball better than they do.
New Orleans Saints
The Saints have the top scoring offense in the league. They've destroyed the New England Patriots, Philadelphia Eagles, New York Giants, and they haven't lost a game. The Colts say "ditto", but Indianapolis can't match their strong (and versatile) rushing attack.
However, as elite as their entire offense is, and as good as their pass defense is, the Saints Super Bowl hopes ultimately hang on one man: Sedrick Ellis.
Without him, their run defense is absolute trash, and they find it incredibly difficult to put away teams like the St. Louis Rams, Carolina Panthers, and Miami Dolphins.
If New Orleans faces Minnesota in the playoffs, they will have their hands full. Adrian Peterson would have a field day, and even if he didn't, Brett Favre (who is just a tiny bit better than Marc Bulger, Jake Delhomme, and Chad Henne) would carve their supposedly elite pass defense to bits.
If Ellis returns to an elite level, it's likely to be a different story.
But then there's the matter of Drew Brees being rattled, his playoff history, and the possible elite pass rush the Saints would have to protect him against.
People can talk about Jared Allen being over-rated because the majority of his 2009 sacks have come against the Green Bay Packers, but there is no denying his tenacity and overall presence on that line.
Throw in the Williams Wall against the Saints rush offense, and the trip to the Super Bowl will likely ride completely on Drew Brees' arm.
For an 11-0 team that just blew away a supposedly elite Patriots team, those seem to be too many flaws to simply ignore.
Verdict: It's not that it's impossible for the Saints to get past the Vikings (or a different team). It would be crazy to suggest so. However, their regular season record won't stop Jared Allen, Adrian Peterson, or Brett Favre. And if their rush offense struggles against the Williams Wall, like just about every other rush offense has, they'll be in a heap of trouble.
Minnesota Vikings
The Vikings aren't "perfect" like the Colts and Saints. They fell to last year's champion, the Pittsburgh Steelers, needed some Brett Favre magic to get past San Francisco, and survived a late field goal miss to get past the Ravens.
But if we knock them for those short-comings, then we'd simply have to go right back to the Colts and Saints schedules, and nit-pick over every close game, lucky break, or missed/made field goal.
The fact is, these Vikings are the most balanced team in football, and when everything is on the line, the team that gets it done in all three facets on a consistent basis is almost always the team that wins the Super Bowl.
Elite quarterback and passing attack? Check. Elite running back and rush offense? Check. Elite special teams? Check. Elite run defense and pass rush? Double check
The only area of concern for Minnesota is their pass defense, which misleads experts and suggests that they struggle more than they do, as a lot of the yardage they've given up over 11 games has come late in games when the game has already been decided.
If you give Favre and the Vikings a break for the first 3-4 weeks, as Favre worked himself into game-shape and built chemistry with his teammates, then you'd notice that he and his offense have had just one poor showing in their last seven outings.
And that game came against Pittsburgh, on the road, and wasn't decided until late in the game.
Anyone can go all day with the "what if's" for every game that these three teams have played, while the fact still remains that the Saints and Colts are undefeated, and the Vikings have one loss. That hasn't changed.
But neither has the fact that the Vikings are the most solid, balanced team in football, while the Saints and Colts are getting all the hype and glory for remaining perfect through 11 games.
That's probably okay with the Vikings, though.
With an interesting match-up on the road against the Arizona Cardinals coming this Sunday, and a game with the Cincinnati Bengals left on their schedule, this team figures to enter the playoffs battle-tested, and barring any unforeseen injuries, even more prepared to knock both of these unscathed teams from their pedestals.
That is, of course, if someone else doesn't do it first .
This article is
What is the duplicate article?
Why is this article offensive?
Where is this article plagiarized from?
Why is this article poorly edited?

Minnesota Vikings: Like this team?