Earth to Bill Belichick: It's Okay to Think Inside the Box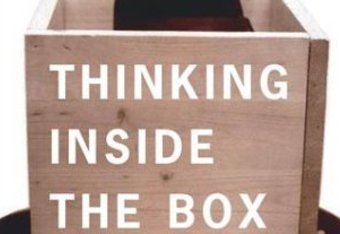 In Sunday's game against the Indianpolis Colts, New England Patriots head coach Bill Belichick decided to go for the win on fourth and two from his own 28-yard-line with a little over two minutes remaining even though his team was up six points at the time.
The conversion failed, the Patriots would lose the game and the controversy began. Just on this site alone there have been probably over 25 different articles covering this subject since the game ended.
But before you flip over to your facebook page or your fantasy football on ESPN, take some time to read one more substantive review of the now infamous play call and the subsequent post-game reactions.
First and foremost, your ESPN and NFL Network analysts would make you think the world was coming to an end with their reactions.
Former Patriot defensive stars and current television analysts Rodney Harrison and Tedy Bruschi ripped their former coach for not having faith in his defense.
Plus former NFL quarterback and ESPN analyst Trent Dilfer criticized the decision as did almost every paid sports anchor around the country.
However, these reactions didn't seem to have much thought put into them before they were delivered.
It wasn't that Belichick didn't have faith in his defense it was that he felt that having more faith in his offense gave his team "the best chance to win."
If the fourth down play had been longer, say four or more yards then Belichick would have definitely punted the ball away. Saying he didn't have faith in his defense means Belichick would have gone for the win no matter how many yards they needed.
With the short distance to go, Belichick had too much faith in his offense, not too little in his defense. He simply put the game in the hands of his prolific offense. Not a terrible idea. But an unnecessary one.
Now for those writers on Bleacher Report trying to think "outside the box" by arguing Belichick made the right call, I simply am going to tell all of you and Belichick that sometimes it is okay to think "inside the box."
For those writers claiming the statistics of making the fourth and two was more likely than stopping Peyton Manning from going 70 yards, I must ask, "where did you get that information?"
Can you predict the future?
Let's just say the Patriots punted the ball away and the Colts started on their own 30. What if Indianpolis' receiver Reggie Wayne tore his ACL on the first play of the drive?
What if a couple false start penalties back the Colts up further into their part of the field? Or better yet, what if there is a block in the back on the punt return and Indianapolis has to go 85 yards instead of the presumed 70?
Writers claiming the odds were in favor of Belichick's decision can give me all the saber metrics they wish, but what it all boils down to are the "what-if's."
What if the Patriots had converted on fourth down? Then the Patriots would have won the game.
What if the Patriots had punted?
Well, the Colts could have returned the kick for a touchdown. But then again the punt could have been fumbled, and if New England recovered the game would be over.
If the Colts got the ball back, they could go four and out.
Or they could have gotten a couple first downs and then turned the ball over.
Or they could have marched all the way down the field and turned the ball over in the red-zone since they needed a touchdown.
Essentially, at any point on the drive they could have turned the ball over on downs and the game would have been a win for the Patriots. Just one big play from a defensive player would have been all it took for a New England victory.
The fact is that if New England punts the ball away instead of going for it, there are so many more scenarios to be played out where the Patriots end up victorious.
However, there would be only one scenario where the Colts come away victorious. Everything goes right for the Colts, no penalties, no injuries, every play works, they manage the clock to perfection and they win the game with a last second touchdown.
But the Patriots didn't punt.
They went for the fourth down conversion and failed, giving the ball back to Manning with just under 30 yards to go for a winning score.
Belichick turned a 60 minute football game where a punt would have given his team numerous chances to win, into a do-or-die play.
Patriots get that first down, they win. If they don't, the Colts win. Simple as that.
It is eerily similar to a team going for a two-point conversion with no time on the clock to win the game. Score and you win, miss and you lose.
But this game shouldn't have come down to just a single play. Belichick didn't need to make the game into a do-or-die situation.
Now punting the ball away wouldn't have meant a certain victory for New England. Manning could have drove down, however long a field needed, to score a touchdown and win the game.
But regardless of the quarterback, if you have the opportunity to make the opponent drive the length of the field with just two minutes left to score a touchdown, you take your chances.
More often than not, a defense will have the ability to hold on for the win. The percentages are in favor of the defense coming up with a stop.
If the percentages were in favor of the offense scoring in that situation then fans wouldn't fuss over all these great fourth quarter comebacks because they would be a common occurrence.
But they aren't.
As great as all the current hall of fame and future hall of fame quarterbacks are, quality defense will beat them more often than not in these types of situations.
However, a fourth and two conversion is simply a 50-50. Flip a coin. Don't tell me the percentage of fourth and short conversions this year is 60-40 or whatever the actual numbers may be.
Going for it on fourth down is like flipping a penny. Even though it may land on heads seven out of 10 flips, that doesn't mean heads has a 70 percent chance on every flip.
It still has a 50-50 shot.
As for the Patriots, they couldn't gain a meager two yards on their third down play, so what made them so confident they could get the necessary yardage on fourth down?
Belichick didn't give his team the best chance to win with his play call, he took the entire team's performance throughout the game and bet it on a single play.
Punting in that situation would have given his team the best chance to win because they would then have had multiple opportunities to make a game-winning play, not just one.
Furthermore, when was the last time anyone has seen a team go for a fourth down so deep in their own territory when they were winning the game?
Belichick's decision to go for it is a move most of us make when were playing Madden on PlayStation, but nowhere close to what we would do in an actual game.
Granted I've only been an avid NFL follower for the past 7-10 years or so, but I can't recall any coach making a similar decision in that span. Nor can I think of any big-name coach in the history of the NFL make a call like Belichick made.
Sometimes thinking outside the box can be quite beneficial but this time around, thinking inside the box would have given the Patriots the best chance to win.
When it comes to a team with the lead late in a football game and they are facing a fourth down deep in their own territory, it should be an automatic punt, no questions asked.
This article is
What is the duplicate article?
Why is this article offensive?
Where is this article plagiarized from?
Why is this article poorly edited?

New England Patriots: Like this team?