The boos raining down on DeAndre Jordan Monday suggested Dallas Mavericks fans are still hung up on what life with the big man would have been like.
In the course of dismantling the Mavs by a final of 109-90, the Los Angeles Clippers showcased just how lucky they were to retain DJ.
Jordan put up 23 points and 20 rebounds, even hitting 11-of-19 from the foul line on the way to a game-high plus-33 against Dallas. His impact on both ends helped swing the game, as the Clips broke it open with a decisive third-quarter run. Jordan didn't do much of his scoring during that stretch, but he rebounded everything, ran the floor and sucked in the defense as a roller, which created space for L.A.'s shooters to dial in from deep.
So...basically what he's done all year—and particularly since Blake Griffin went down after Christmas.
His play of late has been particularly notable. Jordan's first 20-20 game of the season came less than a week after he put up 20 points and 18 rebounds in a statement win over the Oklahoma City Thunder. And he had five blocks and four steals on Mar. 5 against Atlanta.
The Clips are now 24-8 since losing Griffin, and any rational ranking of the reasons for that success has to start with Chris Paul. He's been remarkable—running the offense as usual but also attacking as a scorer far more frequently. He had 18 points in Monday's pivotal third quarter, and his increased aggression sans Griffin have given us plays like this:
Saying someone isn't quite as critical to an offense as Paul is like saying there's a car part that's not quite as vital as the engine. It's no great slight to slot Jordan behind CP3 in that regard. And it's important to recognize how vital DJ has been to the Clips' new style of play.
So much of L.A.'s offensive success without Griffin has come from a simple 1-5 pick-and-roll between Paul and Jordan. With three shooters spacing the floor, there's no safe defensive play. Paul can kill you from the elbows if you sag off him, Jordan finishes everything above the rim, unless he's bumped by a helper, and L.A.'s three-point shooters punish defenders who leave them. J.J. Redick feasted on Dallas for this reason, scoring 22 points on 9-of-14 shooting.
Just look: Nowitzki's the center here, and he has to help (that's not even Paul driving, by the way). When Wesley Matthews doesn't sink all the way down to either grab DJ's jersey or steal inside position, Jordan has a gimme:
Jamal Crawford & DeAndre link up for an #NBAGIF 👀@LAClippers trail @dallasmavs 52-50 at half. Redick- 16, Dirk 12. pic.twitter.com/UVVgnnlVSK

— NBA (@NBA) March 8, 2016
It's as simple and perfect as modern NBA offense gets. And it just doesn't work without Jordan.
Mavs head coach Rick Carlisle didn't mince words after Jordan's big game, per Tim Cato of MavsMoneyball.com:
Rick Carlisle on DeAndre Jordan's 23 points and 20 rebounds: "Now you know why we wanted him."

— Tim Cato (@tim_cato) March 8, 2016
The Clips average 110.8 points per 100 possessions with Jordan on the floor and only 97 when he sits, per NBA.com. The numbers debunk the great myth of DJ's defense, as L.A. is actually stingier without him. But the difference is marginal, and the Clippers are actually strong on that end with Jordan as well.
All you need is one seemingly innocuous first-quarter sequence to understand what Jordan brings.
Solid awareness, improving help instincts (we can't credibly say Jordan's good all the time on that account), active hands and a willingness to run are attributes most coaches would kill for in a big man.
Jordan didn't do himself any favors by handling his free-agent decision like he did, and it's not his fault he's been miscast by his coach and some easily misled media as a dominant defender. But he is a wildly effective offensive weapon who is a reliably good defender—if not a great one.
Best of all, he's used Griffin's absence to prove he can be a central figure on a contender. That's what he wanted in free agency, and the Clippers have to be glad he ended up getting it in Los Angeles after all.
Maybe Momentum Exists
Point: There's no credible, peer-reviewed theory to prove momentum actually exists in NBA basketball games.
Counterpoint: Zach LaVine did this in the second quarter of the Minnesota Timberwolves' 108-103 loss to the Charlotte Hornets on Monday:
And after that 360 spike, the Wolves went on a 20-6 run that turned a 12-point deficit into a two-point halftime lead. So...maybe further study is necessary.
Karl-Anthony Towns beasted all over the Hornets in that first half, scoring 15 of his 28 points before the break and generating his usual quota of "this league will belong to him in three years" epiphanies.
Charlotte, in winning its fourth straight game, didn't let the second-quarter surge carry over. Kemba Walker led the way with 34 points on 12-of-20 shooting as the Hornets continued their climb in the East. In fact, if there's any momentum worth discussing, it's the wave Charlotte's riding lately.
Tied with the Atlanta Hawks in the loss column and in possession of a higher average margin of victory than the fourth-seeded Heat, the Hornets are positioning themselves for a first-round series at home. If the momentum holds up, that is.
Monta Ellis Doesn't Care About Your Opportunities
With the Warriors falling to the lowly Los Angeles Lakers on Sunday, the San Antonio Spurs had a shot to pull closer to the No. 1 seed in the West. Monta Ellis seemed unconcerned.
He scored 21 of his 26 points in the second half of Monday's second-most stunning result (more on the No.1 momentarily), a 99-91 Indiana Pacers win. Though the Pacers' typical late-game offensive stagnation often results in fourth-quarter seizures, Ellis' acrobatic finishes provided just enough to deny San Antonio a chance to worry the Warriors.
The Spurs head into the final quarter of the season trailing Golden State by three-and-a-half games and facing a truly brutal schedule. Fifteen of their final 19 opponents are currently above .500. And though they'll see the Warriors three more times, giving them a chance to even the standings in head-to-head fashion, it sure would have been easier to just beat the Pacers.
Ellis wasn't having it, though.
Memphis, Stand Up!
At this late stage of the NBA season, when so much of the action takes on a perfunctory quality, it's always refreshing to get a genuinely surprising result. The Memphis Grizzlies—broken down, unfamiliar and lacking virtually all of their scoring punch—provided one.
They beat the Cleveland Cavaliers on the road by a final of 106-103, despite trotting out an eight-man rotation and starting lineup that stretched the bony bounds of the term 'skeleton crew', per Kevin Lipe of the Memphis Flyer:
No one who started for Memphis the last time the Grizzlies played the Cavs is active tonight, and two of them are on different teams.

— Kevin Lipe (@FlyerGrizBlog) March 8, 2016
Digest this starting five: JaMychal Green, P.J. Hairston, Ryan Hollins, Mario Chalmers and Tony Allen.
Just...what?!?
This one was weird from the outset, and it got weirder as Allen pumped in a team-high 26 points on 11-of-17 shooting. His defense was customarily suffocating, and the rest of the Grizzlies did their best to follow suit, knocking the wind out of a sloppy, seemingly disjointed Cavs team.
Cleveland committed a season-high 25 turnovers.
Normally, we'd devote space here to the struggling Cavs. We'd wonder what meme or subtle dig at teammates LeBron James might release next on social media. But why not give the Grizz their due on this one? I mean, they had eight guys healthy. Lance Stephenson and Vince Carter combined for 32 points and played meaningful roles late in the game.
Mario Chalmers exacted revenge!
Cavs head coach Tyronn Lue offered the highest praise there is for Memphis—even if the Grit and Grind era is so close to ending, per Cleveland play-by-play man Fred McLeod:
Ty Lue says "Grizzlies were tougher than us and played harder..and just attacked us"

— Fred McLeod (@CavsFredMcLeod) March 8, 2016
Maybe guts and heart and all that other stuff the Grizzlies use to define themselves isn't about players. Maybe it's the kind of thing that just gets washed into the jerseys and doesn't wash out.
It'll take the Cavs a while to cleanse themselves of this one.
Andrew Bogut Knows a Few Things
You'd be this confident in a shot going down if you'd watched Stephen Curry up close all season, too.
Curry upped his record total for made threes in a season to 301 in the Golden State Warriors' 119-113 win over the feisty Orlando Magic, finishing with 41 points, 13 rebounds, three assists and four steals. His 300th trey was something special.
The Warriors needed a more decisive win than the one they got against Orlando—especially after dropping the most disappointing loss of the season to the Lakers on Sunday. The Magic fought hard, and Aaron Gordon put together a terrific effort (20 points and 16 rebounds) in a return to his native Bay Area. But Orlando didn't have Nikola Vucevic, and if ever there were a game Golden State should have been motivated to dominate, it was this one.
Not so much, as the Dubs committed 24 turnovers and basically begged the Magic to steal the game late.
Head coach Steve Kerr wasn't exactly inspired afterward, per Ethan Strauss of ESPN.com:
Kerr on turnovers: "I could rattle off 10, easy, that were just inexcusable"

— Ethan Strauss (@SherwoodStrauss) March 8, 2016
In a way, Bogut's confidence in Curry points to a potential problem hanging over the team as a whole: They trust in the MVP's greatness so completely that urgency is hard to come by. He's bailed them out enough times to justify the faith.
It's too early (and probably silly anyway) to worry about what this might mean for the Warriors' title run. But it's a bad look right now.
Oh, and the Warriors set the NBA record with their 45th consecutive home win—which seems pretty good.
Big Nights Yield Different Results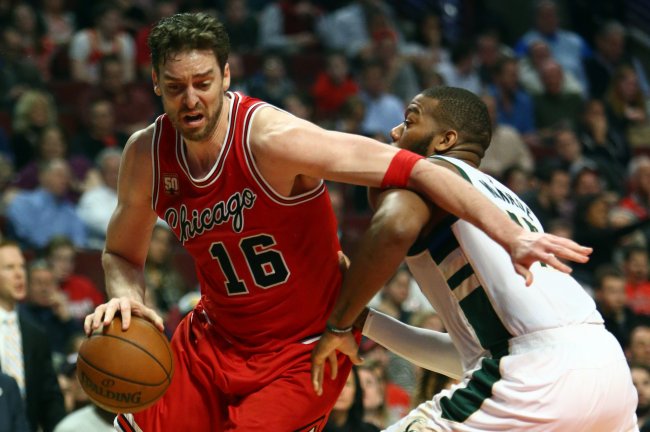 Caylor Arnold-USA TODAY Sports
DeMarcus Cousins hung 40 points, 16 rebounds, four assists and four steals on the New Orleans Pelicans, but the Sacramento Kings' inability to defend opposing backcourts meant the numbers were for naught. The Kings lost, 115-112 as Jrue Holiday and Norris Cole combined for 43 points and 16 assists. The playoff dream in Sacramento is now all but over.
Meanwhile, Pau Gasol kept the Chicago Bulls' postseason aspirations alive with a triple-double in a 100-90 win over the Milwaukee Bucks. He finished with 12 points, 17 rebounds, 13 assists and five blocks. The only negative was Gasol's self-serving Instagram game:
Oh really, guy who had 13 assists and five blocks? The ball movement and defense were the keys? Are you sure it wasn't flowing chestnut hair or an appreciation of literature and opera that swung the contest?
We kid Pau because we love him.
The Bulls were without Jimmy Butler, who missed the game due to swelling in the same knee that cost him almost the entire month of February. His health will matter much more to the Bulls' prospects than big games from Gasol against teams like Milwaukee, but credit the Spaniard for getting it done when Chicago needed a boost.
Thanks to Gasol, the Bulls check in at No. 8 in the East, a half-game up on the Detroit Pistons.
Follow @gt_hughes on Twitter.
Stats courtesy of NBA.com. Accurate through Mar. 7.