In March, it's tough to refer to any game played by a team on pace to submit the best record in NBA history as a must-win affair. But if the Golden State Warriors were going to remain on track to beat the 72-10 mark posted by the 1995-96 Chicago Bulls, a Thursday night contest against the Oklahoma City Thunder served as exactly that.
The Thunder, completing the tail end of a road back-to-back, came into Oracle Arena on the heels of a heartbreaking loss to the Los Angeles Clippers, with memories of their painful overtime defeat against the Dubs still torturously fresh. And they left with their heads hanging, the losers of a 121-106 contest far closer than the final margin might indicate.
For much of the night, it appeared as if Kevin Durant alone might carry OKC to a surprising victory. But the superstar's 32 points, 10 rebounds and nine assists weren't enough against a late barrage of transition layups and perimeter jumpers from the defending champs, who pulled away midway through the final period and never looked back.
Now, Golden State, 55-5, can instead look forward to the remaining portion of its schedule. It's cleared a hurdle that was quite necessary to overcome in the difficult quest for 73 victories, and there aren't many legitimate obstacles remaining:
Golden State's Remaining Schedule

| | | |
| --- | --- | --- |
| Date | Opponent | Opponent's Record |
| March 6 | @ LAL | 12-50 |
| March 7 | ORL | 27-33 |
| March 9 | UTA | 28-32 |
| March 11 | POR | 33-29 |
| March 12 | PHO | 15-46 |
| March 14 | NOP | 23-37 |
| March 16 | NYK | 25-37 |
| March 18 | @ DAL | 33-29 |
| March 19 | @ SAS | 52-9 |
| March 21 | @ MIN | 19-42 |
| March 23 | LAC | 40-20 |
| March 25 | DAL | 33-29 |
| March 27 | PHI | 8-53 |
| March 29 | WAS | 30-30 |
| March 30 | @ UTA | 28-32 |
| April 1 | BOS | 37-25 |
| April 3 | POR | 33-29 |
| April 5 | MIN | 19-42 |
| April 7 | SAS | 52-9 |
| April 9 | @MEM | 36-24 |
| April 10 | @ SAS | 52-9 |
| April 13 | MEM | 36-24 |
First, the Warriors simply don't understand the concept of losing games in front of their hometown faithful at Oracle Arena. None of the team's five dropped outings this season has come within those friendly confines, and you have to go back to Jan. 27, 2015 to find the last home loss during the regular season—a two-point overtime loss to the Chicago Bulls with Andrew Bogut sitting out.
Fifteen of the Dubs' remaining 22 outings are at home. That alone swings the odds of 73 rather significantly.
In the above schedule, we've highlighted three types of games: road contests against opponents with winning records, the second halves of back-to-backs and games against the league's true contenders, with the Los Angeles Clippers serving as the lower-end cutoff.
That makes up nine of the remaining 22 outings, but does anyone really think the Warriors are going to lose to the Orlando Magic or Phoenix Suns at Oracle Arena, even if the games are played one night after another contest? The same goes for the March 30 affair against the struggling Utah Jazz, despite its location at Vivint Smart Home Arena. Ditto for the road game against the Memphis Grizzlies, who have been outscored by 0.4 points per 100 possessions without Marc Gasol.
Already, we're down to just five troublesome spots on the schedule:
Potential Hurdles

| | |
| --- | --- |
| Game | Potential Issue |
| March 18, @ DAL | Road game against team with winning record |
| March 19, @ SAS | Road back-to-back against Spurs |
| March 23, LAC | Clippers on a roll |
| April 7, SAS | It's the Spurs |
| April 10, @ SAS | Road back-to-back against Spurs |
If the Warriors take care of business in every other game—by no means a guarantee, as even the best teams of all time occasionally slip up—they only have to win four of those five.
But strong as the Spurs may be, can you really bet on the Warriors dropping three consecutive games to the same team when Gregg Popovich loves resting his starters for marquee matchups? Do you really want to count on the Mavericks after they've posted a minus-1.4 net rating since the beginning of January?
"Just to be in the conversation of 'You guys can do it' is crazy. It's great," Klay Thompson said in the middle of February during an ESPN Radio interview, per ESPN.com's Marc Stein. "I would have never imagined this. Growing up, I always thought that record was untouchable. Obviously we're playing for more than just 73 wins—we're playing for a championship—but if it's right there for us, we might as well try and take it."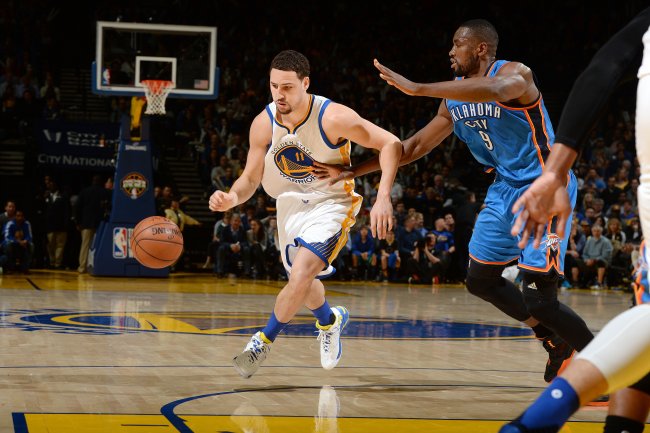 Garrett Ellwood/Getty Images
It's almost inevitable that the hallowed mark will be right there for the taking during the true stretch run. Those five games we highlighted as possible trip-ups? The final two come within the last four games of the regular season, which means it's entirely feasible the Warriors could enter that stretch with only eight losses to their name. Or—gasp—fewer.
But right now, there's no reason to expect any stumbles.
On Thursday night against the Thunder, the Dubs once again proved they could operate their finely tuned offensive machine against a talented opponent, even on a night that saw Curry uncharacteristically struggle with his perimeter stroke.
Despite bricking a deep three off nothing but the backboard, missing a wide-open triple from the right wing and needing the final minutes to elevate his performance to 5-of-15 from beyond the arc, the reigning MVP still had some moments of brilliance. Take this early finish as one of many examples:
In many ways, it's telling that what felt very much like an off night from Curry still resulted in 33 points, four rebounds and four assists on 25 shots from the field. Plus, the point guard turned the ball over just once against the pestilent defense of Russell Westbrook.
But the Warriors weren't just about Curry. The ball often moved crisply around the arc and into the teeth of a Thunder defense that entered the night ranked just inside the top half of the league's defensive-rating leaderboard.
Sometimes, it was Shaun Livingston, who ended up recording eight dimes off the bench, slipping the ball out of the post to a cutting Klay Thompson while taking advantage of Andre Roberson's need to steer off a three-point feed:
Sometimes it was Curry initiating a quick sequence that led to yet another dunk:
This wasn't a game in which the Warriors tortured their opponents from outside the arc, so they instead relied on the ball movement that can so often make them both special and unbeatable. The results were exactly what you'd expect against a Thunder unit ranked No. 27 in opponents' turnover percentage—33 assists and eight turnovers for a team that typically posts 29.1 and 15.3, respectively.
Golden State won't work itself up for every game like this one. The Thunder, despite the factors working against them Thursday night, remain a true contender in the Western Conference, and the Warriors have relished every opportunity to deliver knockout blows in those situations.
But the schedule doesn't require that fervent need to prove superiority against the other top-tier organizations.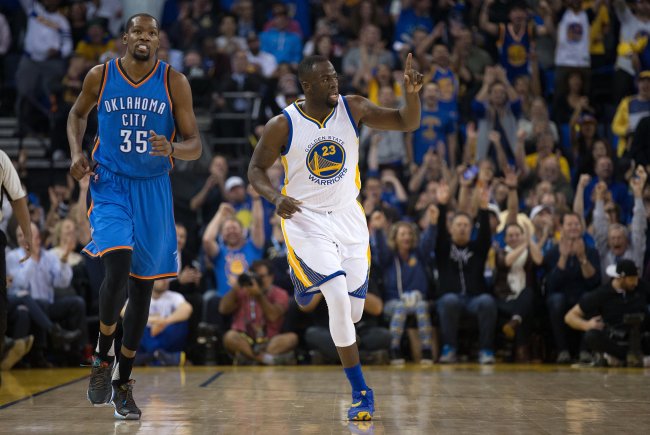 Kelley L Cox-USA TODAY Sports
Instead, the focus shifts to avoiding slip-ups against lesser teams—something not even the Dubs have been able to avoid in 2015-16. The five losses haven't come against squads the Warriors would have circled on their collective calendar, though some admittedly took place while key players were sitting out of the proceedings.
With 15 home games and plenty of contests against lottery-bound squads left on the schedule, the remaining obstacles are few and far between. Insane as it may sound, unrelenting focus against weaker foes and a desire to chase the record could be the only pieces of the puzzle standing in the way of history.
And with one more important hurdle cleared, the Warriors are leaving us with no choice. We now have to reconfigure the very wiring of our brains to believe what was once inconceivable.
We have to accept the increasingly, undeniably realistic possibility of a 73rd win.
Adam Fromal covers the NBA for Bleacher Report. Follow him on Twitter: @fromal09.
All stats, unless otherwise indicated, are from Basketball-Reference.com or Adam's own databases and are current heading into games on Thursday.