SANTA CLARA, Calif. —
1. Is Wilson-Newton the next Brady-Manning?
Cam Newton will be one of the great positive presences in the NFL—on the field and off—for the next decade.
Russell Wilson will be one of the great positive presences in the NFL—on the field and off—for the next decade.
Both things are true. What might happen along the way is that as both men become leaders in the sport, they will also become the 21st-century version of Tom Brady and Peyton Manning.
This is not an outlandish belief. Sunday will be the third straight Super Bowl to feature either Newton or Wilson. This is not to say that they will be as skilled as Brady and Manning (though they might be, just in a different way) or will set records the way Brady and Manning did (though who knows), but their rivalry could be as entrancing as Brady and Manning's.
The rivalry will develop not solely because Newton and Wilson will be two of the best quarterbacks of the next generation. They will have a rivalry because they play for excellent organizations that will continue to put talent around them.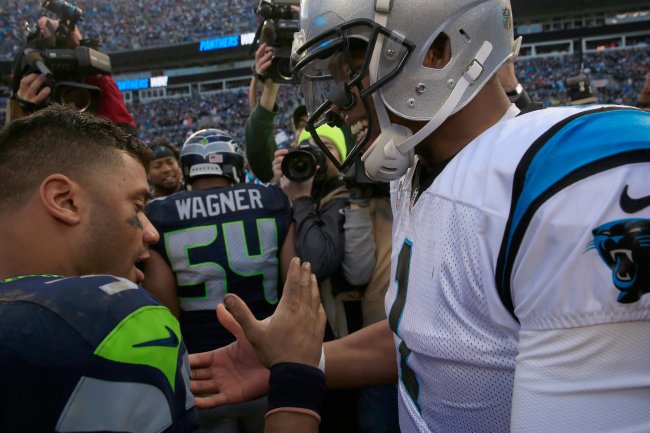 Jamie Squire/Getty Images
The Panthers have one of the top five front offices in the sport. The Seahawks have maybe the best.
This means there's a good chance both players will have respectable offensive lines and weapons on offense—and both teams already have respectable defenses.
(Conversely, I worry for a player like Todd Gurley. Jeff Fisher hasn't built a decent offense since the Ice Age.)
Throw in how both teams have excellent coaches. Pete Carroll is 64 but doesn't look it or act it. He probably has excellent cholesterol levels. And Ron Rivera is one of the best player managers in the sport.
What will be most fun about a potential Newton-Wilson rivalry will be the difference in personalities. Publicly, Wilson goes out of his way to say as little of substance as possible. Newton is as fearless off the field as he is on it. He has enough personality for the both of them.
So what we saw in the playoffs this year is just the beginning. A rivalry is blossoming, and it will be glorious.
2. Peyton Manning's finale?
When NFL Films microphones caught Peyton Manning telling Bill Belichick after their playoff game this might be his last year, it seemed to be a shock to some people. But as one player told me, Manning has been saying his goodbyes to opposing players after games for much of the season.
The player said Manning's been doing so the way he did with Belichick, saying it's been an honor to go against them.
During the NFL's Super Bowl Opening Night this week, Manning said he told Tom Brady the same thing he told Belichick. "I wanted to tell both of them," Manning said. NFL.com's Ian Rapoport reported that Manning's "told close friends that he expects this to be his last game as well."
None of this is to say Manning will definitely retire, but that's where it seems this story is trending.
3. Cam Newton proved naysayers wrong early
Chuck Burton/Associated Press
There was an excellent story in the Charlotte Observer on Sunday about the early days of Cam Newton. People have forgotten those days and how he proved many people in football (and the media) wrong about his ability to handle a complicated NFL offense. The story centers around former offensive coordinator Rob Chudzinski, who helped mold Newton into the quarterback he is now.
Author Joseph Person quotes Chudzinski:
We felt he could become the franchise quarterback and throw the ball and develop as a passer and also that we could incorporate some of the other things to blend them together. I give credit to (former general manager) Marty Hurney and Ron for looking at this thing outside the box. There were a lot of people that thought neither of those two things could happen.
A lot of people. That's easy to forget now.
Newton would open his career with consecutive 400-yard games against the Cardinals and Packers. It would begin his transformation into a multi-weapon threat who could beat a defense either from the pocket or with his feet.
Chudzinski continued:
I think what that did was cement to us that he could be a passer. That he could win games throwing the ball as well, and that he had a special ability to rise to the occasion. He's a gamer. You're talking about a rookie quarterback coming in and doing that right away, there was no stage too big for him.
Not this one, either.
4. Cam Newton and Warren Moon
This was a well-done conversation with Hall of Famer Warren Moon on Newton. Worth your time. Presented without comment.
5. Ron Rivera proving people wrong, too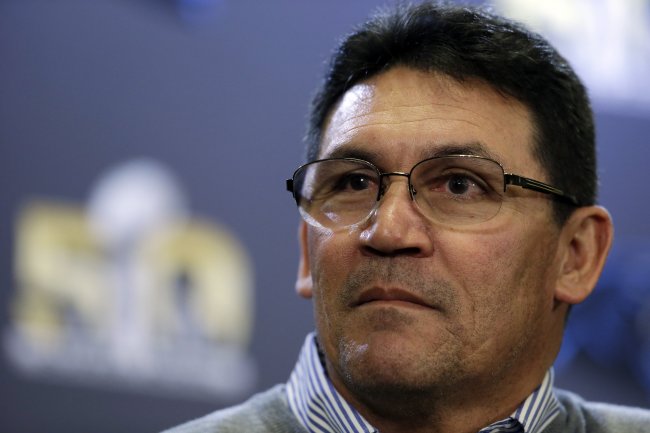 Marcio Jose Sanchez/Associated Press
Something important to remember: Coach Ron Rivera was passed over eight times for head coaching positions.
Eight. Times.
6. Reason No. 100,000,000,000,000 the Pro Bowl is stupid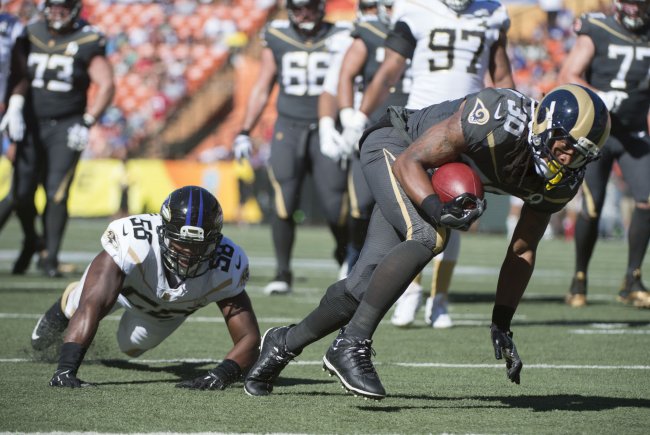 Kyle Terada-USA TODAY Sports
At one point early in the game, Todd Gurley caught a pass out of the backfield. He was tackled and his head bounced hard off of the ground. It may have actually bounced twice.
Later, Amari Cooper tried to make a catch, and he was elbowed in the head by Richard Sherman.
The hits are one of the things that makes the Pro Bowl just stupid. Why expose your players to head trauma for a game that is absolutely meaningless?
7. Peyton Manning is 13-13 in the playoffs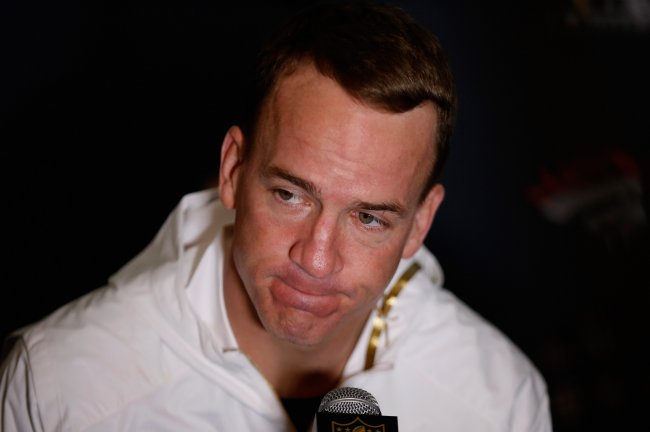 Ezra Shaw/Getty Images
There are many reasons this game is big for Manning, but I was fascinated by the fact that Manning's likely last playoff game will determine if he has a winning playoff record. Small thing. Maybe something only I'm obsessed with.
Definitely only something I'm obsessed with. My apologies. Thanks for indulging me.
8. Ted Ginn Jr. is one of the biggest keys to the Super Bowl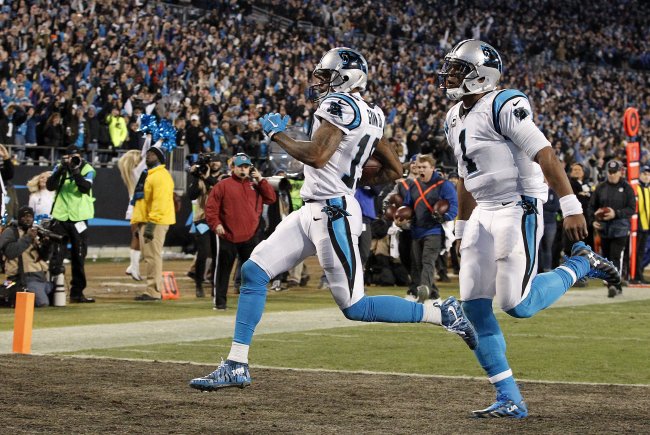 Jeremy Brevard-USA TODAY Sports
Ted Ginn Jr. could blow the game. He could win the game.
I asked one scout to tell me about Ginn and he encapsulated him perfectly: "Ginn always had potential, but his head wasn't always in the game. The Panthers have been able to get him to focus and totally buy in. This was the Ted that so many teams thought he could be. I wouldn't shocked if he had eight catches for 150 and two touchdowns."
But it also wouldn't be stunning if Ginn had two catches and a fumble. Both things are possible.
9. Players retiring earlier
From ESPN Stats & Info:
19 players retired at age 30 or younger in 2015, accounting for nearly half of all players who retired last year: pic.twitter.com/VChjeRCfr1

— ESPN Stats & Info (@ESPNStatsInfo) February 1, 2016
Nineteen is still a moderate number, to be sure, but it shows what I've been saying for some months: Players are starting to really take in the increasing medical information around them. They aren't, as many have done in the past, ignoring it.
Said Mark Brunell on ESPN: "More players are asking themselves: 'How do I want to feel when I'm 50?' "
10. Thursday Night Football, cash and player health
The NFL has renewed its package of Thursday night games for a cabillion dollars. The league will make lots of cash off those games. The union will, too. The players and owners will continue to get rich off of it.
But the next time the league or union talks about player safety, feel free to roll your eyes. This is an inescapable fact. It is better for an NFL player who has a game on Sunday or Monday to get as much time as possible to rest.
This is simple math and biology. Violent sport + body and head trauma = longest possible time needed to heal. It's that simple. Playing a game Sunday or Monday and then playing Thursday instead of the following Sunday is detrimental. It's really that simple.
Mike Freeman covers the NFL for Bleacher Report.