Super Bowl 50 marks a fitting matchup between the Denver Broncos and Carolina Panthers—the top seeds for their respective conferences. Not surprisingly, both teams boast some of the league's best statistics.
Carolina ranked fourth in overall DVOA, according to Football Outsiders, for example, while Denver isn't far behind at eighth. The Panthers boast the top cumulative rating, according to Pro Football Focus, and Denver was third overall.
The Dream Matchup
In the Captain Obvious department, Super Bowl 50 is a matchup between the league's best offense and top defense. That much was evident during championship weekend alone, as the Panthers throttled a good Arizona Cardinals defense, while the Broncos suffocated the New England Patriots.
Denver has been touted as the No. 1 defense for much of the season, so there is little surprise in a strong postseason performance. What might be news, though—considering how well-touted Arizona and Pittsburgh offenses were during the season, at any rate—is the fact Carolina's offense was, by far, the best-rated offense over at Pro Football Focus.
Those are raw ratings, to be fair, but it's going to be fun to watch Carolina quarterback Cam Newton take on linebacker Von Miller and that vaunted Denver defense.
That Broncos pass rush was all the difference in the victory against New England. Miller was a force of nature in the AFC Championship Game, abusing Patriots offensive linemen en route to three sacks, another quarterback hit and four more quarterback pressures.
He spearheaded a pass rush that harassed Tom Brady into oblivion. Is more of the same in store against Carolina?
All in all, Carolina's pass blocking ranked just 21st by DVOA standards, according to Football Outsiders, allowing an adjusted sack rate of 6.8 percent. That's not exactly encouraging considering New England ranked 18th and had healthy starters against Denver.
Denver, as you might imagine, boasted the top-ranked defensive line with an 8.1 percent sack rate, according to Football Outsiders.
Fortunately, the offensive line has been a strength for the Panthers in recent weeks, including solid play from an unexpected source—left tackle Michael Oher. Though he had a negative overall grade from Pro Football Focus, Oher improved his pass blocking after being moved to the left side this season.
The big lineman has protected Cam Newton's blind side well in the playoffs, having allowed zero quarterback pressures in two games.
Oher's counterpart, Mike Remmers, has also kept Newton clean on the right side through the playoffs. If he can manage a similar performance with Miller lining up across from him, the Panthers will have a massive advantage on offense.
Newton enjoyed the eighth-most time to throw at quarterback with 2.85 seconds per dropback on average, according to Pro Football Focus. He was among the leaders in time to attempt (2.65 seconds) and time to scramble (5.40), too.
If the Broncos can disrupt Newton's timing like they did against Brady, the presumptive MVP could find himself scuffling in turn. Of course, Newton has a few things Brady lacks, most notably the elusiveness of a squirrel and the speed of a gazelle.
Carolina's offense isn't predicated on Newton freelancing, but he is one of the few quarterbacks in the league who can play right into a defense's game plan and still make his opponent look silly.
Turning Back the Clock
There is, of course, a narrative surrounding Peyton Manning's play. Age has caught up to him at 39, after all, and he can't throw the ball deep anymore. Right?
Well, that may be half-true.
Manning threw deep passes 12.7 percent of the time, smack dab in the middle of the pack among NFL starting quarterbacks. His relative penchant for throwing deep is the reason receivers Demaryius Thomas (2.20) and Emmanuel Sanders (2.10) are both in the top 20 in yards per route run.
Those deep passes were plentiful considering he couldn't complete them. Panthers linebacker Thomas Davis doesn't think Manning has lost arm strength—or much else—either, per Ben Swanson of DenverBroncos.com:
I mean, he's going to go down as—if not the greatest—one of the greatest quarterbacks to ever play this game and you don't just lose that overnight. You look at some people talking about his arm strength, but in the Patriots game, it looked pretty good to me. He looked good throwing the ball to me, from watching the game.

We have to understand that as a defense, that he's a true competitor. He's a guy that's going to come and want to do whatever he can to make sure that his team leaves that field victorious so we have to make sure that we're doing whatever we can in our power to make sure that that doesn't happen.
Among quarterbacks with at least 20 deep passes, only teammate Brock Osweiler and rookie Marcus Mariota had worse completion percentages on throws over 20 yards, per Pro Football Focus. The AFC Championship Game highlighted this issue—Manning just missed on several long balls, including a couple of them just out of reach in the end zone.
All that to say the Broncos will take their shots against that depleted Panthers secondary. Whether Manning can be on target with a few of them could be one of the biggest deciding factors on Super Bowl Sunday.
That is if Carolina gives him time to throw, at any rate.
Whereas Newton had a ton of time to throw on average, Manning was in the opposite boat this year—he had the least time to throw among all qualifying quarterbacks at 2.31 seconds, per Pro Football Focus.
Much of that has to do with the nature of the offense—Manning tends to get rid of the ball quickly—but he also had just 3.11 seconds before getting sacked on average.
Who's Cam Throwing To?
Speaking of going deep, Ted Ginn Jr. is known best as a deep threat. Counting on him to make a big play down the field might be fool's gold, however.
Among receivers with 50 or more targets, Ginn posted the ninth-worst catch percentage in the entire league—he caught just 26.1 percent of his deep targets this season. Of course, he is infamously butter-fingered on such passes, dropping five of his 23 opportunities to tie for the most in the league.
Fortunately, none of that may matter. Ginn has been huge for the Panthers, and he doesn't need to catch a deep pass to make a big difference in the game. If Denver cornerback Chris Harris Jr. is tasked with stopping Ginn, though, it might be a long night.
Consistently one of the most underrated players in the league, Pro Football Focus rated Harris the third-best cornerback in the land. But it's far likelier he will be lining up elsewhere for much of the game. More on that in a minute.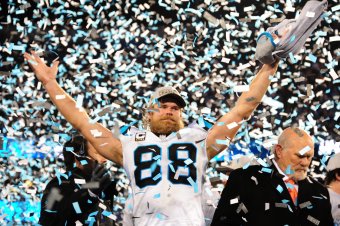 Scott Cunningham/Getty Images
The biggest question is whether the Broncos can stop tight end Greg Olsen. Though he's not quite Rob Gronkowski at tight end, Carolina's leading receiver is nearly as unstoppable.
He was a focal point for Arizona's defense—at least if head coach Bruce Arians' pre-game comments were to be believed, as reported by the Chicago Tribune's Brad Biggs—yet Olsen ran wild in the NFC Championship Game to the tune of eight receptions for 113 yards in a game that had all but gotten away from the Panthers.
The Broncos have had trouble stopping tight ends this season, including Gronkowski's eight-catch, 144-yard performance against them that included a touchdown. Denver bracketed Gronk wherever possible, but primary coverage depended on where he lined up.
Olsen played almost half his snaps out of the slot this season. Guess who the league's top slot cornerback was? That would be Mr. Harris, who allowed a passer rating of just 43.4 on passes thrown his direction while covering the slot receiver, according to Pro Football Focus.
Of course, a 6'6", 250-pound tight end against a 5'10", 190-pound cornerback isn't exactly a fair physical fight, but the Broncos at least have a competent cover man to blanket Olsen out of the slot.
The Bates Motel
Few receivers have escaped the Bates Motel after checking in.
Josh Norman has been great this season, rating out as one of the league's top cornerbacks and developing a reputation as a shutdown corner. While the latter may not be quite true—Carolina gives him help in tougher matchups.
Norman has allowed just two touchdowns and a 54.0 passer rating on passes thrown his direction this season, earning him the third-best coverage grade among his peers, according to Pro Football Focus.
The question is who will draw Norman's attention this week. The easy answer is Demaryius Thomas, who is Denver's most dangerous receiver.
Thomas has come down with a case of the postseason dropsies, though—not terribly surprising considering his 12 drops in the regular season, third-most in the league—and he is best in catch-and-run situations where the Broncos get him the ball in space.
Emmanuel Sanders, meanwhile, is the more polished Broncos receiver—at the very least, he has rated higher than his counterpart in the passing department over at Pro Football Focus for the past couple of seasons—who has proven to be a threat anywhere on the field.
The Panthers could decide to leave Norman on an island with Sanders and crowd Thomas so he doesn't get loose on screens and short passes.
Running Backs are People, Too
Of course, the Super Bowl will feature some running of the ball—or at least attempts to do so. Denver has been particularly eager to establish the run, perhaps in part to preserve Manning's arm as games and the season have gone on.
Unlike their first meeting, the Broncos didn't get much going against the Patriots. C.J. Anderson and Ronnie Hillman combined to average just under 3.3 yards per carry, and that includes a 30-yard scamper from the former.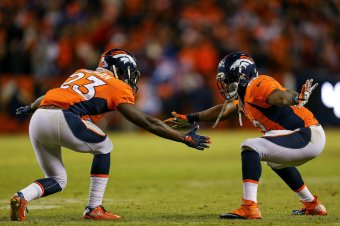 Justin Edmonds/Getty Images
Backed by stud linebackers Luke Kuechly and Thomas Davis, Carolina's defensive line was ranked fourth in DVOA against the run, according to Football Outsiders. That unit has given up just 106 yards in two games, though David Johnson had moderate success in a blowout loss.
Just three defensive lines ranked higher than Carolina against the run, and one of those belonged to Denver.
Though Pittsburgh's Fitzgerald Toussaint and New England's Steven Jackson weren't exactly marquee opponents, the Broncos defense has allowed just 2.6 yards per carry to running backs during the playoffs.
All that to say, Anderson, Hillman and Jonathan Stewart might be stuck in the proverbial mud in Super Bowl 50.
Just Play the Game
So what can we glean from all these fancy stats? If the game was played in a vacuum—or perhaps a Madden simulation—it could become a defensive slugfest.
If the Broncos can continue dominating the defensive trenches and the Panthers take away the run, we could be looking at a final combined score in the 30s.
Or two weeks of scheming might render any and all statistics irrelevant. Here's to hoping for a great game regardless.