The Golden State Warriors are a team on a mountaintop, scanning the horizon for higher peaks to climb.
"Everyone's excited," Draymond Green said Tuesday, one day after smashing the San Antonio Spurs and one before he'd lead the Dubs into battle against the Dallas Mavericks. "We won by 30...but we had 21 turnovers. That's the most exciting part about it to me is just, yeah, we're 41-4. Yeah, that's great. But we're nowhere near where I know we're going to get."
Make it 42-4.
Green and the Warriors beat the Mavs by a final of 127-107, avenging a Dec. 30 loss and making sure there would be no satisfaction, no complacency and no post-Spurs letdown.
It was an on-brand win—one representative of a team that has supreme confidence but also a built-in understanding that staying still is moving backward.
"You get to that point where you stop getting better, you get passed by," Green said. "We don't feel like we're nowhere near our best, and that's why it's important to us to always try and get better."
That was a good mantra for the Warriors to keep in mind as Stephen Curry struggled to find his stroke and Green didn't even attempt a field goal in the first half. Klay Thompson propped up the offense with 26 points before the break, and then, predictably, the big guns started firing.
Curry and Green combined to score 21 of Golden State's 39 third-quarter points, both going from ice-cold to red-hot in a blink. Nothing unusual, per Ethan Strauss of ESPN:
Nobody stops having a bad game faster than Steph Curry

— Ethan Strauss (@SherwoodStrauss) January 28, 2016
Even with Dirk Nowitzki sitting out to rest his troublesome knee, Dallas made the Warriors work for a while, peppering in some surprising zone looks on defense, getting big threes from Chandler Parsons and generally giving the defending champs the proverbial best shot they've come to expect from every opponent.
Yet, when the dust settled on the third period, a tight game had gotten out of hand. And the Warriors, according to Damon Bruce of 95.7 The Game in San Francisco, had turned a less-than-ideal start into sterling results:
This "off night" of "uninspired" basketball is brought to you by 95 points after 3 quarters on 57% shooting. #Warriors

— Damon Bruce (@DamonBruce) January 28, 2016
The final tallies: Curry had 14 points and nine assists; Thompson put up a season-high 45 on just 20 shots; Green scored 10 in 24 minutes and didn't miss from the field. Sports Illustrated's Ben Golliver shared Thompson's thoughts regarding Green giving him a mini water bath:
"It's all good. I needed that." -- Warriors' Klay Thompson after Draymond Green got him with the water pic.twitter.com/hdUb2YMNQY

— Ben Golliver (@BenGolliver) January 28, 2016
It was the kind of game that made sense for the Warriors' "we're the best, but we need to get better" mindset. Within the contest, Golden State looked invincible during a decisive stretch—clearly capable of hitting a gear nobody (not the Mavs, not anybody) can match—but also went through sluggish periods that will give the coaching staff nits to pick.
"I did expect us to be better than last year," Steve Kerr said Tuesday.
Dallas got plenty of quality looks from three, hitting 11 of 31 deep ones. And the Warriors surrendered 52 points in the paint.
It'll all be fodder for Steve Kerr and his assistants in the next film session, though the staff will point out these flaws to a team that has now won 40 straight regular-season games at home and seemed to know all along that the Mavericks were not a threat.
"I don't believe in overly confident." Green said Tuesday. "I don't really know what that is, honestly. Like, we're not going to come out and take anyone lightly, if that's what overconfident is."
This is how things will go for the Warriors for the foreseeable future: They'll demolish just about everyone they face, they'll keep adding to their surplus of confidence...and then they'll find ways to be unsatisfied with their dominance.
If you were engineering a team for a protracted stretch of title runs, this is exactly the paradoxical mentality you'd implant.
The Warriors are great, and they know it. It's just that they're sure they can be greater.
The Cavs Might Finally Be Ready for Fun Again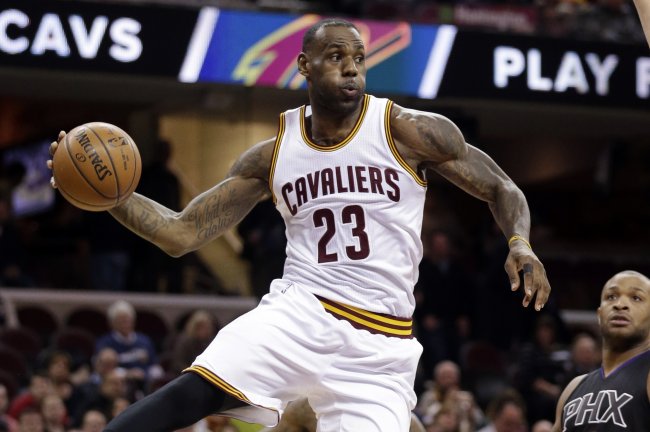 Tony Dejak/Associated Press
Sporting a first-quarter effort level that registered somewhere between "tree sloth on a morphine drip" and "James Harden offseason workout," the Cleveland Cavaliers appeared set on extending the Tyronn Lue era to three straight exhibitions of lethargy.
Trailing after one and taking just a five-point lead into halftime against the "barely an NBA team Phoenix Suns," the Cavs were searching for a stride in the third. And they found it (much to Lue's delight, no doubt) by running.
Cleveland cruised to a 115-93 win behind 19 fast-break points and, most importantly, seemed to enjoy it.
That's a welcome sight for a Cavs team that looked dejected under David Blatt for much of the year and appeared mostly the same to start Lue's tenure.
Maybe Lue was onto something more than a strategic plan when he pledged for the Cavaliers to run more, according to Chris Haynes of Cleveland.com. Logically, the idea made sense because Cleveland ranks first in transition scoring efficiency but sits in the middle of the pack in terms of volume, per NBA.com.
Emotionally, though, breakaway buckets can boost spirits.
After losing to the Spurs, getting crushed by the Warriors and then stumbling into the Lue era, the Cavs needed a little fun. If they keep running, they'll keep finding more.
I Didn't Come Here to Get Yelled At
"Don't sit down! Don't sit down!" Atlanta's PA announcer bellowed into the night.
Kyle Korver had just hit a three to give the Atlanta Hawks an 82-81 lead over the visiting Los Angeles Clippers with 24.6 seconds remaining in the fourth quarter, and apparently, fans in person and viewers of the broadcast needed direction on how to react during the ensuing timeout.
Seriously, guy?
We're all watching the same game you are. We all thought that was a clutch bucket. Please quit yelling at us.
The overzealous NBA hype man on the loudspeaker is an epidemic across the league, so it's probably not fair to single out the Hawks' operation. Though, in what must have been an episode of karma balancing things out, the Clips got a perfect pick-and-roll dunk for DeAndre Jordan on the next possession and then hit foul shots to close it out. Paul Millsap had two late chances to first reclaim the lead and then tie it up, but neither fell.
L.A. won, 85-83.
People sat down then.
Avery Bradley Digs First Quarters
Maddie Meyer/Getty Images
OK, so here's the plan: From now on, the Boston Celtics start every quarter with player introductions, pyrotechnics, streamers and whatever else normally accompanies the pregame routine. This way, maybe they can trick Avery Bradley into thinking every quarter is really the first quarter.
Because he's kind of a monster in the opening stanza, he had another tone-setting outburst early in the Celtics' comfortable 111-103 win against the Denver Nuggets, scoring 13 of his 27 points.
None of this should have been surprising, as Bradley came in averaging 5.4 of his 14.8 points per game in the first. But it drew exclamations anyway, like this one from Jay King of MassLive.com, all the same:
Dear lord Avery Bradley.

— Jay King (@ByJayKing) January 28, 2016
Bradley's customary hot start helped offset his teammates' combined 6-of-19 effort in the first and opened up a 29-21 lead the surging Celtics maintained on the strength of their defense, per Matt Moore of CBSSports.com:
Boston's got its tentacles all around the Nuggets' largely inept offense and is strangling it to death like a sea creature.

— Hardwood Paroxysm (@HPbasketball) January 28, 2016
This is getting to be a habit, as King observed:
The Celtics have now forced at least 20 turnovers in each of their last four games. First time since 2004.

— Jay King (@ByJayKing) January 28, 2016
The Celtics are rolling, winners of four straight and seven of their last nine. Imagine what they could do if Bradley bought the faux first-quarter ruse.
Let's Talk About Nerlens Noel
Jahlil Okafor's illness meant Nerlens Noel had to man the middle alone against the Detroit Pistons on Wednesday—a tough task with Andre Drummond being so big and scary and all.
But there was some evidence Noel might comport himself nicely, especially alongside Ish Smith, which ESPN.com's Kevin Pelton relayed before the tip:
Nerlens Noel playing C with Ish Smith, per @nbawowy: 17.4 p/36 10.4 r/36 3.7 b/36 3.2 s/36 70.3% TS% https://t.co/oqQGe4JJQA

— Kevin Pelton (@kpelton) January 28, 2016
Bleacher Report's Alec Nathan offered this up for the visual learners:
Friendly reminder that Nerlens is shooting nearly 65% since Ish arrived and kinda sorta maybe has a jumper. pic.twitter.com/F7NXG7xQwm

— Alec Nathan (@AlecBNathan) January 28, 2016
This had nothing to do with Smith, but it warrants placement here because...OK, seriously, if you need an explanation, check your pulse.
We can't get crazy here. Drummond absolutely got his, crushing Philly for 25 points and 18 rebounds. And Detroit, the better team regardless of which personnel group the Sixers fielded, put on a fourth-quarter blitz (36-18) to take the game by a final of 110-97.
But Noel finished with 20 points, seven rebounds and four assists on 9-of-11 shooting and continued to show real flashes of chemistry with Smith.
It's clear Noel has worlds of talent and potential. The real challenge—and the one head coach Brett Brown has been taking on lately by playing Noel and Okafor together much more often—is getting the most out of the young Sixers bigs in tandem.
Baby steps, though.
The Spurs Stay on the Cutting Edge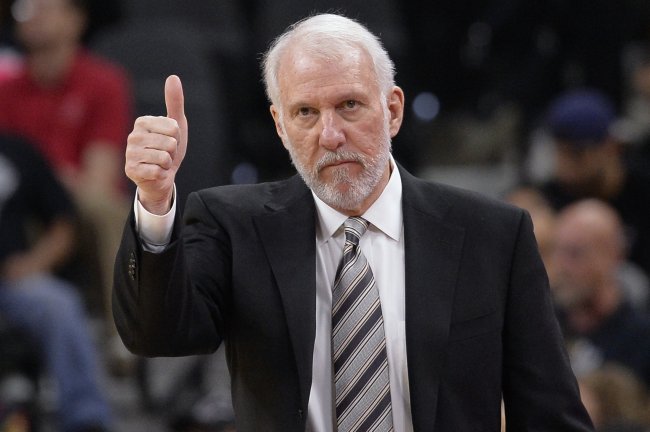 Darren Abate/Associated Press
You've got to hand it to the San Antonio Spurs, who bounced back gamely after a bone-jarring bodyslam from the Warriors on Monday by returning to their dominant, singularly crafty ways. Head coach Gregg Popovich was pleased (h/t Project Spurs' Paul Garcia):
Pop on if his team responded to the GSW loss: "I guess I'd have to say yes." SA beat HOU by 31.

— Paul Garcia PS (@PaulGarciaPS) January 28, 2016
With 27 seconds remaining in the first quarter of their 130-99 win over the Houston Rockets, the Spurs embarked on virgin territory, discovering "hack-a" terrain nobody had ever even thought to explore. They intentionally fouled Clint Capela, who was inbounding the ball. That move got the attention of ESPN.com's Calvin Watkins:
Wait, Capela was fouled before he in bounded the ball? You can do that?

— Calvin Watkins (@calvinwatkins) January 28, 2016
Don't worry about the fact the officials could have just ruled this a delay of game. Instead, enjoy it for the smirking, "don't you wish you'd thought of this?" gamesmanship it was.
We've learned a few things about the Spurs in the past few days. The first is that they've got some ground to make up if they're going to bother the Warriors in a series. The second is that they're still markedly better than 28 other teams.
The third is that they're always thinking ahead, searching for new edges.
Andrew Bogut had better be careful. The Spurs might just foul him during warm-ups the next time San Antonio plays Golden State—just to see if it'd work.
The Thunder Might Be Living a Little Dangerously
We're nitpicking here, but after a 126-123 win over the feisty Minnesota Timberwolves, the Oklahoma City Thunder's defensive rating has fallen to 12th in the league, per NBA.com.
Commence caveat parade: This isn't fatal. We're only halfway through the season. Russell Westbrook had 24 points, 15 assists and eight rebounds. Kevin Durant scored 27 and grabbed nine boards. OKC's offense is so good (second in the league), it can just outscore its opponents.
Still, the quick-and-dirty rule for contenders is that you've got to have both your offensive and defensive efficiency in the top 10 before you are taken seriously. And while the Thunder's bigger championship obstacles reside in San Antonio and Golden State, the reason they're not on the same level as those two juggernauts is, simply, defense.
It's reasonable to believe the Thunder can score with anyone, but if the Wolves can hang 123 (and Zach LaVine can go for 35 off the bench), why should we expect Oklahoma City to stop either the Spurs or Warriors in a series?
Just something to monitor as the season wears on and we start thinking more specifically about how postseason matchups might shake out.
Important closing note: This game was a ton of fun, which is what happens when nobody defends.
Presented Without Comment
Russell Westbrook's hat postgame: "Just don Westbrook" pic.twitter.com/Qblg2F02Bw

— Anthony Slater (@anthonyVslater) January 28, 2016
Follow @gt_hughes on Twitter.
Stats courtesy of NBA.com and Basketball-Reference.com.
Quotes obtained firsthand unless otherwise indicated.