One of the NFL's greatest rivalries could come to a close on Sunday, as Tom Brady and the New England Patriots hit the road to take on Peyton Manning and the Denver Broncos in the 2016 AFC Championship Game.
For several weeks during the regular season, it looked like Brock Osweiler, not Manning, would lead the Broncos during the postseason. However, a shaky Week 17 performance from Osweiler against the lowly San Diego Chargers prompted Broncos head coach Gary Kubiak to throw Manning back into the fray.
Manning seemed to calm his teammates and helped them beat the Chargers, and he's since maintained his role with a serviceable outing against the Pittsburgh Steelers in the divisional round.
The stage is set for the 17th meeting between Brady and Manning, with a spot in Super Bowl 50 on the line.
Here's a look at the updated odds and live stream info for the championship tilt. Odds are courtesy of Odds Shark and updated as of Sunday, Jan. 24, at 12 p.m. ET.
2016 AFC Championship Odds, Viewing Info
When: Sunday, Jan. 24, at 3:05 p.m. ET
Where: Sports Authority Field at Mile High in Denver
TV: CBS
Live Stream: CBSSports.com
Spread: New England (-3)
Over/Under: 44.5

Manning hasn't been his Hall of Fame-worthy self this season—he's hardly been replacement level—so it will be up to the Broncos' top-shelf defense and running game to see the team through to Super Bowl 50. The 39-year-old quarterback has thrown just nine touchdowns against 17 interceptions this year.
A mortal Manning and an ostensibly healthy New England are the likely reasons why it's the Patriots, not the home Broncos, that the oddsmakers favor in this one. Broncos safety T.J. Ward apparently isn't worried about the slight, saying the team still has to go out and prove the naysayers wrong.
"I try not to listen to all of the noise. You hear some of it, but it is what it is," Ward said, per Seth Walder of the New York Daily News. "We have to go out there and prove it. We're not world champs. We haven't been world champs. We're going against the defending world champs, so it's only right."
Indeed, Denver has already proven they can win against New England, beating them 30-24 in overtime in Week 12.
The big difference between then and now is that Osweiler was the starter in that game. He threw for 270 yards, one touchdown and one interception. Osweiler presented an interesting challenge for New England's defense. He's a tall, mobile operator who fares well on the bootleg and has shown better arm strength than Manning this year.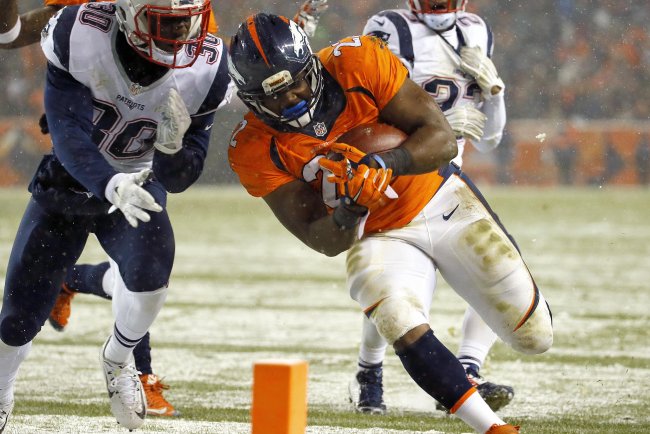 Jack Dempsey/Associated Press
Manning could struggle against New England, but at least he's backed up by a formidable rushing attack. C.J. Anderson and Ronnie Hillman combined for 172 rushing yards and three touchdowns against the Patriots. It's those two and the Broncos defense, not Manning, who are the leaders of this team.
One would think that Denver's defense, which features four Pro Bowlers and allowed the fewest total yards per game, would be eminently capable of shutting down an unbalanced attack like New England's. One would be wrong.
Broncos defensive coordinator Wade Phillips knows that when it's Brady calling the plays, an aerial assault is all he needs, per ESPN.com's Jeff Legwold:
They can throw it every down and win. Nobody else can do that. No one in football—I think you look at the record—no one in football can throw it over 50 times and win except Tom Brady, and it's with or without all his guys. Now they've got all their guys. It's a big challenge.
Of course, he speaks from experience. Brady threw for 280 yards and three touchdowns in that Week 12 contest, picking apart Denver's defense without Julian Edelman, Danny Amendola or a strong rushing attack.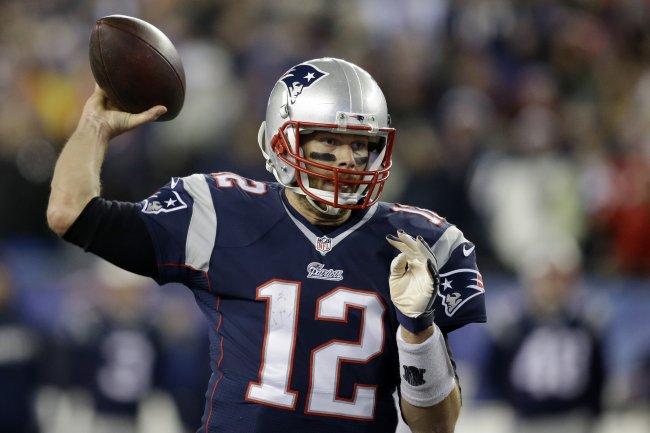 Stephan Savoia/Associated Press
Veteran pickup Steven Jackson hasn't solved the ground-game issues, totaling 27 carries and 66 yards since joining the Patriots as a replacement for the injured LeGarrette Blount. But Brady will have Edelman and Amendola this time around.
Edelman's presence should have Broncos fans very nervous. The shifty wideout picked up 100 yards receiving on 10 receptions against Kansas City in the divisional round. He makes it very dangerous for defenses to double up on tight end Rob Gronkowski and gives Brady another option before he has to settle for shorter passes to the likes of Amendola or running back James White.
The Broncos' pass rush will be crucial to their efforts. The Patriots' offensive line has been shaky at times this season, though they looked very sharp holding back Kansas City's talented group of pass-rushers a week ago.
This is a huge game for Broncos linebackers Von Miller and DeMarcus Ware, who combined for 18.5 sacks this season. They have to disrupt Brady's timing on the longer-developing plays, as they might not get a chance on the quick hitters.

NFL.com's Kevin Patra noted just how quickly Brady got the ball out against Kansas City:
Of all the aspects of life [at which] Tom Brady excels, his quick release from the pocket ranks high.

The quarterback's rapid trigger was in prime form in the Patriots' divisional-round win. NFL Media Research charted Brady at 2.18 seconds from snap to release versus the Kansas City Chiefs. Others had him even quicker, at 1.9 seconds on his 42 passes. Brady averaged 2.28 seconds from snap to throw during the regular season.

That quick-pass attack helps nullify an opponent's pass rush.
Which team is your pick against the spread?
Per Weather.com, game temperatures should hover around 45 to 50 degrees with a slight chance of precipitation later in the contest. Good conditions could lead to a higher-scoring game than the over-under line suggests, especially if Brady gets in a groove and Manning keeps his cool. However, a defensive struggle seems more likely.
The Broncos defense will learn from some of its mistakes the last time out, and New England will make life difficult for Manning. The spread is close with New England as three-point favorites. While this is the kind of game that begs for a field-goal finish, the Patriots are capable of building up a solid advantage and then clamping down on Manning in a two-minute drill to win the game.

Prediction: New England 23, Denver 17