If there were ever a time to stop thinking of Russell Westbrook as a shooting guard trapped in a point guard's body, now would be appropriate. He can still function as such—quite effectively, in fact—but Friday night's 113-93 victory over the Minnesota Timberwolves allowed him to showcase the complete nature of his game.
Again.
Westbrook only scored 12 points against Ricky Rubio's quick hands and Zach LaVine's athleticism, but with 11 rebounds and 10 assists, he still managed to submit his fourth triple-double of the season. And since this was the Oklahoma City Thunder's 41st outing in 2015-16, that means he's on pace to have eight such performances this year—a feat only Larry Bird, Draymond Green, Grant Hill, Magic Johnson, Michael Jordan, Jason Kidd, Fat Lever and Darrell Walker have achieved in the last three decades.
Oh, and Westbrook. He had 11 in 2014-15 while serving as a one-man show in Kevin Durant's absence.
But this year, things are different. Westbrook is playing alongside Durant and thriving as more of a "true" point guard than ever before. It's not like he was the only one to throw up gaudy stats Friday night, since his superstar teammate added 21 points, six rebounds and seven assists, giving him his 26th consecutive performance scoring at least 20.
Remember when Westbrook was criticized for commandeering the OKC offense far too frequently and taking Durant out of rhythm? Remember when poking holes in his shot chart was en vogue? Remember when he struggled to record an assist-to-turnover ratio on the right side of two?
Those problems no longer exist, and it's not just because of highlight plays like the triple-double-completing lob to Andre Roberson that Westbrook threw from beyond the half-court stripe. As Minnesota head coach Sam Mitchell explained after the game, presumably referring to his unique combination of physicality and vision, Westbrook is both a linebacker and a quarterback:
Sam Mitchell on Russell Westbrook: "He is a quarterback with a linebacker's mentality"

— Anthony Slater (@anthonyVslater) January 16, 2016
The point guard now plays with more of a controlled chaos than ever before. He'll never stop being the basketball embodiment of entropy, but only because his pull-up jumpers and reckless bursts toward the hoop consistently keep a defense on its toes. His game has just developed to the point where even his bad decisions tend to work out for the best.
First, take a gander at how his assist and turnover averages have trended throughout his career, including the numbers from his latest triple-double:
But even more importantly, here's how the assist-to-turnover ratio has evolved as he's made the difficult transition from playing the 2 at UCLA to thriving at the 1 while suiting up at the sport's highest level:
Westbrook's ratio has actually been better, but not since 2009-10, and his usage rate of 25.7 that campaign doesn't quite stack up against this season's 33.7. With more possessions typically come more turnovers, and the former Bruin is making up for those cough-ups with more skilled passes than we've ever seen from him.
This is not a particularly easy play, but he makes it look almost routine:
Though darting in to secure an offensive rebound in traffic is tough enough, whipping a left-handed feed in between four Minnesota defenders is tougher still. It hits Dion Waiters right between the numbers, putting him in perfect position to drain a catch-and-shoot three-pointer.
Westbrook is seeing the court, and it often seems as if everything around him is moving in slow motion. Maybe that's because he's so often emulating Sonic the Hedgehog and speeding around everyone else on the floor, but it could also be that he's developing heretofore unseen levels of vision.
This passing ability has also helped him co-exist with Durant better than ever. The two perennial All-Stars have always thrived alongside one another—and maintained there is never a rift between them, in spite of media reports—but the duo has been virtually unstoppable in 2015-16:
Even before their latest exploits, the Westbrook-Durant pairing was outscoring the opposition by 16.4 points per 100 possessions this season. To put that in perspective, the San Antonio Spurs boast the league's top net rating at "only" 14.8.
Everything is clicking in Oklahoma City, and it's hard not to view Westbrook as the driving force. Durant is the one with the MVP award on his mantle. He's the one who puts up ridiculous point totals and routinely defies logic with the way he moves his 7-foot frame—seriously, don't believe the height he's listed at.
But Westbrook has shown off a complete game this season, even grading out as one of the league's top defensive point guards. ESPN.com's defensive real plus/minus has him behind only Ricky Rubio and Kyle Lowry, and no qualified floor general tops his defensive box plus/minus.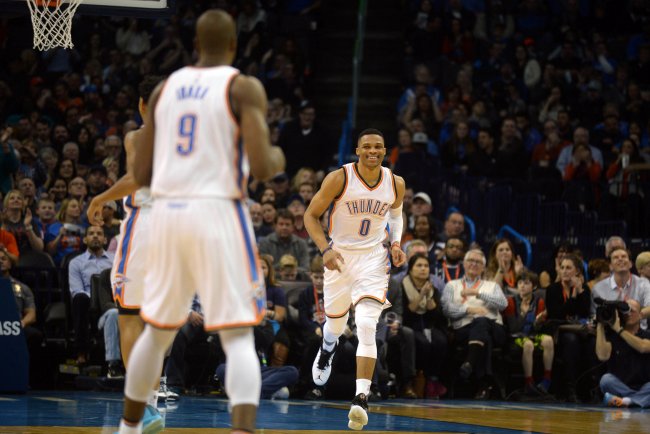 Mark D. Smith-USA TODAY Sports
The Thunder are 15.7 points per 100 possessions better when Durant plays, but the net rating jumps by 19.7 when Westbrook enters the proceedings.
Fortunately, we don't have to debate who's more valuable. They both suit up for the same squad, and their games now complement each other nicely. Dare I say perfectly?
Look out, NBA. The Westbrook evolution is nearly complete*, and the Thunder are all the more terrifying for it. All that's left for him to add to his game is a reliable stroke from beyond the arc, and he's already proved just about unstoppable without one.
*Note: If it ever is truly complete, Westbrook might break basketball.
Houston Can't Contain Cleveland's Big 3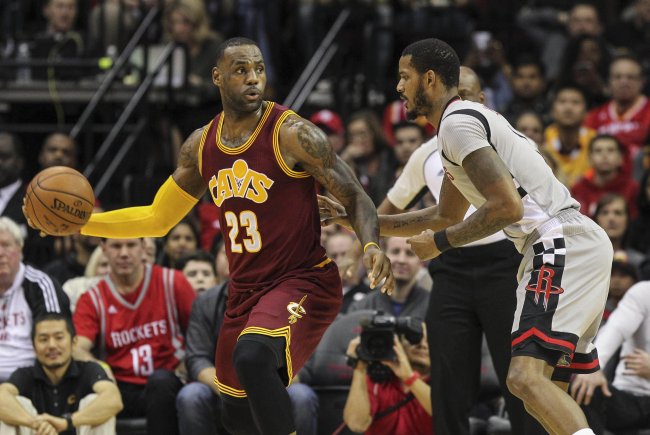 Troy Taormina-USA TODAY Sports
To be fair, not many teams have had success shutting down LeBron James, Kyrie Irving and Kevin Love when all three are healthy. Heading into the Cleveland Cavaliers' 91-77 victory over the Houston Rockets, the Big Three had a net rating of 16.5 during the 2015-16 campaign.
That should only go up after the latest exploits.
The three stars played so well that they could spend the final moments of this back-to-back relaxing on the bench. Or, in James' case, bobbing his head and channeling his inner rock star:
They deserved the time to catch their breath. After all, they rebounded quite nicely from a tough loss to the San Antonio Spurs by stomping the Rockets during the third quarter to open up a margin that would never be closed.
James finished with 19 points, seven rebounds, seven assists and two blocks. It's the eighth time he's hit 19, seven and seven during the current season, leaving him behind only Russell Westbrook (19) and James Harden (10). Meanwhile, Love had 11 points and 13 boards of his own.
But none could produce a highlight quite like this:
The sooner we get a dribbling competition between Stephen Curry and Irving, the better.
Those were just two of Irving's 23 points on the night, and it's abundantly clear he's fully recovered from the knee injury that forced him to make a delayed debut this season. With him back in action, it seems as if the only way to slow down the Cavs is to have Kawhi Leonard on the roster.
Sadly for the rest of the Association, there's only one of those.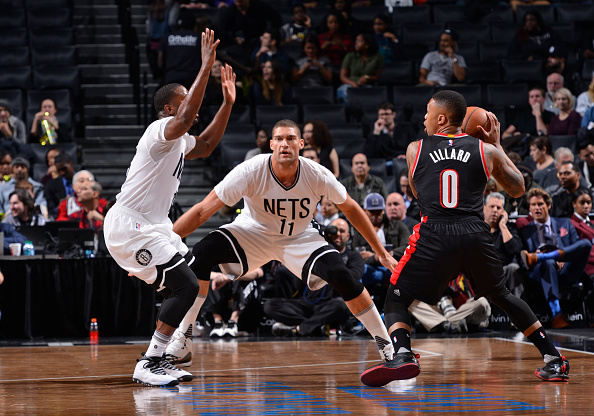 David Dow/Getty Images
The Portland Trail Blazers couldn't separate themselves from the Brooklyn Nets until late in the proceedings, but Damian Lillard ultimately proved enough to leave the Barclays Center with a 116-104 victory. Recording 33 points, three rebounds, 10 assists, a steal and nary a turnover, he was nothing short of sensational.
Portland has had plenty of strong guards line up in its backcourt over the years, but this was still a performance that stands out rather nicely—and not just because of the 14 points he scored in the fourth quarter:
Damian Lillard is the first Trail Blazer with 30+ points, 10+ assists and 0 turnovers in a game since Rod Strickland (4/1/94 at PHI).

— Trail Blazers PR (@TrailBlazersPR) January 16, 2016
If that historical tidbit isn't enough, perhaps Lillard's recent exploits will impress you:
In last 4 games (3 Blazers wins) Damian Lillard is averaging 31.3 ppg, 9.8 apg, 5.3 rpg and is shooting 50% from field, 50% from deep.

— Joe Freeman (@BlazerFreeman) January 16, 2016
It shouldn't be particularly surprising that Rip City has emerged successfully from three of those four outings. When Lillard is rolling, the Blazers are pretty tough to slow down on the offensive end. When he's not, they're eminently beatable, as his splits have shown all season.
Before this victory, the point guard had suited up in 13 Portland wins. In those affairs, he was averaging 26.8 points and 7.5 assists while shooting 46.7 percent from the field and 44 percent from beyond the arc. But during the 21 losses in which he'd appeared, he'd posted 23.5 points and 6.8 assists per contest while knocking down just 38.6 percent of his field-goal attempts and 33.5 percent of his treys.
It's almost like the Blazers go as Lillard goes.
Welcome Back, Bradley Beal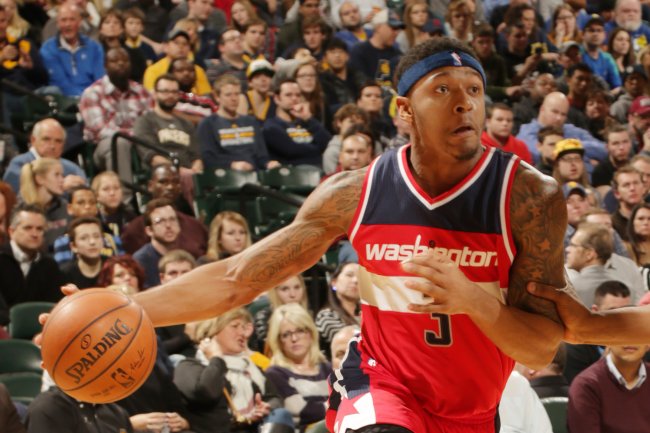 Ron Hoskins/Getty Images
Even though Bradley Beal suited up in a victory over the Milwaukee Bucks on Jan. 13, this was the true return from the stress reactions that have limited him during the 2015-16 campaign. In the 118-104 win over the Indiana Pacers, the shooting guard showed why he could be the man capable of pulling this Washington Wizards squad back into the Eastern Conference playoff picture.
While the Bucks have been incredibly porous on defense this year, the Pacers have not. Heading into this Friday night affair, they were allowing just 100.5 points per 100 possessions—the No. 2 mark in the Association, behind only the Spurs.

Torching that defense for 22 points in only 22 minutes of action is quite impressive, especially when the scoring came on 9-of-15 shooting from the field and a 4-of-7 showing from beyond the arc. Beal was everywhere in the victory, crashing toward the hoop when the occasion arose, throwing in some mid-range attempts and destroying the Pacers from the perimeter.
He was able to thrive in catch-and-shoot situations—showing some chemistry with John Wall on a handful of plays. Perhaps even more importantly, as J. Michael or CSNMidAtlantic.com pointed out, he gave the Wizards another shot-creating option when the starting point guard needed a breather:
Beal has made such good decisions w/ball. With Wall sitting, they keep shot creator w/him off bench #NBA @CSNWizards #WizardsTalk #WizPacers

— J. Michael (@JMichaelCSN) January 16, 2016
The Wizards have completed the climb back to .500, but they have a long way to go in their half of the NBA. With a deep slate of quality teams in the East, they must keep building on this performance by Beal if they hope to not only make the playoffs, but also avoid being a first-round sacrifice to the Cleveland Cavaliers.
Still, this had to be encouraging.
Anthony Davis With the Game-Winner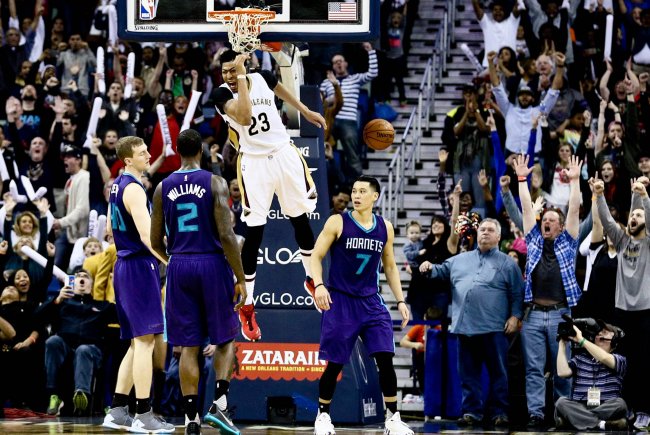 Derick E. Hingle-USA TODAY Sports
The New Orleans Pelicans refuse to go away.
Even though their record continues to push them toward the bottom of the Western Conference standings, they won't give up on the season and adopt a tanking strategy that could add another superstar to a roster so desperately in need of one. Instead, they beat the Charlotte Hornets 109-107 behind six three-pointers and 32 points from Ryan Anderson.
But nothing was more notable than the final points of the night, which came courtesy of Anthony Davis' ridiculously long arms and jaw-dropping athletic abilities:
Was this as special as the buzzer-beating three-pointer he drained over Kevin Durant's outstretched limbs last season? Of course not.
However, it could prove to be of similar importance if the momentum from this victory carries over into a soft portion of NOLA's schedule.
The Memphis Grizzlies (who aren't nearly as good as their record might indicate), Detroit Pistons and Houston Rockets are the only teams above .500 on the docket until a Feb. 3 showdown with the Spurs. That gives the Pelicans eight winnable games in a row, and somehow managing to take care of business in all of them would put this squad back in sniffing distance of a playoff spot in the downtrodden Western Conference.
Joakim Noah Goes Down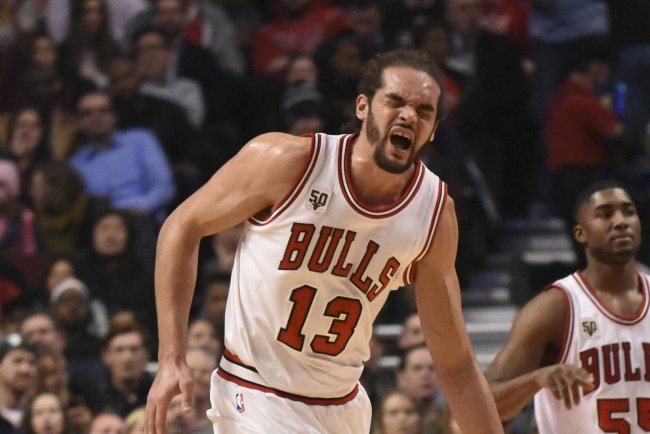 David Banks-USA TODAY Sports
With just under 10 minutes remaining in the first half of an eventual 83-77 loss to the Dallas Mavericks, Joakim Noah was wrestling with JaVale McGee for position under the basket and came away from the jostling in a significant amount of pain. Unfortunately, the early report is that he'd separated his left shoulder—the same one that has already kept him out for a significant chunk of the 2015-16 campaign:
Correction: Joakim Noah has a separated left shoulder and will not return.

— Chicago Bulls (@chicagobulls) January 16, 2016
This won't be easy for the Bulls to swallow. Even though Noah has played fewer minutes per game than he's logged since his rookie season, he's an integral part of the Chicago family, serving as the heart and soul of a team that's hanging tough in the race for the Eastern Conference's No. 2 seed.
It's no surprise that multiple teammates have already expressed strong feelings, per CSN Chicago's Vincent Goodwill:
Rose called the Noah injury "devastating". Taj Gibson said it gave him flashbacks to Rose's ACL tear

— Vincent Goodwill (@vgoodwill) January 16, 2016
For the Bulls, this means more playing time for Bobby Portis and Taj Gibson. Nikola Mirotic and Doug McDermott will presumably see increased minutes in the coming weeks as well, just as was the case when Noah first went down.
Ultimately, the depth of the frontcourt should help them survive the absence, and that's especially true because they've actually been 1.8 points per 100 possessions better when Noah is on the bench this year. But this is still a rough hurdle for the big man to work past after he'd finally fought his way back from the initial shoulder injury.
Here's hoping for a speedy recovery.
Giannis Antetokounmpo Does Not Get Tired
Gary Dineen/Getty Images
He simply wouldn't be denied in overtime.
Despite logging 45 minutes of action in regulation, Giannis Antetokounmpo was everywhere during the final five minutes of the Milwaukee Bucks' 108-101 victory over the Atlanta Hawks. While fans still in attendance at the BMO Harris Bradley Center were treated to some free basketball, the Greek Freak managed to score six points, grab two rebounds and block a Mike Scott three-point attempt en route to the win.
And those were only a few of his many contributions in 50 minutes of playing time during a Friday night contest in which the Bucks produced plenty of notable lines.
Jabari Parker threw up a double-double with 10 points and 10 rebounds, also adding two assists, a steal and a block. Greg Monroe joined him with 15 points, 12 boards and four assists. Khris Middleton's 26 points, four rebounds, three assists and three steals can't be overlooked. Nor can the 15 points, nine rebounds, seven dimes, three steals and two blocks that Michael Carter-Williams produced.
But they all paled in comparison to Antetokounmpo's 28 points, 16 rebounds and three blocks. He's only the fourth player this season to hit those benchmarks, joining Anthony Davis, Andre Drummond and Pau Gasol.
Not too shabby for a 21-year-old who doesn't usually line up at center.
Unexpected Line of the Night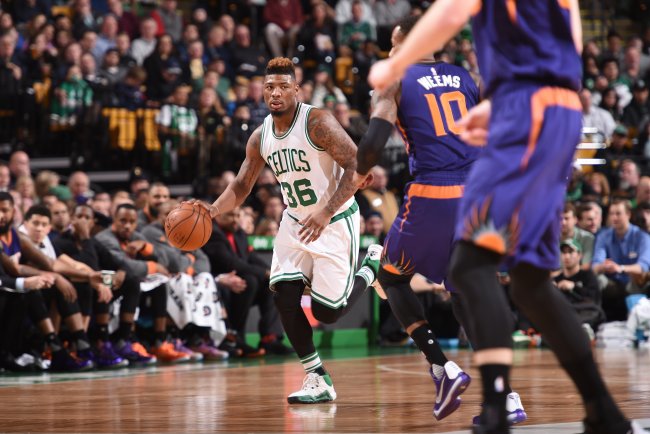 Brian Babineau/Getty Images
Raise your hand if you expected Marcus Smart to record the first triple-double of his NBA career in a 117-103 victory over the Phoenix Suns.
We mean this in the nicest way imaginable, but put your hands down, you liars.
It was impossible to predict that the 21-year-old guard would come off the bench to post 10 points, 11 rebounds and 11 assists. And not just because there was no precedent for him throwing up such lofty numbers in the board-crashing and dime-dropping categories. No Boston player had recorded a triple-double while starting a game on the pine since Art Williams in 1971, per ESPN Stats & Info:
Marcus Smart: 1st Celtics player with triple-double off bench since Art "Hambone" Williams (1971) (via @EliasSports)

— ESPN Stats & Info (@ESPNStatsInfo) January 16, 2016
Chances are, this won't be the last such performance for Smart. His skill set should ultimately prove conducive to recording more triple-doubles, even if this first one was rather unexpected.
Totally Expected but Still Crazy Line of the Night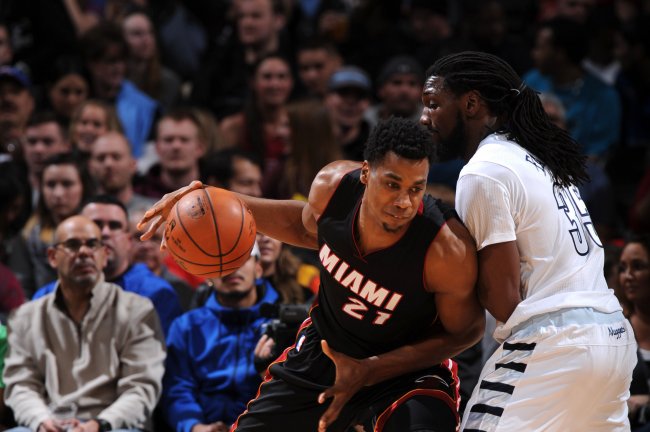 Garrett Ellwood/Getty Images
If anybody was going to produce a triple-double this season with blocks as one of the categories, it was going to be Hassan Whiteside. He'd already done so once, and the Miami Heat center entered a come-from-behind win over the Denver Nuggets averaging 3.8 blocks—1.3 rejections per game clear of Anthony Davis and the rest of the qualified field.
Still, he hadn't done anything like this.
Back on Nov. 17, Whiteside's 22 points, 14 rebounds and 10 blocks against the Minnesota Timberwolves made for quite the impressive box score. But they came in a loss, and that makes Friday night's 19 points, 17 rebounds, two assists, one steal and 11 swats—which came in a 98-95 win—even sweeter.
This is the 56th time since 1985 someone has logged a triple-double that included at least 10 blocks, but the field grows smaller when we look at everything else Whiteside did. Just 27 of those other performances featured at least 19 points. Only 17 of them saw the player also successfully crash the boards 17 times.
A mere 10 of them did both.
But even that might not be the most surprising part of this performance. Whiteside has displayed mastery when it comes to contesting shots, and he's shown himself to be quite adept at posting impressive point totals when teams go small, as the Nuggets did a bit too often in this outing.
The most shocking aspect has to be the two assists. One led to a Tyler Johnson jumper, and the other a 20-footer from Luol Deng.
Whiteside had only recorded 10 assists throughout the previous portion of the 2015-16 campaign, and that was already the highest total of his career. This is now the third time he's blocked at least 10 shots during his NBA tenure, but this was only the second time he'd recorded a pair of dimes.
Adam Fromal covers the NBA for Bleacher Report. Follow him on Twitter:@fromal09.
All stats, unless otherwise indicated, are from Basketball-Reference.com or Adam's own databases and are current heading into games on Jan. 15.