Heading into a star-studded NFL divisional round, football fans will soon start daydreaming about an appealing assortment of Super Bowl scenarios.
After a fat-trimming first round, eight premier teams harbor realistic title chances. Sure, it's far from a perfectly level playing field. The Green Bay Packers would have to bounce back from late-season struggles to beat two of the NFL's three elite squads. The Pittsburgh Steelers will have to limp and crawl to San Francisco after a testy wild-card matchup with the Cincinnati Bengals.
However, there are no feeble seat-fillers with the Houston Texans and Washington Redskins ousted. The latest Super Bowl odds, courtesy of Odds Shark, give the long shots a fighting chance to rattle off three straight victories.
Every remaining permutation will produce an intriguing championship clash, but let's highlight the most interesting pairings involving each squad.
Odds to Win 2016 Super Bowl

| | |
| --- | --- |
| Team | Odds |
| Arizona Cardinals | 15-4 |
| New England Patriots | 4-1 |
| Carolina Panthers | 9-2 |
| Denver Broncos | 21-4 |
| Kansas City Chiefs | 7-1 |
| Pittsburgh Steelers | 10-1 |
| Green Bay Packers | 15-1 |
Odds Shark
Top Potential Super Bowl

Matchups
Green Bay Packers vs. Kansas City Chiefs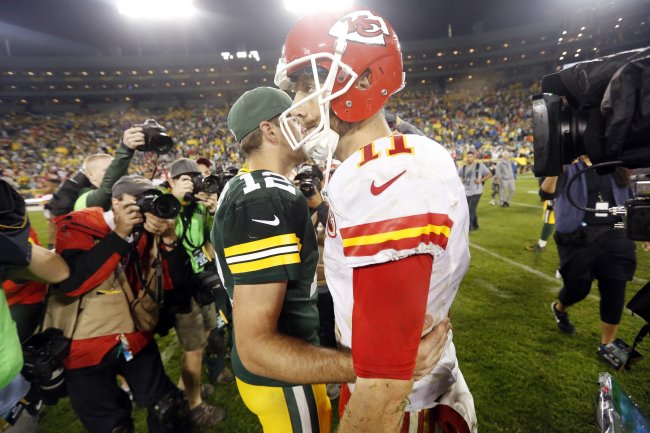 Mike Roemer/Associated Press
It's about time we settled this heated Aaron Rodgers or Alex Smith debate.
OK, so the Packers and Kansas City Chiefs isn't the league's ideal Super Bowl 50 matchup. It's also far from the most likely one. Green Bay hobbled into the playoffs, finishing 10-6 after a 6-0 start. Young Packers fans likely struggled to process their offensive troubles.
The Chiefs don't harness as much star power and mass appeal as the other remaining AFC participants. While Smith has avoided going down as the Ryan Leaf to Rodgers' Peyton Manning, the 2005 No. 1 overall pick would still place last among the top remaining quarterbacks. (He might, however, rate higher than an injured Ben Roethlisberger if he's too hurt to throw beyond 10 yards.)
However, Kansas City has also yielded 11.6 points per game during an 11-game winning streak. Its defensive transformation garnered the hard-earned respect of New England head coach Bill Belichick, whose Patriots host the Chiefs on Saturday. He sung their praises, per Chiefs.com's Pete Sweeney:
I don't think there's a hotter team in the league right now. Obviously Coach [Andy] Reid and his staff have done a great job, playing really well in all three phases of the game, so a lot of great team efforts here over the last three months, and they just do a lot of things well. They do a great job with ball security, turnovers, taking advantage of opportunities, creating opportunities. They have big-play players, a lot of guys in different roles that have been stepping up for them. It's a really good football team and they're playing well.
With both teams trending in opposite directions, their Week 3 meeting feels like it happened years ago. During a 38-28 Packers victory—Green Bay's best offensive output and Kansas City's worst defensive result of the season—Rodgers amassed 333 yards and five passing touchdowns. Can last year's MVP regain his vintage form in time to save the season?
Seattle Seahawks vs. Pittsburgh Steelers
Only two No. 6 seeds—the 2005 Steelers and 2010 Packers—have ever won the Super Bowl, and two of them have never collided on the grand stage. Entering the postseason, a title showdown between the Seahawks and Steelers didn't seem so far-fetched.
Seattle isn't the typical No. 6 seed, brandishing the NFL's top scoring defense and ranking No. 1 in Football Outsiders' Defensive-Adjusted Value Over Average (DVOA). They face a hard road to securing their third straight NFC title, as they face the 15-1 Carolina Panthers over the weekend. If the Seahawks survive that grueling battle, they'll likely have to play the Arizona Cardinals, who they split their two regular-season meetings with, in the conference title game.
Fueled by the AFC's top offense and a turnover-generating defense, the Steelers wield championship upside despite their inconsistencies. At full strength, they picked apart Denver's No. 1-ranked defense in Week 15.
However, the team is now monitoring Roethlisberger's injured shoulder and keeping Antonio Brown in the league's concussion protocol. According to NFL.com's Aditi Kinkhabwala, neither star has practiced at full capacity this week:
Ben Roethlisberger "limited" for the second straight day. Antonio Brown officially did not practice for second straight day. #Steelers

— Aditi Kinkhabwala (@AKinkhabwala) January 14, 2016
Sparks flew when the Seahawks and Steelers met on Nov. 29. In perhaps the season's most thrilling contest, the two teams combined for 974 total yards in Seattle's 39-30 victory. Russell Wilson began his hot streak with 345 passing yards and five scores while Roethlisberger torched the Legion of Boom for 456 yards through the air.
"That was a lot of fun," Wilson said after the win, per ESPN.com. "It can't get any more fun."
A rematch 10 years after their last Super Bowl showdown would try to top that fun on the grand stage. Roethlisberger has endured pain before, but facing Denver's elite defense with a damaged throwing shoulder will likely eliminate this option.
Arizona Cardinals vs. Denver Broncos
Fans and pundits eat up a battle of strengths. Nothing creates drama quite like an unstoppable force meeting an immovable object.
A matchup between the Cardinals and Broncos would offer a compelling tale, pitting Arizona's No. 1 offense against Denver's No. 1 defense. No matter who lined up against whom, watching wideouts Larry Fitzgerald, Michael Floyd and John Brown compete against cornerbacks Chris Harris and Aqib Talib would warrant the price of admission.
Of course, the other side would also contain a huge narrative. With his career seemingly left for dead, Peyton Manning suddenly has another chance of earning his second ring. This could mark the 39-year-old quarterback's last hurrah. After years of having every playoff defeat scrutinized—because of his incredible regular-season success, this marks his 15th postseason run—football fans would salivate over Manning's Broncos winning the AFC.
That story would overshadow Carson Palmer, another former No. 1 pick in the twilight of his playing days. He's unlikely to receive MVP honors over Cam Newton, but he netted an NFL-high 8.70 yards per pass attempt this season. He also displayed remarkable consistency, as noted by Pro Football Focus:
Carson Palmer was the only QB to not have a single negatively graded game this season, and finished with the highest QB grade

— Pro Football Focus (@PFF) January 12, 2016
Unlike Manning, the 36-year-old has only participated in two playoff bouts, including the one in 2006 when he tore his ACL on the opening play. Before getting this far, he'll look to partake in his first career postseason win on Saturday night.
Carolina Panthers vs. New England Patriots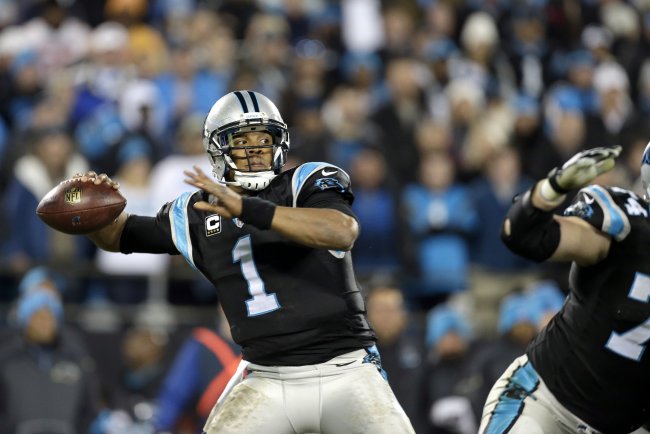 Bob Leverone/Associated Press
Upsets and unpredictability are fun. Then again, so is watching the best of the best compete for league supremacy.
Last year, the No. 1-seeded Patriots delivered a classic Super Bowl victory over the No. 1-seed Seahawks. Round 2 remains in the cards, but the 15-1 Panthers present a giant roadblock to a rematch.
Because they ended the season with two straight losses, the Patriots settled for the AFC's No. 2 seed. Yet their plus-150 point differential led the conference, far exceeding Denver's plus-59 clip. Their laundry list of injured starters also had an extra week to rest, which could help spawn a return to their first-half dominance.
This matchup would have particularly top the wish list had the Panthers not suffered a Week 16 loss to the Atlanta Falcons. They nearly duplicated the 2007 Patriots' 16-0 milestone, and Tom Brady and Belichick could have been tasked with assigning them the same ending.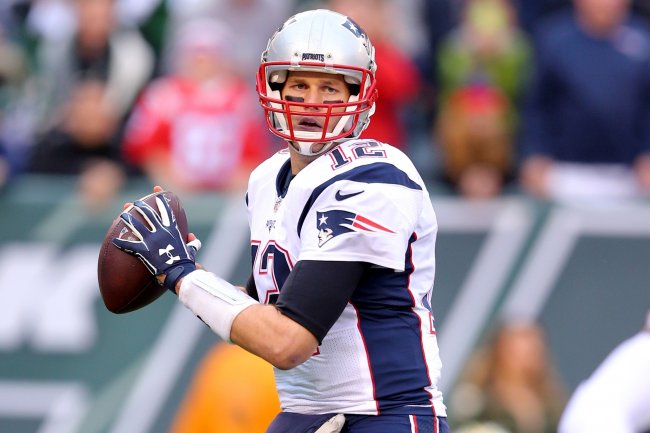 Brad Penner/Associated Press
Instead, the four-time champions would simply collide with a one-loss squad led by this season's likely MVP winner. A Super Bowl featuring Brady and Newton would send the narrative machine into overdrive, generating an easy changing-of-the-guard premise. While Brady remains a stud, the 38-year-old won't occupy the throne forever.
How would the future Hall of Famer handle Panthers defenders Luke Kuechly and Josh Norman? With the Panthers constantly being called the next Seahawks, they can prove they're even better by avenging Super Bowl XXXVIII's narrow loss and knocking off the defending champs.