Updates from Sunday, Sept. 7
The Raiders confirmed Matt Schaub is active for Week 1:
Raiders Inactives: WR Brice Butler, QB Matt McGloin, CB Chimdi Chekwa, LB Nick Roach, G Tony Bergstrom, T Matt McCants, DE Shelby Harris

— OAKLAND RAIDERS (@RAIDERS) September 7, 2014
Updates from Thursday, Aug. 28
Albert Breer of NFL.com reported on Matt Schaub's health:
Raiders QB Matt Schaub did a little light tossing with trainers yesterday. Club will have him throw to see where his arm is at on Monday.

— Albert Breer (@AlbertBreer) August 28, 2014
Original Text
Oakland Raiders quarterback Matt Schaub was absent from team practice Sunday due to continued problems with his sore right (throwing) elbow.
Ian Rapoport of NFL Network reported Schaub has been diagnosed with tendonitis:
#Raiders QB Matt Schaub (sore elbow) sat out practice Sun. Source says no major structural damage. Tendinitis. Explains arm strength issues

— Ian Rapoport (@RapSheet) August 25, 2014
Head coach Dennis Allen later spoke about Schaub's condition (via Vic Tafur of the San Francisco Chronicle):
Dennis Allen says he is "not concerned" about Matt Schaub's sore elbow

— Vic Tafur (@VicTafur) August 25, 2014
Schaub also spoke on his health on Monday (via Tafur):
Matt Schaub said the elbow soreness has been lingering for a few weeks, hasn't affected his throwing. #Raiders

— Vic Tafur (@VicTafur) August 25, 2014
Schaub says he is "100 percent" not concerned about elbow. Just "taking it day by day, getting ready for Week 1"

— Vic Tafur (@VicTafur) August 25, 2014
Schaub, 33, has struggled throughout the preseason and has had particular troubles with downfield passing. He has completed only one of his six passes that traveled 20 or more yards in the air, per Pro Football Focus (subscription required), while consistently dinking and dunking his way down the field.
On Allen/Schaub: I presume the coaching staff sees & understands Schaub's limitations. But they decided months ago that he was their guy.

— Tim Kawakami (@timkawakami) August 25, 2014
In his most extensive work of the preseason, Schaub completed 13 of 27 passes for 110 yards in Friday's loss to the Green Bay Packers. Forty of his 110 yards came on one pass play to Denarius Moore. His 12 other completions totaled just 70 yards, and the Raiders' only offensive touchdown with Schaub in the game came on a 45-yard run from Maurice Jones-Drew.
"There are a lot of areas that we've got to improve on in the passing game," Allen told reporters. "We've got to make sure we're precise on our routes. We've got to be able to make plays in a contested environment. We've got to be able to do a great job in protection. We've got to be able to make the throws when we have an opportunity to make a throw."
Oakland's first-team offense has not had much success this preseason. It has scored two offensive touchdowns, while the second-team and third-team units have both had a surprising amount of success. Third-stringer Matt McGloin led the Raiders on two touchdown drives with less than three minutes remaining in Friday's 31-21 loss at Lambeau.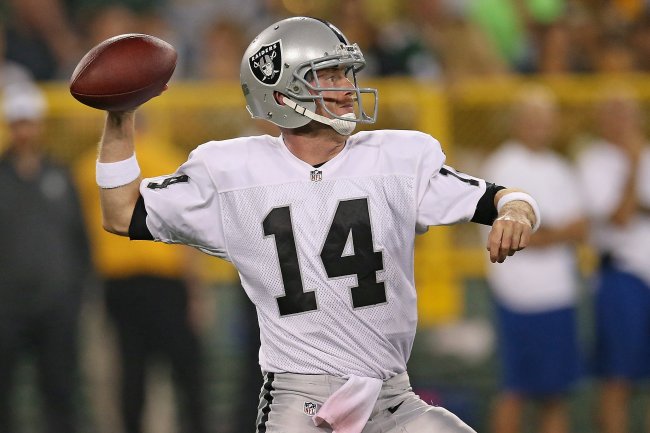 Jonathan Daniel/Getty Images
Backup Derek Carr, who did not play against Green Bay due to sore ribs, has also been solid in limited action. Carr was the Raiders' second-round pick and was expected push Schaub in camp.
The veteran has been able to stave off the competition for now, but it'll be interesting to see how this plays out when the regular season starts. Tendonitis is not typically an injury that goes away overnight. It's a lingering condition that may alter Schaub's ability to push the ball downfield. If that proves to be the case, the Carr era could begin sooner than anyone thought.
Either way, for the second straight preseason, the Raiders are stuck with doubts about their veteran quarterback acquisition.
Follow Tyler Conway (@tylerconway22) on Twitter.