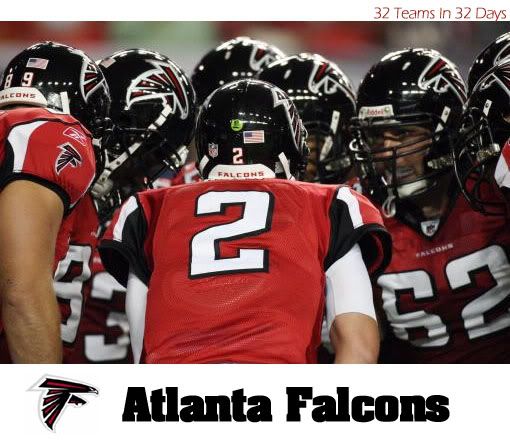 2008 Summary:
Entering 2008, the
Falcons
figured to be in rebuilding mode. They were fresh off a horrifying 2007 season that saw the cornerstone of their franchise be imprisoned for dog fighting; a rotation at quarterback that featured Joey Harrington, Byron Leftwich, and Chris Redman at the helm; and if that weren't fun enough, their head coach quit on them in the middle of the season to head back to the college ranks.
So it was easy to see why no one expected much of anything from the Falcons in 2008.
But what a difference a great offseason can make.
The draft brought the Falcons a franchise quarterback in
Matt Ryan
, along with a solid offensive tackle Sam Baker, linebacker Curtis Lofton, and wide receiver Harry Douglas. Free agency brought them running back Michael Turner, who had played primarily in the shadows of perennial All-Pro
LaDainian Tomlinson
, and place kicker Jason Elam.
All these pieces would come together and become instrumental to the Falcons success in 2008, especially Ryan and Turner.
But maybe we all should have seen the Falcons improvement coming when Matt Ryan's first pass as a pro was a 62 yard touchdown and Michael Turner's first game as a starting running back in Atlanta saw him rush for 220 yards and two scores.
Still, the Falcons flew under the radar for much of 2008, and many were wondering when the wheels would come off and when the young Falcons would finally show their youth and inexperience.
It never really happened.
After the Tampa Bay Bucs defense gave Ryan a quick lesson in Week 2, the eventual Rookie of the Year would lead the Falcons to victory in three of his next four starts, including a road victory over the
Packers
in Week 5 and a thrilling come from behind home victory over
Chicago
the week after.
Entering the bye week, the Falcons, a team left for dead by everyone, were 4-2 and tied for first place with a rookie quarterback at the helm.
And yet...no one believed in them.
The week after, critics felt relieved when the
Philadelphia Eagles
beat them 27-14. But even then the Falcons were only down by six late in the fourth quarter. A sign this team, despite the eventual loss, was growing into a legitimate threat.
A week later Atlanta would go into
Oakland
and run all over a hapless Raider squad en route to a 24-0 shutout victory. The victory would carry the Falcons record to 5-3 on the season and would begin a stretch where the Falcons would win four of five games including a blowout victory over
Carolina
, and convincing wins over
New Orleans
and
San Diego
.
Following a close loss to New Orleans in the Superdome, the Falcons would rattle off three consecutive victories to close out the season and clinch the 5th seed in the NFC Playoffs—and in the process nearly clinch the NFC South—finishing one game behind the eventual division champion Carolina Panthers.
The storybook season would finally come to a close in the first round of the playoffs when the Falcons would run into an
Arizona Cardinals
squad that was getting hot at the perfect time. Ryan finally looked like a rookie quarterback and was outplayed by the veteran
Kurt Warner
, but the Falcons could hold their heads high as they went toe-to-toe with the eventual NFC Champions for much of the game.
Following this surprising season, the Atlanta faithful figure to have a lot to look forward to.
2009 Free Agency Additions:
LB Mike Peterson (
Jacksonville
)
C Jeremy Newberry (San Diego)
C Brett Romberg (St. Louis)
2009 Trade Acquisitions:
TE Tony Gonzalez (
Kansas City
)
2009 Offseason Departures:
CB Domonique Foxworth (
Baltimore
)
LB Michael Boley (
New York Giants
)
LB Keith Brooking (
Dallas
)
DT Grady Jackson (
Detroit
)
DT Rod Coleman (New Orleans)
QB
Michael Vick
(Waived)
S Lawyer Milloy (Unsigned)
2009 NFL Draft:
1-24. Peria Jerry, DT, Ole Miss
2-55. William Moore, SS, Missouri
3-90. Christopher Owens, CB, San Jose State
4-125. Lawrence Sidbury, DE, Richmond
5-138. William Middleton, CB, Furman
5-156. Garrett Reynolds, OT, North Carolina
6-176. Spencer Adkins, OLB,
Miami
, FL
7-210. Vance Walker, DT, Georgia Tech
2009 Outlook:
Falcons GM
Thomas Dimitroff
and coach
Mike Smith
enter their second season hoping to build off of a 11-5 season from a year ago that culminated in the teams first playoff appearance since the 2004 season, when Atlanta would fall a game shy of the Super Bowl.
Once again,
Matt Ryan
will be in control of the Falcons offense, coordinated by
Mike Mularkey
. Ryan will have the potent dual rushing attack of
Michael Turner
and
Jerious Norwood
behind him. Turner proved to be the best free agent acquisition in 2008, as he carried the Falcon offense with nearly 1700 yards rushing and 17 touchdowns. Norwood was also a reliable change-of-pace back for Atlanta, as he averaged over 5 yards a carry and had over 800 yards of total offense.
Ryan's development also seemed to help out the young Falcon wide receiving corps of
Roddy White
,
Michael Jenkins,
and
Harry Douglas
. White really came into his own in 2008, and instantly became Matt Ryan's favorite target. The talented receiver posted career highs across the board when he caught 88 passes for 1382 yards with 7 touchdowns. Jenkins also burst onto the scene by posting the best numbers he's had as a Falcon with 777 yards and three touchdowns as well.
But Dimitroff also noticed that defenses began to figure out the Falcons offense down the stretch in 2008, especially in the playoff loss to Arizona. He went out and got his young quarterback veteran
Tony Gonzalez
, in hopes of giving his bright young quarterback a reliable target over the middle to keep defenses honest to the play-action pass.
On the Falcons offensive line,
Sam Baker
will resume his spot protecting Ryan's blind side at left tackle.
Tyson Clabo
will start again at right tackle, and only surrendered 2.5 sacks in 2008. The Falcons are also strong on the inside with guards
Justin Blalock
and
Harvey Dahl.
Center
Todd McClure
should return, but was rumored to be considering retirement. In the event that occurs, Dimitroff went out and signed two veteran centers in
Jeremy Newberry
and
Brett Romberg
.
Defensively, despite the Falcons finishing 11th overall in points allowed, the team still struggled at stopping opponents from moving the ball. Their rush defense in 2008 was miserable, as they finished the year ranked 28th at stopping the run. Defending the pass wasn't any prettier, as they finished 21st as a unit and gave up 7 yards per completion.
Still, they were able to constantly bend and not break a year ago, but will be tested much more in 2009. This coming season the Falcons will have a new starting defensive tackle with rookie
Peria Jerry
taking over on the front line where he will join starter
Jonathan Babineaux
. Jerry's addition is important given Rod Coleman and Grady Jackson both leaving in free agency.
John Abraham
returns at right defensive end, and led all Falcon defenders with 16.5 sacks in 2008. Abraham will need help getting to the passer however as
Jamaal Anderson
, the Falcons starting left end, has gotten to the quarterback about as frequently as the last Jamal Anderson to suit up in Atlanta did.
The linebacking corps will look noticeably different as Keith Brooking and Michael Boley both left in free agency.
Curtis Lofton
will remain in the inside and be joined by former Jaguar
Mike Peterson
and the rotation of
Coy Wire
and
Robert James
.
A very young Falcons secondary will be headlined by corners
Chris Houston
and
Von Hutchins
, with safeties
Erik Coleman
and
Thomas DeCoud
also in the mix. Rookie
William Moore
could very well wind up starting for the Falcons defense sometime in the 2009 season however.
Jason Elam
will return as place kicker for the Falcons, and is coming off of a great first season in Atlanta as he connected on all but two kicks in 2008.
2009 Schedule:
| | |
| --- | --- |
| Sun 9/13 | Miami |
| Sun 9/20 | Carolina |
| Sun 9/27 | at New England |
| | bye |
| Sun 10/11 | at San Francisco |
| Sun 10/18 | Chicago |
| Sun 10/25 | at Dallas |
| Mon 11/2 | at New Orleans |
| Sun 11/8 | Washington |
| Sun 11/15 | at Carolina |
| Sun 11/22 | at NY Giants |
| Sun 11/29 | Tampa Bay |
| Sun 12/6 | Philadelphia |
| Sun 12/13 | New Orleans |
| Sun 12/20 | at NY Jets |
| Sun 12/27 | Buffalo |
| Sun 1/3 | at Tampa Bay |
2009 Prediction:
The Falcons caught everyone by surprise a season ago when rookie Matt Ryan and running back Michael Turner took the league by storm and led the Falcons to their best record in four years.
But while this was a great story, lost in all of this is just how beneficial a weak schedule was to the Falcons cause. Atlanta drew the luxury of playing two of the weakest divisions in football (the AFC West and NFC North) and used that greatly to their advantage as they went 7-1 against the two divisions. They also beat up on a
Rams
team with no real drive to play in Week 17 of the season, and that gave Atlanta 8 of their 11 victories in 2008.
2009 should be a different story in terms of strength of schedule. The Falcons schedule will have them play the AFC and NFC East, as well as a tough six games versus their division that features the explosive Saints and still dangerous Panthers.
While Atlanta was definitely one of the feel good stories in 2008, they may be brought back to reality somewhat in 2009 as a weak defense from a season ago seemingly did little to improve itself in the offseason.
Matt Ryan is definitely on the brink of becoming something special, but he will have to wait at least another season before he gets his shot at redemption in the postseason.
Predicted Finish: 7-9, 3rd NFC South
-------------------------------------------------------------------------------
Hassellbeck - VSN Writer
www.virtualsportsnetwork.com