Bills QB EJ Manuel Shows Signs of Progress in Preseason Week 1 vs. Panthers
August 13, 2014

Bob Leverone/Associated Press
Some NFL players use the preseason to knock the rust off.
Buffalo Bills quarterback EJ Manuel used his first preseason action to remind the world of the areas where he struggled in 2013. He followed up by showing the world that he has made progress in those areas.
Against the New York Giants in the Hall of Fame Game, Manuel struggled with deep throws, accuracy and going through his progressions at a formidable rate. Against the Carolina Panthers, Manuel was capable in all three areas.
The results of the past two games may be a continuation of a his inconsistent rookie season, but the arrow is pointing up. The areas where he thrived against the Panthers were areas of concern prior to that game.
Of particular note were two completed deep throws, one to Chris Hogan and the other to Mike Williams.
Credit: NFL Preseason Live
The throw to Hogan—running a wheel route down the right sideline—was noteworthy because of Manuel's quick decision and pinpoint accuracy. Manuel saw Hogan running clear into an open space in the defense, and the quarterback promptly threw an easy lob to his receiver, who caught it in stride and gained extra yards. 
"For me, that's a big part of it," Hogan said of winning his quarterback's trust. "Obviously, if I'd want anyone to trust me, it'd be our quarterback. When I'm on the field, if he trusts me to be in the right spot and win on my routes, that's huge for me because I can only help our offense and help EJ."
If Manuel can trust anyone to consistently win on his deep routes, that would be an immediate upgrade over last season. Bills receivers routinely failed to get open on deep routes last season, which made Manuel's life particularly difficult when trying to complete long passes. He went 10-of-37 (27 percent) on throws 20 yards or more downfield. 
Of course, it may have also helped if he had some receivers who were capable of fighting for passes in one-on-one situations.
Last year, the receiving corps was littered mostly with undersized but speedy receivers like Marquise Goodwin and T.J. Graham, and although those receivers are still on the roster, they have made way for a tidal wave of "big" additions.
Buffalo Bills wide receivers
Player
Height
Weight (lbs)
Marcus Easley
6'2"
217
Kevin Elliot
6'3"
205
Marquise Goodwin
5'9"
179
T.J. Graham
5'11"
188
Tori Gurley
6'4"
230
Chris Hogan
6'1"
220
Caleb Holley
6'2"
200
Naaman Roosevelt
6'0"
200
Chris Summers
6'5"
215
Sammy Watkins
6'1"
211
Mike Williams
6'2"
212
Robert Woods
6'0"
190
Source: BuffaloBills.com
Thus, it must be refreshing for Manuel to have a plethora of big-bodied pass-catchers at his disposal this year. The Bills have clearly put an emphasis on building their receiving group for size, with the likes of Robert Woods (second round, 2013 NFL draft), Mike Williams (trade) and Sammy Watkins (first round, 2014 NFL draft) among the key additions.
Credit: NFL Preseason Live
Manuel didn't have many receivers last year who could make grabs like this. Williams ran a post route over the middle and got locked up one-on-one with a Panthers defensive back. This pass sailed a little bit on Manuel, but it was no matter because Williams was able to climb the ladder and make the overhead catch with the defensive back draped all over him.
Manuel's mechanics were not perfect on the throw—he could have stepped into it and followed through with a bit more authority—but with receivers who are built to win one-on-one matchups, Manuel has the luxury of receivers who can bail him out in such situations.
"Mike [Williams] has truly come through on that comment where he said, 'Throw it up in the clouds, I'll go get it.' He's done it day in and day out," said Manuel. "He's been consistent tracking the ball whether it's the fade or the deep ball or the post. I think a great example of that was in the game, the corner played off him a little bit; I just stuck it on him, and he went up and made a great catch. Having that as a security blanket at receiver is awesome for us and what he can do, Sammy Watkins can do it too, a bunch of those guys can go up and make plays, but Mike has done an excellent job at it the past two weeks."
Make no mistake: There were times against the Panthers when Manuel would do something (or, on one occasion, not do something) that was cause for head-scratching. 
Credit: NFL Preseason Live
The first of those occasions was on Manuel's first sack of the night, by Panthers defensive end Greg Hardy. The Panthers defensive line got through the Bills' pass protection rather quickly, particularly up the middle, where rookie guard Cyril Richardson allowed his man into the backfield with ease.
Instead of going to his checkdown, Manuel instead tried to pirouette to make a play. All he ended up doing was buying Hardy more time to get around rookie offensive tackle Seantrel Henderson. All he had to do, though, was look to his right, where C.J. Spiller was waiting wide open in the flat.
When pressure is coming, the proper reaction is to get the ball to the nearest receiver. If Manuel had done that on this play, he could have avoided an unsuccessful result.
On one occasion, there was room for improvement despite a successful result.  
Credit: NFL Preseason Live
That occasion occurred on Manuel's first completion of the night, a 14-yard hookup to Watkins over the middle. Watkins gets credit for making a tough grab while being hit over the middle, and those are the kinds of grabs Watkins will have to make until Manuel truly proves himself as a capable deep passer.
That being said, Manuel certainly didn't make his receiver's life any easier. 
Bleacher Report's Matt Miller summed this up perfectly with a four-part illustration, pointing out that Manuel nearly got his receiver killed on a low hit because he didn't look off the safety prior to delivering the pass:
The play is designed so that the safety is held by the play-action, but you ideally want to survey the field *or* hold the safety off the fake by looking right at him. ... Fans will see a completion from Manuel over the middle, but by holding the safety with his eyes or looking off the route he could give Watkins at least another step before he's plastered. Maybe Watkins is able to shake the tackle if he has a step in him before he's hit, but we'll never know because the safety reads the play perfectly due to Manuel's eyes staying so targeted on Watkins.
Before the Bills ever even spent the 16th overall pick of the 2013 draft on Manuel, there were already critics who said Manuel was a one-read quarterback, meaning that he struggled going from one read to the next and that he would sometimes panic and either a) hold the ball too long, b) tuck it and run without looking at other reads or c) force a pass even if the receiver was covered. 
Manuel's ability (or inability) to move his eyes from one receiver to another was a point of criticism in his first performance against the Giants, but he did show an ability to go through his progressions against the Panthers.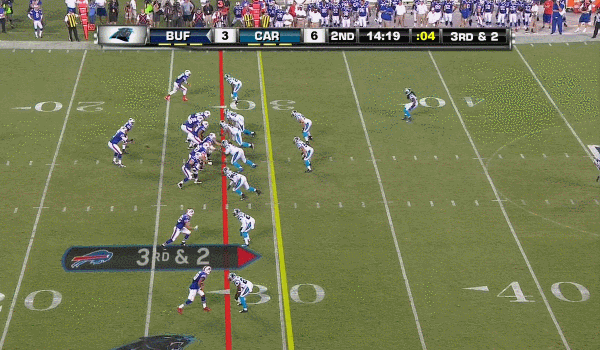 Credit: NFL Preseason Live
On the score sheet, this shows up as simply a three-yard completion. In the development of Manuel, this was a sign of progress in one of Manuel's most criticized faults: an inability to comfortably move his eyes from one spot to another.
Manuel surveyed the right side of the field for either Woods or Hogan to be open on a rub route, but with both men blanketed by their defensive backs, Manuel had to go to a backup plan. That's when he checked down to Spiller coming out of the backfield on a circle route, with the linebacker close by in coverage.
The second-year quarterback put the ball in front of Spiller, allowing him to catch it in stride and fall forward for a three-yard gain on 3rd-and-2. 
There's no question that Manuel has the physical skill set to make big plays in the NFL. If Manuel continues to sharpen these tools, he will be well on his way to being an effective and consistent quarterback in the pros.
Manuel's improvement in key areas, coupled with the Bills front office surrounding him with weapons who can help maximize his skill set, could mean a big step forward for the Bills offense in 2014.
Unless otherwise noted, quotes obtained firsthand or via team news release.