Zach Ertz Backs Up the Hype in Philadelphia Eagles' Preseason Opener
August 9, 2014

Jonathan Daniel/Getty Images
It was a long, penalty-filled night for the Philadelphia Eagles, who struggled early on both sides of the ball in their preseason-opening loss to the Chicago Bears. But when you're a playoff-caliber team coming off a division title with most of your reigning starters in place, that's not cause for panic. 
Instead, in games like these, it helps to look at certain players who have the ability to take a good team like the Eagles to another level. 
In Philadelphia, second-year tight end Zach Ertz is one of those guys. And on Friday night, the 2013 second-round pick delivered with a stellar performance, further fueling the hype that has surrounded him entering his sophomore season. 
Ertz caught four passes for 60 yards in the first half of Friday's game, but that doesn't tell the whole story. He was lined up in the slot on the second play from scrimmage, catching a short pass as Nick Foles' first option. It was an early indication that he's going to be a go-to target for the third-year quarterback this season. 
But we already knew he had chemistry with Foles. It was more encouraging to see backup Mark Sanchez use the Stanford product as a security blanket during his work in the second quarter. He was Sanchez's first read on his first preseason play as an Eagle, and he had three catches from the former New York Jets quarterback during that second quarter. 
Later in that quarter, he made back-to-back big-boy grabs to move Philadelphia within the shadow of the Chicago red zone, showing off his catch radius, his size, his speed and his ability to get open. 
NFL Game Pass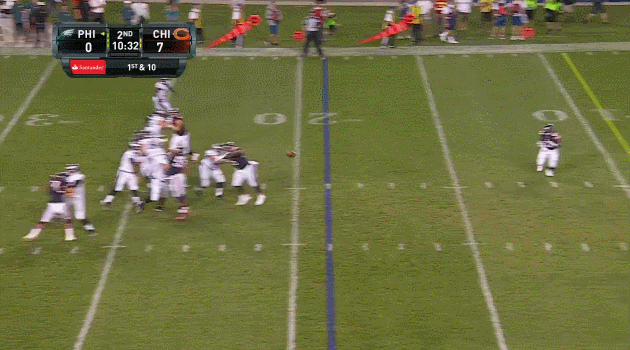 NFL Game Pass
Ertz had the look of a Jason Witten or a Tony Gonzalez. Confident, aggressive and sure-handed. It was an ideal start for a tight end who many think could play a major role in helping the Eagles replace the departed DeSean Jackson, who led the team in catches, yards and touchdowns in 2013. 
What's most encouraging, though, is that Ertz was just picking up where he left off after scoring four touchdowns during the second half of the 2013 campaign. 
Zach Ertz: Rookie production
Snap %
REC
YDS
TD
First half of season
36.2
14
201
0
Second half of season
45.3
22
268
4
Pro Football Reference
Pro Football Focus (subscription required) graded Ertz as the eighth-best tight end in the entire league last year, which is quite impressive considering that he had only 14 catches and zero touchdowns midway through the year (he picked it up with 22 receptions and four scores in the second half).
He doesn't have Jimmy Graham size or Vernon Davis speed, but there isn't one thing Ertz does poorly, which is key. And most importantly, he's reliable. The kid had the league's 10th-lowest drop rate at the tight end position last year, according to PFF, letting just two passes get away on 55 targets.
Ertz was the first offensive skill position player drafted by Chip Kelly, and so he has a special place on this team. Sure, he's still battling Brent Celek for reps right now, but it's becoming apparent that the 23-year-old is the future at the tight end position.
In fact, that might apply throughout the league. And it wouldn't surprise us if Ertz eventually became the go-to option in the passing game for this Philly squad. 
The Eagles certainly would like to get more from Foles and the rest of the offense during the next three preseason games, but again, those guys have proven themselves. On Friday night, with everyone else struggling, Zach Ertz made a statement.