Can Allen Barbre Seamlessly Replace Lane Johnson in Philadelphia?
July 23, 2014

USA Today
In a matter of hours, the 90 football players currently employed by the Philadelphia Eagles will report to the team's training camp at the NovaCare Complex. But when that happens, young stud right tackle Lane Johnson will be doing so knowing that he won't be allowed to suit up come Week 1. 
That's because, as the team confirmed on Wednesday, the 2013 No. 4 overall pick is facing a four-game suspension for violating the NFL's policy against performance-enhancing drugs. 
As the result, the Eagles would be smart to start planning for a month sans Johnson to start the regular season, especially since time is currently on their side. 
The good news is they have options, including 2012 fifth-round pick Dennis Kelly and nine-year veteran Todd Herremans. Kelly is returning after missing the 2013 season following back surgery, while Herremans, who is currently slated to start at guard, has plenty of experience at right tackle. 
The most intriguing option, though, is probably former journeyman Allen Barbre. The 30-year-old has just seven career starts under his belt, but he saw action in 15 games with the Eagles last season and was so impressive in place of All-Pro left tackle Jason Peters against the Packers in Week 10 that Philly signed him to a three-year contract extension this spring. 
In 52 snaps against Green Bay, Barbre gave up no sacks, no hits and no hurries while earning the third-highest offensive grade on the team at Pro Football Focus (subscription required). 
Eagles: Highest offensive grades, Week 10 vs. Packers (2013)
Player
Grade
1. Evan Mathis
4.6
2. Brent Celek
3.1
3. Allen Barbre
2.3
4. Todd Herremans
2.1
5. Lane Johnson
2.1
Pro Football Focus
So while Johnson still has a much brighter future, especially after putting together a string of positive performances during the second half of his rookie campaign, the offensive line should be just fine with Barbre pinch-hitting for a month. And the team must know that. Why else would the front office give him $5.23 million over four years?
Of course, there is a risk associated with giving four starts to a guy who has just seven of them in seven years at the NFL level. He couldn't cut it in Green Bay, Seattle or Miami, but there were signs that Barbre had it in him.
The reality, though, is that when he was given a shot to start in Green Bay, his play wasn't all bad. It was just erratic.
Allen Barbre's inconsistent starting run in 2009
Week
Opponent
Sacks allowed
Grade
1
Bears
2
-5.4
2
Bengals
0
2.2
3
Rams
2
-1.0
4
Vikings
1
-4.6
6
Lions
1
4.1
7
Browns
0
3.4
8
Packers
0
-5.8
Pro Football Focus
He was one of the three highest rated offensive players on the team in Weeks 6 and 7 and fared quite well in Week 2. Albeit, he certainly had some help, and that was at times also the case in that spot start last season against Green Bay. One example:
NFL Game Pass
But he also did a formidable job on his own, as you can see here against a Mr. Clay Matthews: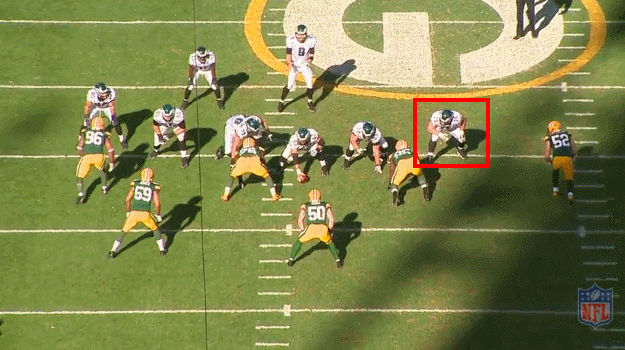 NFL Game Pass
And again here:
NFL Game Pass
And one more time:
NFL Game Pass
In fact, Barbre only had help on a few occasions and still managed to pitch a perfect game in pass protection. It's enough to make you believe they can throw him in there without missing a beat. 
And it helps that the schedule is manageable. In Week 1, the Eagles face the Jaguars, who had a league-low 31 sacks last season. Week 2, they take on the Colts, who ironically will be missing their best pass-rusher, Robert Mathis, due to a suspension. And in Weeks 3 and 4 they meet Washington and San Francisco, both of whom ranked in the bottom half of the league with fewer than 40 sacks last year. 
Eagles: First four opponents, 2014
Week
Opponent
2013 sack total rank
2013 sack rate rank
1
Jaguars
T-31st
30th
2
Colts*
T-11th
9th
3
Redskins
T-21st
T-13th
4
49ers
T-18th
21st
* No Robert Mathis
"That would suck to lose [Johnson] for that many games, but the good thing [is] we have Allen Barbre," said running back LeSean McCoy earlier this month, before the suspension was made official, per PhillyMag.com's Sheil Kapadia. "Barbre is a sure veteran backup who we gave some money to because we know he can play. And if he has to come in here and step in and play, we're confident with him."
And based on this organization's recent track record when it comes to paying guys, they have every reason to possess that confidence. 
Brad Gagnon has covered the NFC East for Bleacher Report since 2012.