Oklahoma City Thunder head coach Scott Brooks is sure to catch some heat this offseason, but at least he's got Kevin Durant's support to lower the temperature a bit.
Kevin Durant when asked if he endorses Scott Brooks: "That's our guy. I'm riding with him."

— Darnell Mayberry (@DarnellMayberry) June 1, 2014
Brooks has long been a punching bag for critics who don't believe his strategic acumen (or complete lack thereof) is maximizing the otherworldly talent of Durant and Russell Westbrook. It's hard to know what tactical tweaks Brooks could have made to survive against a seasoned champ like the San Antonio Spurs, but the doubts about his worth as a signal-caller are about much more than OKC's recent Western Conference Finals defeat.
The most common knock on Brooks is his reliance on isolation plays.
OKC doesn't run an offense by any conventional definition. It seeks out opportunities in transition and resorts to either a basic pick-and-roll or isolation set if scoring chances don't present themselves early.
It's an ugly brand of ball that smart teams—like the Spurs, for example—can exploit. And we've seen a disturbing trend throughout Brook's tenure, wherein OKC's offense dries up down the stretch because either Durant or Russell Westbrook can't get going.
On Scott Brooks' desk are two binders that contain his two offensive gameplans. They are labeled: 1) ISO-HEAVY 2) FORFEIT

— Kevin McElroy (@knickerbacker) May 22, 2014
There's never a backup plan.
Still, the Thunder ranked seventh in the NBA in offensive efficiency in 2013-14, per NBA.com, and they were in the top five in each of the three seasons before that. So, there's an "if it ain't broke, don't fix it" argument to be made here.
In addition, Brooks' teams always give maximum effort—no small task in today's NBA. The Thunder competed to the bitter end this postseason, and they haven't rolled over on Brooks' watch in the past.
Coach Scott Brooks: "I'm proud of our guys, proud of our effort. We competed to the last second of this game." pic.twitter.com/NKUanqF2oe

— OKC THUNDER (@okcthunder) June 1, 2014
Ultimately, Brooks hasn't run his team into the ground, and it's possible the offensive "system" he's installed is the only one that can reliably accommodate two dynamic isolation players like KD and Westbrook.
For what it's worth, Westbrook also spoke up in his defense after the Thunder were eliminated.
Russell Westbrook on Scott Brooks: "No matter how many times things went south...he was the guy that always had my back"

— Anthony Slater (@anthonyVslater) June 1, 2014
Westbrook on Brooks: "Ever since I've been here & Scotty became the head coach, he's done a great job of having confidence in me personally"

— Darnell Mayberry (@DarnellMayberry) June 1, 2014
Here, we should all stop to consider whether or not it's a great thing for a head coach to be so loved by his players. Gregg Popovich is never a fair guy to use in comparison, but his relationship with the Spurs players starts with respect and then transitions into affection.
He pushes them, demands perfection and is never satisfied.
Brooks is well-liked because he's always positive and shows total confidence in his players, but he doesn't challenge his team like Popovich does.
The Thunder are exceptionally talented, and Brooks isn't viewed by many as a guy who gets the most out of that talent.
He plays Kendrick Perkins too much and doesn't have any semblance of a thought-out offense installed, despite years at the helm to develop one. Perhaps most damningly, any great achievement by OKC—its Finals appearance two years ago, its consistent intensity and its overall performance—can easily be attributed to Durant and Westbrook's lead-by-example approach.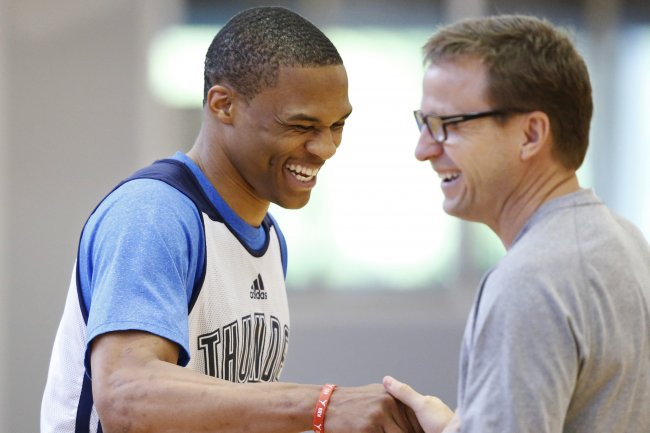 Uncredited/Associated Press
Brooks will be under more scrutiny than ever, and there's a strong case to be made that he's holding a uniquely talented team back. And while superstar endorsements are nice, we all saw how Stephen Curry's vocal support of Mark Jackson worked out for the now-fired former Golden State Warriors head coach.
The Thunder want to get over the hump eventually, and it doesn't appear as though Brooks is the best coach to get them there.
Maybe Durant and Westbrook's next show of support should be helping him pack his bags.