The San Antonio Spurs dismantled the Oklahoma City Thunder 112-77 in Game 2 of the Western Conference Finals Wednesday night behind 50 percent shooting from the field and 39.1 percent shooting from three.
After being outscored by two in the opening frame, the Spurs went on a 67-36 run that spanned the second and third quarters, effectively ending the Thunder's chances of capturing a victory before the fourth quarter even started.
San Antonio shot a blistering 75% from the field in the third quarter. SEVENTY-FIVE! #OKCvsSA pic.twitter.com/VMlpXuuzZo

— NBA on ESPN (@ESPNNBA) May 22, 2014
Danny Green was feeling it all night long and finished with 21 points on 7-of-10 shooting from three. His seven conversions from beyond the arc tied his previous playoff career high, which was set during the 2013 NBA Finals.
Green is the 6th player this postseason to make 7 3-pointers, joining Paul George, Chris Paul, Vince Carter, Mike Dunleavy and Stephen Curry

— Quixem Ramirez (@quixem) May 22, 2014
Danny Green tied his playoff career high with 7 made threes tonight. He buried 7-of-10 from deep pic.twitter.com/5yJSMIIQ8w

— NBA.com/Stats (@nbastats) May 22, 2014
"We are just focused until we get back to where we were last year," Green told TNT following the win, according to Project Spurs' Quixem Ramirez.
For some context, Oklahoma City shot 2-of-20 from three as a team while knocking down 39.3 percent of its shots from the floor.
The Spurs also dominated the paint once again, outscoring the opposition 54-42 down low.
Five Spurs players finished in double figures, including Tony Parker, who recorded a team-high 22 points in 28 minutes. In fact, no Spurs player recorded more than 29 minutes of playing time in the blowout.
Spurs are 18-2 in series under Gregg Popovich when leading best of 7 series 2-0. One of the 2 losses was to the Thunder (2012)

— ESPN Stats & Info (@ESPNStatsInfo) May 22, 2014
Russell Westbrook and Kevin Durant combined to shoot a dreadful 13-of-40 in the loss, as both finished with 15 points.
The @spurs now have the winningest playoff trio in NBA history pic.twitter.com/MJzmYzhRHB

— ESPN Stats & Info (@ESPNStatsInfo) May 22, 2014
Players are graded on a conventional A-to-F scale, with each contributor starting at a C and moving up or down based on the quality of his performance.
However, it's important to note role players and reserves are graded on a curve due to their smaller allotment of minutes.
Key Players: San Antonio Spurs
Tony Parker, Point Guard
The Spurs' first 10 points came in the paint on 5-of-5 shooting, and Tony Parker aided that relentless cause by using his elite burst to blow by defenders and get to the rim.
The first player on either team into double figures, Parker found clean looks easy to come by, opening 5-of-9 from the field for 10 points.
Playing with a far more composed style than his primary adversary, Parker paced the San Antonio offense beautifully by compiling 22 points (10-of-17 shooting), five dimes and two steals while recording a plus/minus rating of plus-32.
Grade: A
Tim Duncan, Power Forward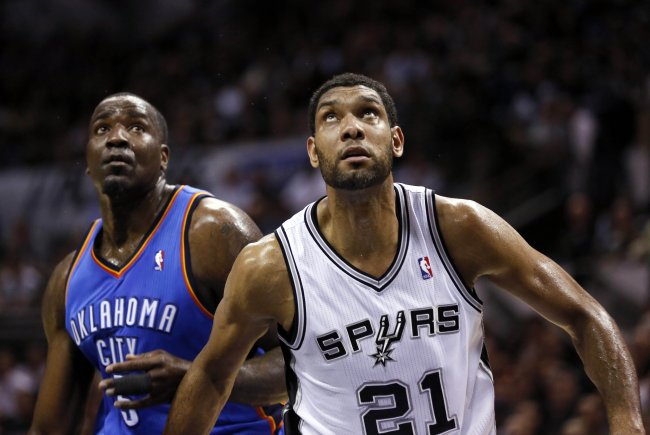 USA TODAY Sports
After accounting for 20 of the Spurs' 66 paint points in Game 1, it was fair to expect Tim Duncan to attack Oklahoma City's decimated frontcourt once again.
In a bit of an uncharacteristic development, four of Duncan's first nine shots came from outside the paint, including two from beyond 20 feet.
Those numbers set the tone for a performance that wasn't exactly tidy, but Duncan remained persistent in all areas, recording a double-double consisting of 14 points (5-of-12 shooting) and a team-high 12 rebounds, including four on the offensive glass. He also posted two blocks.
Considering the Spurs were plus-32 with Duncan on the floor, it's hard to knock the Big Fundamental's few shortcomings.
With the Spurs finding consistent success on the perimeter, Duncan picked a good night for the Spurs not to be reliant on his interior dominance.
Grade: A
Kawhi Leonard, Small Forward
Unlike Durant, who found very little offensive success against Kawhi Leonard, the Spurs' most reliable defender showed out to the tune of 5-of-11 shooting when guarded by Durant in Game 1, per NBA.com.
However, Leonard's offense was disrupted by a bit of early foul trouble and a lack of consistent touches.
Nevertheless, the cornrowed two-way threat provided yet another strong defensive effort (plus/minus rating of plus-23) while chipping in four points and four assists.
Grade: B-
Manu Ginobili, Sixth Man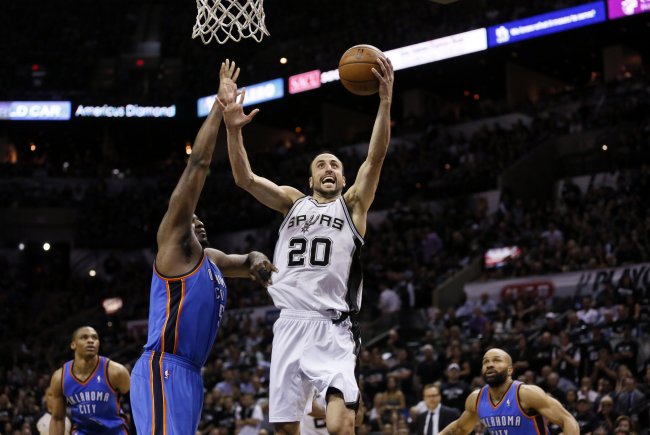 USA TODAY Sports
Wednesday night reminded us why Manu Ginobili is presence of mind personified.
In 14 first-half minutes, Ginobili was sensational, scoring nine points to go with three assists and two boards, while whipping a wraparound pass to Danny Green that belongs on highlight reels everywhere.
Manu Ginobli's fantastic cross-court pass to Danny Green https://t.co/NnOOTawavt

— CJ Fogler (@cjzero) May 22, 2014
That pass alone is worthy of high marks, so consider that Ginobili finished with 11 points, four dimes and three rebounds in 21 minutes off the bench, and it's hard not to come away impressed with the ageless Argentinian wonder.
Grade: A
Danny Green, Shooting Guard
Want to know how the Spurs were destined to depart AT&T Center with a win in Game 2? Simple, just consult this statistic:
Danny Green has made at least four 3-pointers in 3 straight games Spurs are 16-0 this season when Danny Green makes 4 3-pointers in a game

— ESPN Stats & Info (@ESPNStatsInfo) May 22, 2014
It took Green a grand total of 15:31 to knock down four threes, which comprised all four of his first-half makes.
Sharpshooting was the name of the game for Green on Wednesday (21 points on 7-of-10 shooting from three), but the Spurs' perimeter marksman did a nice job of disrupting the Thunder's passing lanes by racking up a team-high three steals.
Danny Green has tied his playoff career high for made 3's (with 7), which he first set during last year's #NBAFinals v. Miami

— NBA.com/Stats (@nbastats) May 22, 2014
Given the way San Antonio has moved the ball in these first two games, a red-hot Green could wind up being the final nail in the Thunder's coffin.
Grade: A+
Tiago Splitter, Center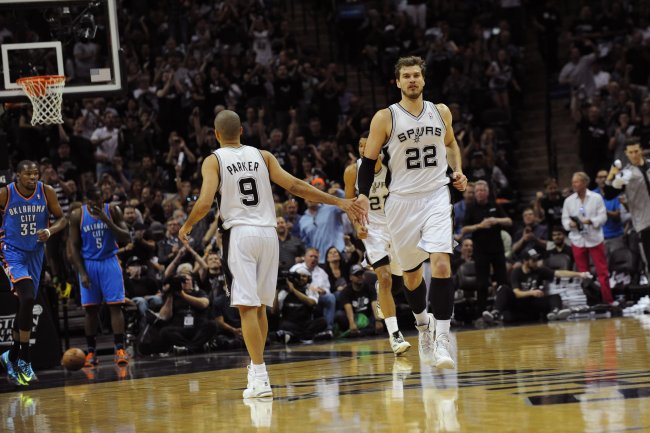 Noah Graham/Getty Images
Tiago Splitter's activity level in the early going was sensational. In three minutes' time, the Brazilian big amassed two blocks, an assist and a board, as the Spurs continued to attack and defend the paint with vigor.
Podium game alert: 5 1/2 minutes in, Splitter already with 3 points, 2 rebounds, 3 blocked shots and 1 assist.

— Dan McCarney (@danmccarneysaen) May 22, 2014
San Antonio's most active interior body on both ends of the floor, Splitter's double-double pace was sustained throughout as he battled his way to nine points, 10 rebounds and a team-high three blocks in an effort that truly exemplified just how badly the Thunder miss Serge Ibaka.
Splitter's high-low chemistry with Parker and Duncan was particularly beautiful to watch, as his ability to find cutters remains a criminally underrated part of his game. His four assists were one shy of a team high.
After dominating the interior for the majority of Game 2, expect Splitter to impose his will on Scott Brooks' muddied lineups as the series shifts to Oklahoma City.
Grade: A
Bench
Other than Ginobili, primary bench contributors included usual suspects such as Boris Diaw, Marco Belinelli and Patty Mills.
But with the starters bringing their A-game, the pressure was off Gregg Popovich's s second unit to produce big numbers.
Diaw was steady and reminded us not to doubt his versatility to the tune of 11 points, three rebounds and an assist, while Belinelli went about his business by adding six points and seven boards.
Mills underwhelmed for the most part, starting 0-of-4 from the field, and failed to score a point in 16 forgettable minutes.
Grade: C
Key Players: Oklahoma City Thunder
Kevin Durant, Small Forward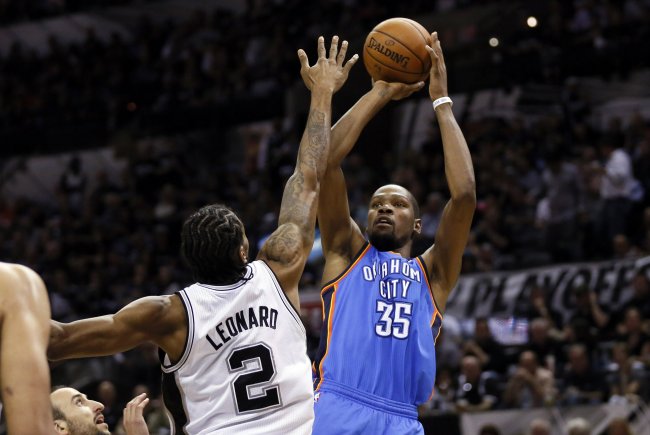 USA TODAY Sports
After Leonard limited Durant to seven points on 27 touches in 8:26 of matchup time in Game 1, per NBA.com, the MVP needed to try to assert his dominance early.
Two early fouls on Leonard helped free Durant up for some easier looks, which allowed the latter to score nine first-quarter points as the Thunder went to a smaller, more effective lineup.
But things got dark for Durant as the Thunder offense struggled to obtain optimal looks against a more physically imposing Spurs defense.
Kevin Durant hasn't scored since 4:48 of the 1st quarter

— ESPN Stats & Info (@ESPNStatsInfo) May 22, 2014
Russell Westbrook telling Kevin Durant to "Wake Up " https://t.co/fcIpuUJj89

— gifdsports (@gifdsports) May 22, 2014
Durant was uncharacteristically out of it in the jump-shooting department, converting on 6-of-16 field-goal attempts and zero of his four attempts from deep.
Fifteen points represented the lowest total Durant's churned out since Game 4 against the Memphis Grizzlies, when he shot 5-of-21 from the field.
Grade: D
Russell Westbrook, Point Guard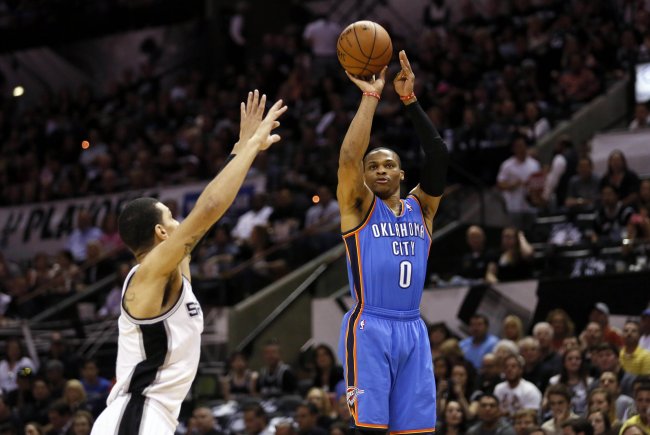 USA TODAY Sports
Russell Westbrook found tremendous success against Tony Parker in Game 1, recording seven drives to the cup in 3:23 of one-on-one matchup time, according to NBA.com.
And while Westbrook tried to be aggressive, he was far too erratic during a 1-of-7 start that included six straight misses.
Too many missed jump shots littered Westbrook's early struggles, as his ability to drive to the rim was stifled by some highly questionable decision-making.
Russell Westbrook and Kevin Durant had a rough shooting 1st half for Thunder pic.twitter.com/p6AFT9kyur

— ESPN Stats & Info (@ESPNStatsInfo) May 22, 2014
Attempting to assume his club's entire offensive burden, Westbrook continued to misfire time after time, racking up a game-high 24 field-goal attempts while shooting 1-of-5 from beyond the arc.
Westbrook currently with 24 FGA, only 15 pts. Since 1985, only Iverson '03 scored fewer in playoff gm w/ that many shots. #thunder #spurs

— statcenter (@statcenter) May 22, 2014
All told, Westbrook totaled 15 points on 7-of-24 shooting, five rebounds and five assists, but his inefficiency was dumbfounding.
Westbrook has now shot below 50 percent in 24 of 29 career meetings with the Spurs.

— Dan McCarney (@danmccarneysaen) May 22, 2014
It's rather telling that the Thunder were a team-worst minus-34 with Westbrook on the floor in the loss.
Grade: D-
Reggie Jackson, Sixth Man
With Ibaka absent, the Thunder have been searching for a reliable third option on offense.
Possessing the most explosive potential of any of the team's remaining options, Reggie Jackson figured to be the leading candidate to fill that role.
A huge key tonight is Reggie Jackson: The #Thunder are 5-0 in the playoffs when he scores 14+ points. 3-6 when he doesn't.

— Carson Cunningham (@KOCOCarson) May 22, 2014
Searching to create offense off the dribble and with his jump shot, Jackson helped spark a run that resulted in an Oklahoma City lead at the end of the first quarter.
Despite that promising start, Jackson's production halted in tandem with the Thunder's demise over portions of the second and third quarters. With Oklahoma City falling behind by as many as 29 points in the third quarter, there was nothing Jackson could do to energize Scott Brooks' anemic offense.
In 26 minutes off the bench, Jackson finished with eight points (4-of-7 shooting), four assists, three rebounds and two turnovers.
Grade: C-
Thabo Sefolosha, Shooting Guard
With the Thunder offense searching for answers, Thabo Sefolosha couldn't provide any.
And while we weren't exactly expecting him to emerge as some sort of offensive dynamo, a little consistency would have been refreshing.
An 0-of-3 start paved the way for a final line that saw Sefolosha fail to score a point or assist.
Thabo's absolutely lost right now.

— J.A. Adande (@jadande) May 22, 2014
He still hasn't scored in this series.
Grade: F
Nick Collison, Power Forward
The little things defined Nick Collison's Game 1 effort. In 16 minutes as a starter, Collison held opponents to 4-of-12 shooting, per NBA.com, although the Thunder's interior defense was largely underwhelming as a whole.
In need of a more well-rounded performance in Game 2, Collison's early returns were near-disastrous. Two fouls in fewer than five minutes sent the spot-starter to the bench as Splitter and Duncan continued to own the inside.
A Lance Stephenson-esque tip-in with 0.1 seconds remaining on a second-quarter possession was Collison's most notable play of the evening, one that was rather forgettable otherwise.
Nick Collison tip-in with 0.1 seconds on the clock https://t.co/LgqEq4Zn01

— gifdsports (@gifdsports) May 22, 2014
The former Kansas Jayhawk managed two points and two boards in 13 minutes.
Grade: F
Kendrick Perkins, Center
The usual, really.
A non-factor on offense and nominal contributor on the glass, Kendrick Perkins finished with two points and four rebounds as the Spurs continued to gash the Thunder repeatedly in the paint.
Given his mobile limitations, it's hard to knock Perkins, but he's simply not going to move the needle on the interior against the Spurs' loaded frontcourt.
Grade: F
Bench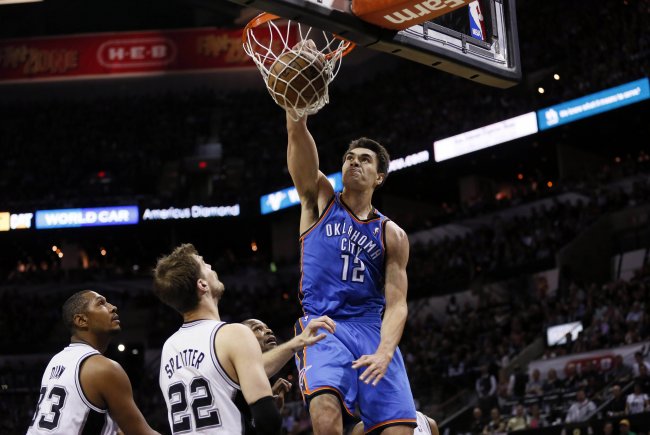 USA TODAY Sports
Steven Adams' hustle in place of Collison was simply electric. Four points and two rebounds in 17 minutes highlighted Adams' Game 1 performance, and he exceeded those totals in his first seven minutes Wednesday evening.
More encouraging, though, was the fact that Oklahoma City's complement of reserves came to play, scoring a combined 14 points in the opening period.
Adams' contributions amounted to nine points and eight rebounds in 33 minutes, while Caron Butler provided nine points on 4-of-8 shooting, including 1-of-3 from three.
Perry Jones and Derek Fisher both saw minutes off the pine, as well, but it was Jones' playing time that was most intriguing.
After logging two minutes in Game 1, Jones saw extended action (24 minutes), including a long look in the second quarter alongside Durant.
Grade: B
What's Up Next?
Both clubs will get an extended rest before play resumes on Sunday. Game 3 is slated to get underway at 8:30 p.m. ET from Oklahoma City while Game 4 will tip off at 9 p.m. ET on Tuesday. Both games will be broadcast on TNT.