Up 3-1 and in possession of every shred of momentum in the series, the Portland Trail Blazers had a chance to deliver the knockout blow to the Houston Rockets in Game 5 on Wednesday.
But the Rockets ducked the haymaker, taking the contest by a final score of 108-98.
Portland will head back home with a 3-2 advantage and a great chance to finish off the Rockets in Game 6, but it's hard to get past the feeling that the Blazers squandered the best shot they'll get to eliminate a dangerous Houston squad.
The Set-Up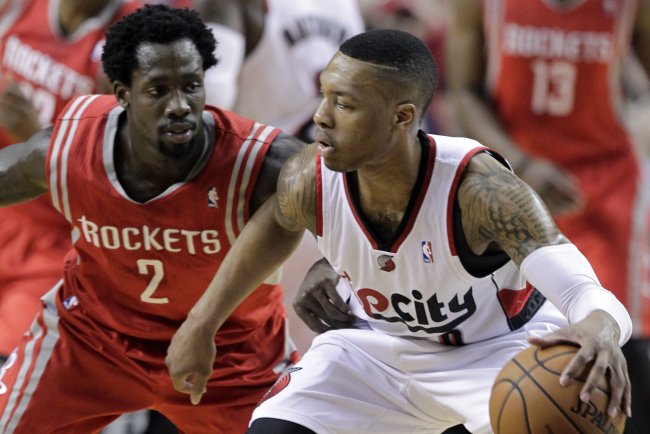 Don Ryan/Associated Press
Things were set up beautifully for Portland.
Patrick Beverley was on death's door. OK, that's a slight exaggeration, but the defensive dynamo who has bothered Damian Lillard all series wasn't feeling great.
Beverley has 101 degree fever, getting an IV, McHale said.

— Jonathan Feigen (@Jonathan_Feigen) May 1, 2014
Plus, James Harden started out the contest horribly. He missed eight of his first 11 shots and seemed intent on continuing the perplexing downward spiral he started when the playoffs began. Disengaged and ineffective for much of the series, Harden showed no signs of figuring things out in the early going.
Wesley Matthews spent the first three-and-a-half quarters of the game dominating Harden on both ends, piling up 27 points and making sure the Beard didn't answer on the other end.
Wes Matthews is toying with James Harden.

— Tom Haberstroh (@tomhaberstroh) May 1, 2014
Harden's poor play should have cracked the door for the Blazers to build a lead. And Matthews' solid work should have kicked it open.
And then there was the Blazers' confidence, which should have been at a stratospheric level. Portland stunned just about everybody by building its 3-1 lead, and behind a couple of transcendent performances from LaMarcus Aldridge early in the series (not to mention a hefty coaching advantage), it seemed like the Blazers genuinely believed the series was theirs to take.
For all that, Portland fell behind early.
Drawing on that reserve tank of confidence, though, the Blazers fought all the way back. The game tightened up considerably in the fourth quarter, and when the Rockets went over the limit with nine minutes remaining in that final period, it seemed like the Blazers were going to steal the game with a parade to the foul line.
But Portland attempted just six free throws the rest of the way, squandering a massive opportunity.
And then Harden, previously dormant, awakened.
The Breakdown
He scored on a pretty reverse layup with just under four minutes to play, notching his first bucket of the second half.
Those were James Harden's first points since 7:22 of the second quarter

— Ben Golliver (@BenGolliver) May 1, 2014
Then, he followed with a huge triple—the only one he'd hit all game. Suddenly, the postseason's most disappointing player was back on track. Proving he was making a serious takeover attempt, he even did the unthinkable moments later, blocking a three-point attempt by Lillard.
James Harden just played defense. It's officially over. The world I mean.

— Zach Harper (@talkhoops) May 1, 2014
Harden finished the contest with an unimpressive 17 points on 5-of-15 shooting, but you couldn't watch his late-game resurrection without thinking it might have ripple effects going forward. He's too talented offensively to stay quiet forever, and at the very least, the Rockets have renewed confidence in his abilities.
McHale: "James is our leading scorer, he's our go-to guy. We're going to get him the ball up in Portland."

— Nick Mathews (@Nick_Mathews) May 1, 2014
It's easy to forget how dominant Harden was during the regular season. His 34 percent shooting in these playoffs is probably to blame for that. Portland has to be concerned it's about to get a reminder of how scary Harden can be in Game 6 (and possibly Game 7).
If the Blazers could have closed things out, they wouldn't have had to worry about Harden finding his game. They wouldn't have had to face a recovered Beverley. They wouldn't have given the all-but-dead Rockets a spark of life.
On the other side of the superstar coin, Aldridge put forth his worst effort of the series, totaling just eight points on 3-of-12 shooting. He'd been brilliant in Games 1 and 2, eclipsing the 40-point mark twice. In Games 3 and 4, he remained effective but wasn't quite a superhero.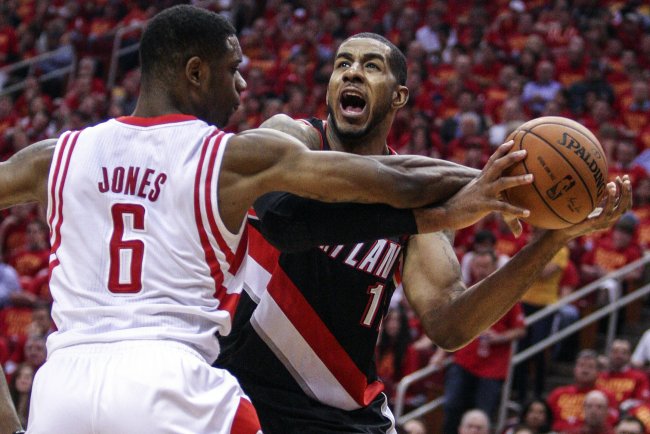 USA TODAY Sports
His Game 5 performance continued the downward trend, and it's one that should concern the Blazers. Not because Aldridge is in any sort of funk, but because the Rockets seem to be getting more comfortable guarding him.
McHale on LA: "He's a tough cover. We are just trying to keep bigger bodies on him."

— Nick Mathews (@Nick_Mathews) May 1, 2014
If Aldridge had been able to put up just one more 20-point effort, it's possible we'd be talking about who the Blazers were going to face in the second round right now. It's absolutely within reason to expect another terrific effort from him in Portland's next contest, but the fact remains: If he'd been merely decent in Game 5, the Blazers would already be moving on.
Not a Disaster...Yet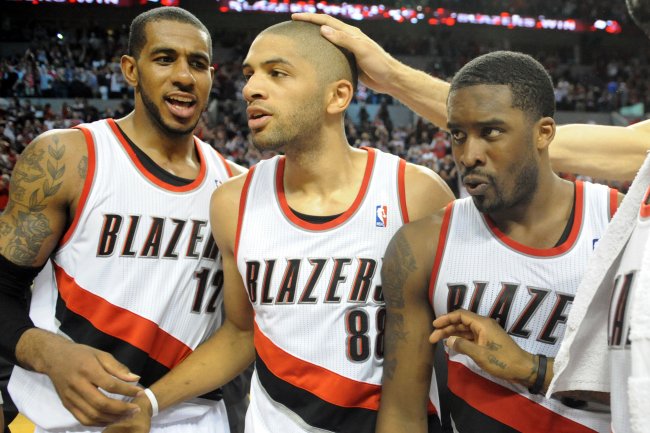 Steve Dykes/Getty Images
Look, Portland is still in solid shape. Any time you have a chance to close out a series at home, it means the straits aren't too dire. And Houston is still the team facing elimination, which means it's still under the most pressure.
McHale: "Our season was hanging on tonight. Now our season is hanging on Friday night."

— Nick Mathews (@Nick_Mathews) May 1, 2014
The Blazers have a very good chance to win this series, but they had a great one Wednesday.
Houston was on the ropes, facing the embarrassment of losing to the one team everybody in the West wanted to face. It turns out the threat of that fate may have motivated the Rockets just enough to survive.
If Portland had been a bit more opportunistic, it could have knocked Houston out. Missing on that critical blow isn't necessarily fatal, but the Blazers might be in for a serious counterpunch from the Rockets now.
In other words, we've finally got a fight on our hands.