The Tampa Bay Buccaneers suffered through yet another tough season in 2013, but the team has aspirations of turning things around in 2014 after a solid offseason revamp of the roster and a new regime in place.
Greg Schiano is out and new head coach Lovie Smith is in. After two disastrous seasons in Tampa under Schiano, the organization is hoping to turn the page under the veteran leadership of Smith.
One of his first and most noteworthy moves was declaring recently signed quarterback Josh McCown the starter. McCown, an 11-year veteran, is expected to get the nod over youngster Mike Glennon.
Now that the NFL has released its schedule, Bucs fans can see what the upcoming campaign will look like and assess the club's chances of making its first playoff appearance since the 2007 campaign.
Keep reading for a complete look at Tampa Bay's schedule for the upcoming season, which includes dates, times and television info, plus an in-depth breakdown of the team's impending matchups.
2014 Tampa Bay Buccaneers Regular-Season Schedule

| | | | | |
| --- | --- | --- | --- | --- |
| Week | Date | Opponent | Time (ET) | TV |
| 1 | 9/7 | vs. Carolina Panthers | 4:25 p.m. | Fox |
| 2 | 9/14 | vs. St. Louis Rams | 4:05 p.m. | Fox |
| 3 | 9/18 | at Atlanta Falcons | 8:25 p.m. | CBS |
| 4 | 9/28 | at Pittsburgh Steelers | 1 p.m. | Fox |
| 5 | 10/5 | at New Orleans Saints | 1 p.m. | Fox |
| 6 | 10/12 | vs. Baltimore Ravens | 1 p.m. | CBS |
| 7 | | BYE | | |
| 8 | 10/26 | vs. Minnesota Vikings | 1 p.m. | Fox |
| 9 | 11/02 | at Cleveland Browns | 1 p.m. | Fox |
| 10 | 11/09 | vs. Atlanta Falcons | 1 p.m. | Fox |
| 11 | 11/16 | at Washington Redskins | 1 p.m. | Fox |
| 12 | 11/23 | at Chicago Bears | 1 p.m. | Fox |
| 13 | 11/30 | vs. Cincinnati Bengals | 1 p.m. | CBS |
| 14 | 12/07 | at Detroit Lions | 1 p.m. | Fox |
| 15 | 12/14 | at Carolina Panthers | 1 p.m. | Fox |
| 16 | 12/21 | vs. Green Bay Packers | 1 p.m. | Fox |
| 17 | 12/28 | vs. New Orleans Saints | 1 p.m. | Fox |
NFL.com
Analysis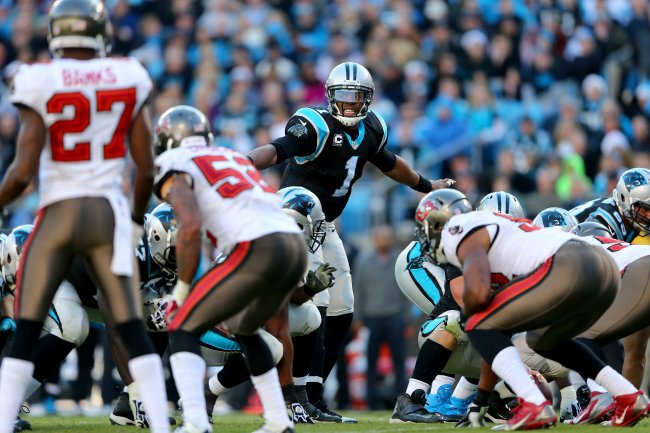 Streeter Lecka/Getty Images
According to ESPN, the Buccaneers have the 19th-toughest schedule in the league, a figure based off the winning percentages of their 2014 opponents in 2013.
It is a tough road back to the postseason, but one that the Bucs must be able to navigate if they are going to be worthy of a coveted playoff spot coming out of a strong NFC South division.
Outside of their always-rough divisional battles, the Bucs have plenty of winnable matchups on tap in 2014. The franchise drew a slew of foes from the NFC North and AFC North, as well as one challenger apiece from the NFC East and NFC West.
Out of the 16 games that Tampa will play in 2014, only six of them will come against playoff teams from the 2013 campaign, and four of those are against the Carolina Panthers—a competitor that suffered through an ugly offseason—and New Orleans Saints.
Despite the loss of superstar cornerback Darrelle Revis, the Bucs had a strong overall offseason. They added offensive tackle Anthony Collins, defensive end Michael Johnson, cornerback Alterraun Verner and the veteran McCown, just to name a few.
They should continue to get better via the coming draft as well. The team possesses the No. 7 overall pick and could add a real impact player at that spot.
7. Tampa Bay – Mike Evans, WR, Texas A&M. Pair him w/ V Jax and you essentially have what McCown had in Chicago http://t.co/WRKizDF1IM

— Jason McIntyre (@jasonrmcintyre) April 2, 2014
Linebackers coach Hardy Nickerson is excited about the players his squad added this spring, telling Scott Smith of the Bucs' official website:
I think the key is just looking at the guys that have been signed as free agents, they

'

re all good football players. When you bring in a good football player, not much is going to change. Those guys, they

'

re going to be football players no matter what, and they'll show people that they are good football players no matter what. I think the guys that we brought in are good football players.
Expectations of a better season than the 4-12 one that Tampa turned in last year are reasonable, but it may be tough for this inexperienced group to make a playoff surge under new head coach Smith.
Don't be surprised if the Bucs perform better than expected and make significant progress this coming season. They should put up a strong fight in every game they play in 2014.
Pivotal Matchups
The Green Bay Packers are one of the non-divisional teams that have plenty of playoff experience, including an improbable trip last year. This group suffered through a myriad of injuries during the 2013 campaign, namely to Aaron Rodgers, but should be among the top competitors in the NFC in 2014 at full health.
The other playoff-hardened opponent to square off with Tampa Bay is the Cincinnati Bengals. They weren't able to advance far, however, as beleaguered quarterback Andy Dalton tossed two interceptions and lost a fumble in a 27-10 rout by the San Diego Chargers.
It will be interesting to see how the Bengals recover after that jarring defeat, and it may cause them to be a team in decline this coming season. Factor in that the Bucs poached Michael Johnson from this club, and it makes for an exciting subplot going into the game.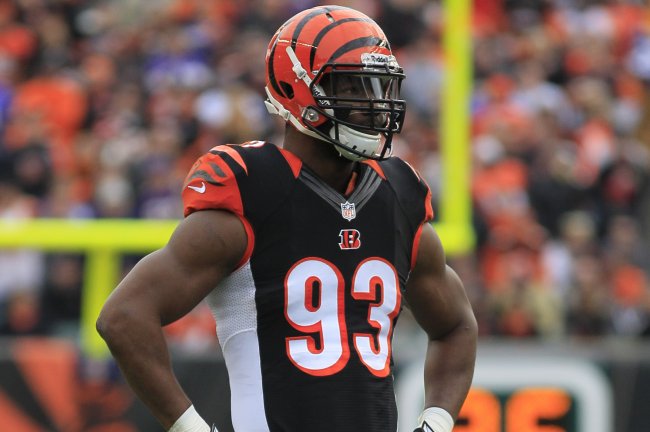 Tom Uhlman
There are some opponents who are on the rise, however, that are definitely going to be in contention for the playoffs after missing out last year.
How many games will Tampa Bay win in 2014?
The Washington Redskins are a candidate for a bounce-back year, as they added DeSean Jackson into the fold and should have a healthy Robert Griffin III on the field.
Don't sleep on the St. Louis Rams game either, as the NFC West club boasts one of the best pass rushes in the league and will be an incredible challenge for either McCown or Glennon to deal with.
Overall, the Bucs will have a new look with high aspirations this season. They have a manageable road to make progress and will need to handle their division foes first and foremost if they want to reach the playoffs.