With the summer transfer window drawing ever closer, Arsenal are believed to be re-igniting their interest in Bayer Leverkusen's Lars Bender as Arsene Wenger looks for a long-term replacement for Mikel Arteta.
The Daily Mail's Sami Mokbel reports Wenger is still very impressed with the German midfielder and will once again attempt to sign Bender this summer, with Leverkusen previously turning down a £19 million bid. Mokbel says:
Arsenal are preparing to make another bid for Bayer Leverkusen's Lars Bender after failing to sign the midfielder last summer.

Arsene Wenger and his backroom team have been hugely impressed with the German international for over a year and see him as the ideal physical presence to allow their attacking midfielders to perform.
Arteta will be turning 32 before the end of the season, and while the Spaniard is still capable of playing at the highest level, the search for a future replacement is reportedly on.
As the report suggests, Wenger has long been a fan of Bender, and it's easy to see why. The 24-year-old German is one of the better box-to-box midfielders in all of Europe and seems to be ready for the step up to the next level.
Out of all midfielders who played in the UEFA Champions League this season, Bender ranked second in tackles per game (per Whoscored.com), trailing only Juventus' Arturo Vidal, arguably the top midfielder in all of football right now.
The Gunners have a strong midfield filled with creative players that fit Wenger's mentality, but the team lacks an enforcer who can keep opposing midfielders at bay. Finding a player capable of filling that role in Arsenal's system, which requires all of its midfielders to be very technically capable, is no easy feat.
Wenger seems to believe Bender would be able to fill that role, however, and for the second straight summer window, the French boss will attempt to bring the German international to the Emirates.
Bundesliga expert Clark Whitney gave his thoughts on the player while also outlining the main obstacle for signing the highly rated midfielder:
Bender is a symbol at Leverkusen, a coveted, talented player who's young but spent 5yrs there already. A rare exception for B04 1/2

— Clark Whitney (@Mr_Bundesliga) March 25, 2014
Telegraph & Mail: Arsenal to bid for L. Bender. LB just extended his Leverkusen contract to 2019, hard to get unless B04 fail to finish 4th

— Clark Whitney (@Mr_Bundesliga) March 25, 2014
Bender was one of the few Leverkusen players who didn't look completely lost during the team's embarrassing loss in the Champions League at the hands of Paris Saint-Germain, and that game perhaps may have shown the midfielder the ceiling of his current club.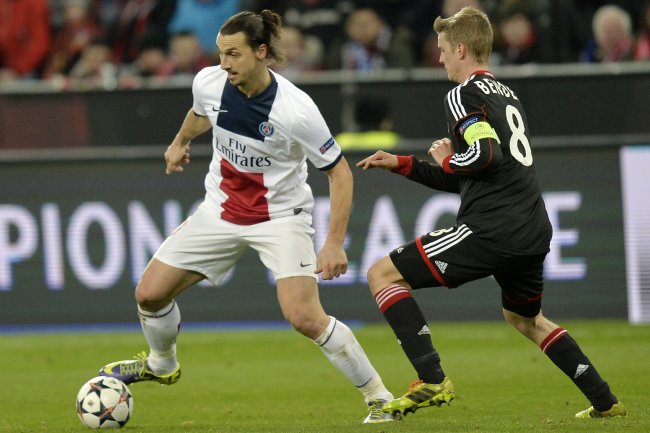 Martin Meissner/Associated Press
By slotting Bender behind the likes of Mesut Ozil and Santi Cazorla, Wenger wouldn't have to worry about his midfield's inability to provide cover for attackers running right at the defense, and Ozil in particular could focus on what he does best: distributing the ball and creating chances.
If Leverkusen fail to hold onto the fourth spot on the Bundesliga table, the club could be tempted into selling its star player this summer, with Arsenal ready to pounce.
Bender has emerged as the team's primary target in the search for a replacement for Arteta, and rightfully so. The only question now is whether the Gunners will be more successful in their attempt to get their man this time than they were a year ago.