The first shoe has dropped for the Pittsburgh Steelers in free agency. It is unusual for Steelers fans to have something to cheer about so early in the offseason. However, the Steelers made a significant move on Tuesday by signing Former Oakland Raiders and Carolina Panthers safety Mike Mitchell.
The news broke when Mitchell himself sent out this tweet:
Pittsburgh!!!!!! First I have to thank God for this blessing and Mr. Rooney and the Steelers organization for such a great opportunity!

— Mike Mitchell (@MikeMitchell34) March 11, 2014
Seems like an excited young man, and rightfully so. Mitchell came to the Panthers on a one-year contract and made the most of his opportunity. After stepping in for an injury, Mitchell parlayed his time into 14 starts in 2013. He turned in 66 total tackles, 3.5 sacks, eight passes defended and four interceptions. Those numbers would have ranked him first on the team in interceptions and third in sacks last season.
Mike Mitchell

| | | | | | |
| --- | --- | --- | --- | --- | --- |
| Height | Weight | Tackles | Sacks | Interceptions | passes defended |
| 6'0" | 210 | 66 | 3.5 | 4 | 8 |
ESPN
Looking over some draft notes, Mitchell's path into the league was a bit unusual. Mitchell didn't get an invite to the NFL Scouting Combine, and was very much an unknown. However, in the most stereotypical way possible, Mitchell ran a 4.39 40 at his pro day, caught the eye of former Raiders owner Al Davis, and ended up being their second-round pick in 2009.
When Mitchell's name was called, I remember the look of shock on the faces of the experts on ESPN's panel. The production team was so ill-prepared, they didn't even have a photo of Mitchell ready to put up on screen.
After four seasons in Oakland, Mitchell was never able to crack the starting lineup with any consistency The Raiders chose not to offer him a new contract and let him leave. The Panthers brought Mitchell in on a one-year deal and he made the very most of it.
How much did his one big season with the Panthers pay off? ESPN's Adam Schefter reports:
Steelers gave former Panthers S Mike Mitchell a five-year, $25 million deal, per source.

— Adam Schefter (@AdamSchefter) March 11, 2014
That's a big contract for a player with only one year as a starter. However, the skills that Mitchell showed in 2013 really fit with what the Steelers like to do with their deep or free safety. Mitchell's game is predicated on his speed and aggressive nature. He has impressive closing speed, and is a real intimidator in the defensive backfield.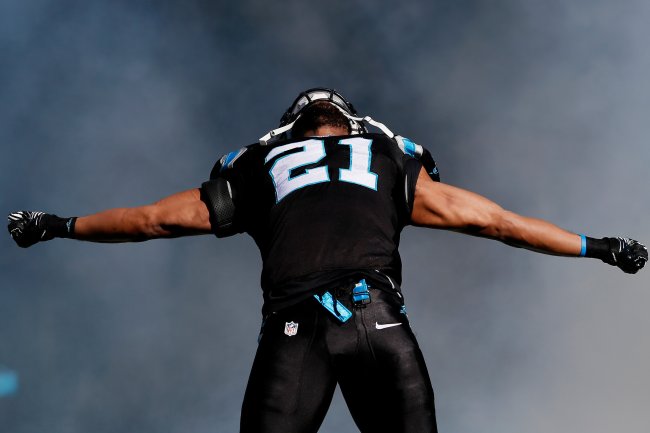 Kevin C. Cox/Getty Images
Steelers' defensive coordinator Dick LeBeau loves to put his cornerbacks in off-man coverage, and the free safety patrolling behind them, looking to deliver a blow. The 6'0", 210-pound hammer in the secondary should be able to put the fear into every wide receiver who tries to get deep.
But, what does this signing mean for the rest of the Steelers' defensive backs? Best guess is that this is a clear sign that Ryan Clark will not be returning in 2014. The real question is how does the Mitchell signing impact Shamarko Thomas and his future?
Gene J. Puskar/Associated Press
Honestly, it doesn't impact it at all. Mitchell's 14 starts in 2013 were at free safety and Thomas is much more of a pure strong safety. No, if Thomas doesn't see more reps at safety it will be because of the continued success of Troy Polamalu, and not the signing of Mitchell.
Will Mike Mitchell be the Steelers' starting safety in 2014?
Depending on how the Steelers handle the cornerback position going forward, Thomas should see plenty of reps in their big nickel sets as a cornerback. Should the Steelers address the cornerback position with another starter, Ike Taylor could find himself as the big nickel corner and Thomas relegated to dime sets and rotational play with Polamalu.
However, should Thomas and Mitchell get the nod as starters, it would fix the criticisms of an "old" Steelers secondary in a hurry. The average age of last year's starters was 33. The average would drop to 24.5 years old with the replacements.
Going forward with free agency, the Steelers should continue to remain aggressive. Whether it is a wide receiver or a defensive lineman, getting your first guy just means it is time to get your second. No reason to stand pat now.