As the 2014 Winter Olympics draw to a close in Sochi, Russia, the resort city on the Black Sea is only eight months away from another major international event. On October 12, Sochi will host the first Russian Grand Prix in 100 years.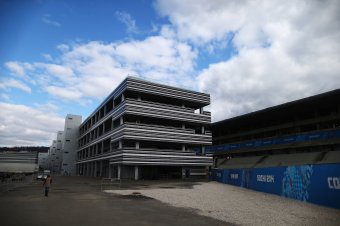 Clive Mason/Getty Images
A brand new race track, the Sochi International Street Circuit, is currently being built around the Olympic Park. Recently, race promoter Oleg Zabara told Alan Baldwin of Reuters that "All works are being carried out according to the schedule. The racing track is 91 percent complete. ... Everything is according to plan, and there aren't any problems during Olympic period."
Ninety-one percent...how precise!
Given the issues that greeted some guests when they arrived in Sochi for the Olympics, though, it is fair to wonder whether all the infrastructure needed for a Formula One race will be ready in time.
Problems at the Olympics ranged from the ridiculous:
...With no phone to call for help, I used my bobsled push training to break out. #SochiJailBreak pic.twitter.com/apZRefgvCO

— Johnny Quinn (@JohnnyQuinnUSA) February 8, 2014
To the potentially dangerous:
Water restored, sorta. On the bright side, I now know what very dangerous face water looks like. #Sochi #unfiltered pic.twitter.com/sQWM0vYtyz

— Stacy St. Clair (@StacyStClair) February 4, 2014
To the certainly dangerous:
Watch your step @Sochi2014 -- I've noticed on walkway and on sidewalks that not all man holes are always covered. pic.twitter.com/a5Nv4wu5iA

— Jo-Ann Barnas (@JoAnnBarnas) February 1, 2014
But despite these #SochiProblems, the Games went off largely without a hitch. Security concerns and worries about possible terrorist attacks proved unfounded—or at least Russian president Vladimir Putin's "ring of steel" thwarted any would-be attackers.
For all the complaints and worries before the Games started, the athletic events have not been disrupted by anything more severe than the usual hiccups for an event with nearly 3,000 athletes. Certainly nothing worse than the previous Winter Olympics in Vancouver, where organisers were faced with snow shortages and broken-down ice-resurfacing machines.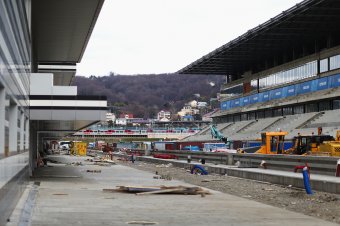 Clive Mason/Getty Images
With nearly eight months until the Russian Grand Prix and with construction reportedly on schedule, there does not seem to be any reason to worry that the circuit and surrounding infrastructure will not be ready for the race.
According to the Reuters report, the medical centre is already complete, while construction of the race control building and main grandstand is well advanced. Also, two out of three layers of asphalt have already been laid for the track itself.
By comparison, the final layer of asphalt on the Circuit of the Americas, home of the United States Grand Prix, was completed less than two months before the first race.
Aside from the circuit, the hotels which have provided much amusement and consternation during the Olympics will have a further eight months to put the finishing touches on their rooms. Given the extra time, it is possible that race fans will even be treated to amenities like shower curtains and lightbulbs.
To anyone in Sochi: I am now in possession of three light bulbs. Will trade for a door handle. This offer is real: pic.twitter.com/7AeesqDi8Y

— Dan Wetzel (@DanWetzel) February 4, 2014
Hey @SochiProblems do I get a little credit for solving one? http://t.co/gyKi1gORXA pic.twitter.com/r7tXzBtE2z

— Steve Politi (@StevePoliti) February 7, 2014
There is no word, though, on whether Sochi's infamous double-toilets will be around for the grand prix.
Seeing double in the Gentlemen's Loo at the Olympic Biathlon Centre #Sochi pic.twitter.com/a1HoilU9zn

— Steve Rosenberg (@BBCSteveR) January 20, 2014
Besides sport, security and the above silliness, there have been other worries raised around the Sochi Olympics. Widespread corruption has been reported, per Brett Forrest of Vanity Fair, along with environmental concerns, as noted by Nahlah Ayed of CBC.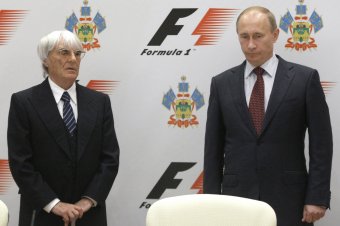 Mikhail Metzel/Associated Press
Putin has also drawn international criticism for his government's so-called anti-gay propaganda law (which F1 CEO Bernie Ecclestone has announced his support for).
Of course, F1 is no stranger to political controversy. For example, after cancelling the 2011 Bahrain Grand Prix due to ongoing protests in the Gulf State, the race returned in 2012 and 2013 (subscription required).
Looking beyond the controversies and criticism, however, the Sochi circuit looks like it has the potential to produce some exciting racing—although it is difficult to be sure based solely on overhead drawings and artists' renderings.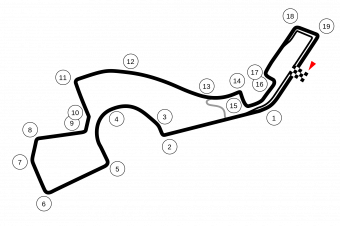 Pitlane02/Wikimedia Commons
There are long straights which should provide passing opportunities into Turns 2 and 14. Some elements of the track will also look familiar to F1 fans. Sochi's Turns 3 and 4 look very similar to the Turn 16-17-18 sequence at the Circuit of the Americas and, less so, to Turn 8 in Istanbul.
The final section of the Sochi track bears a passing resemblance to Monaco's Swimming Pool-Rascasse-Antony Noghes sequence. Whether or not that is a positive comparison is open for debate.
In the end, if the Russian Grand Prix produces thrilling races, any controversy will likely be forgotten. The one factor that cannot be overlooked is the readiness of the circuit. However, judging by the current progress, that will not be an issue.