Los Angeles Angels: Angels' Spring Training to-Do List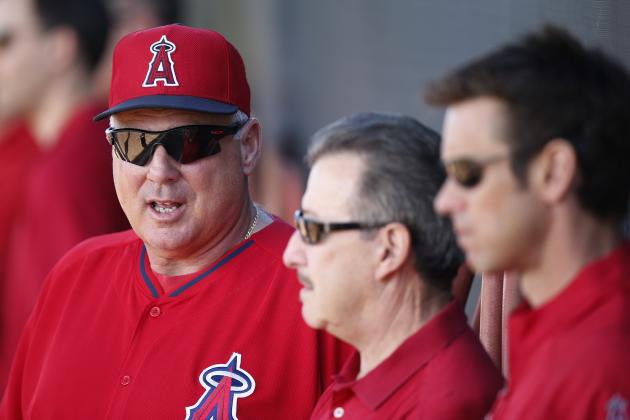 Ross D. Franklin/Associated Press

The Los Angeles Angels enter their fourth straight spring training without the leftover confidence of making the playoffs the previous season. Consequently, with a good-sized payroll and star power on the roster, that scenario leaves a little bit of pressure to get things turned around right now.
And what better time to tidy up a mess than during the spring.
For the Angels, however, it's not an overwhelming matter. Sure, the offseason wasn't a complete "winner," and the strength of the AL West has increased—in the on-paper category. But don't expect the severity of the Angels' to-do list to blast through so many reams of paper only a company like Dunder Mifflin could keep up with the demand.
There is hope—more than just Mike Trout—and all of it starts with simple steps in March.
Begin Slideshow

»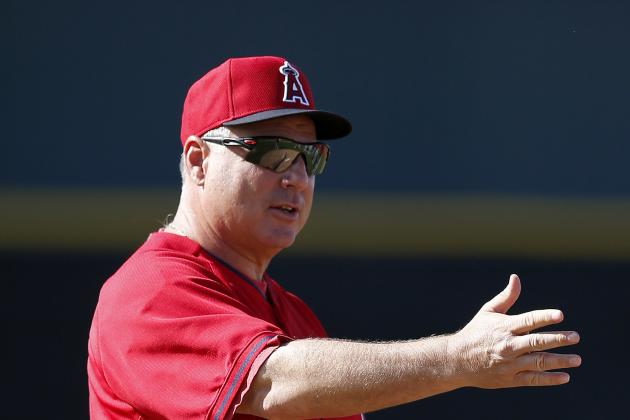 Ross D. Franklin/Associated Press
The "attitude" starts with Mike Scioscia.
From Mike Scioscia to Mike Butcher to Don Baylor and Dave Hansen, all the way to the minor league coaches, how the Angels' staff handles (or doesn't handle) spring training is crucial.
For the coaches, just like the players, it's the little things. The chemistry. The understanding of a season—minors and majors—is incredibly long, making the spring a good time to figure out their strategy, take their version of swings and misses.
Most important, it's developing an across-the-board mentality that good leadership starts from the top. It's one of the more overlooked areas of the spring, but should be high priority for a coaching staff that has been revamped.
With that track laid, the rest of the to-do list can follow...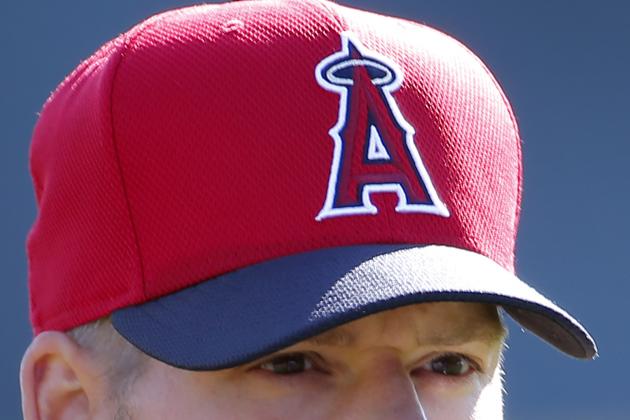 Matt York/Associated Press
Why not?
While pondering the pitchers the Angels didn't get this offseason, who was on vacation and why the heck Joe Blanton is still on the roster, make some room upstairs to think about what C.J. Wilson said yesterday to MLB.com's Alden Gonzalez:
The only reason why we have the payroll we do is to win, not to develop.
Clear, simple and exactly to the point, he's right. The Angels have to find ways to win with what they have now, not mold it for 2015 and beyond while high-fiving in the name of cost-controlled tactics.
The work is getting Tyler Skaggs and Hector Santiago into the mindset that they are a part of the rotation. It's about getting the most out of Blanton this spring and ready to contribute, positively, to the 2014 season. Because, like it or not, the Angels need him, even if that means for a trade.
They need Wade LeBlanc to achieve, just like they need Matt Shoemaker to achieve.
And, yes, they need better luck with health.
No excuses, though: The key for the rotation is the execution, not the development.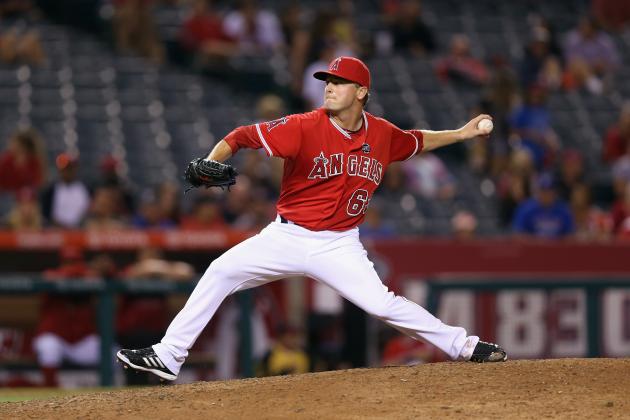 Jeff Gross/Getty Images
NIck Maronde could be a solid left-handed option in 2014.
The Angels bullpen is solid, entering the spring with Ernesto Frieri, Dane De La Rosa, Joe Smith, Kevin Jepsen and a healthy Sean Burnett.
However, two spots remain up for grabs. And there are more than a few options that Mike Scioscia and Mike Butcher will have to consider.
These are the current pitchers...
Left-handers: Brian Moran, Clay Rapada, Robert Carson, Buddy Boshers and, possibly, Nick Maronde.
Right-handers: Cory Rasmus, Michael Kohn, Brandon Lyon, Ryan Brasier, Fernando Salas and Josh Wall.
With the possibility that one spot may come down to which back-end starter gets moved to spot starter/long relief—assuming the Angels want that—the decision will be one of the more difficult aspects this spring.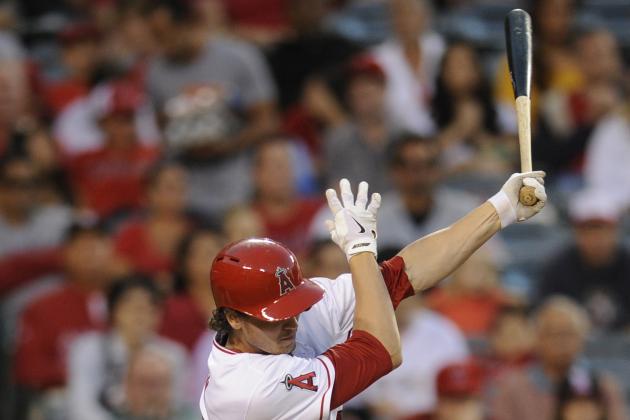 Kelvin Kuo-USA TODAY Sports

The competition for a platoon role is always intriguing during spring training, especially when there is parity among the players.
Last season for the Angels it was J.B. Shuck—and only J.B. Shuck—making a name for himself, eventually getting a ton of playing time when the injury bug hit Peter Bourjos.
This year, however, there is more experienced competition looking for a roster spot.
J.B. will be in the mix, looking to continue his impressive 2013 with the outfield spot coming off the bench. That is, assuming Collin Cowgill or Brennan Boesch don't beat him out.
That's right. It can happen, too. Both Cowgill and Boesch have the ability and, like Shuck last season, they could get hot this spring and change expectations.
The spot as a backup infielder is wide open, too.
Defense was down for the Angels last season, with injuries not helping matters, and will need to be an area addressed this season. A part of that is deciding who will provide depth off the bench. John McDonald and Tommy Field will be vying for a spot, up against Carlos Pena, Andrew Romine, Chad Tracy, Ian Stewart and Grant Green.
Which player sticks may come down to who can play the most infield/outfield spots with the most consistency—at all of the positions.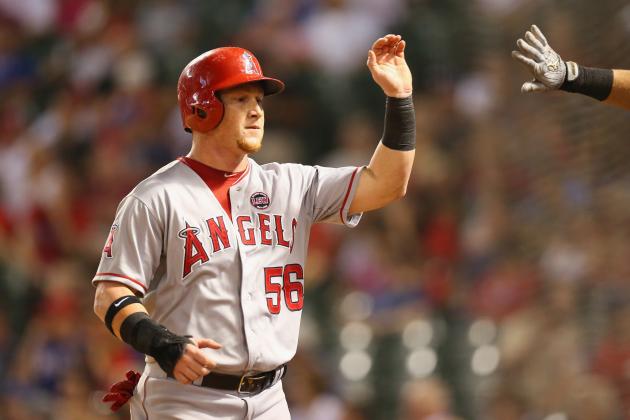 Ronald Martinez/Getty Images
Is Kole Calhoun ready to take the lead-off spot?
There is little doubt the Angels' lineup can be dangerous—especially if Albert Pujols and Josh Hamilton pick up the slack from down years—but the leadoff spot is still a question.
Is it Erick Aybar? Is it Kole Calhoun?
What about Mike Trout?
The general thinking is that Trout would do best hitting second, leaving Aybar or Calhoun to fill the top spot—with J.B. Shuck filling in here and there.
Calhoun, with only limited MLB time, had an impressive OPS in 2013 (.808), which trailed only Trout for regular players.
Aybar has the most experience of the candidates, but his low walk-to-strikeout rate is not what usually comes with a solid leadoff guy. He does provide a spark with his aggressiveness, though.
How each player handles situations in the spring is the deciding factor.
It's not a huge problem this early in the year—no argument there—but setting the table for the impressive bats behind the leadoff spot is important; not having a good man for the job can leave the difficult "by committee" approach.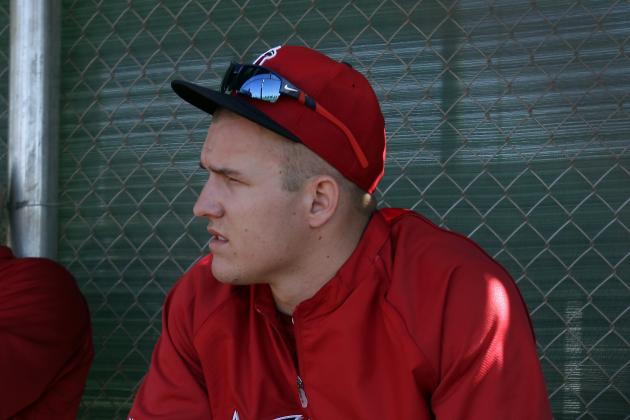 Rick Scuteri/Associated Press
It's got to be more than just Mike Trout.
When I looked at the Atlanta Braves extensions yesterday (via EPSN), with all their young talent now locked up for the future, one thing dawned on me: The Angels are so far from being in a position like that, that it's scary.
Yes, there is Mike Trout. After that, however, there really isn't a collection of youth to be excited about. It's fitting, when considering the usual last place, or close to last place rankings, the Angels' farm system receives.
But times can change...so why not now?
Look, the team was smart for not surrendering any draft picks this offseason. And they did a decent job in the 2013 draft stocking up on arms, like Hunter Green with their first (second-round) pick, to go along with talented right-hander Mark Sappington .
Now, it's about developing that talent into something greater than a minor league championship.
That starts with spring training. This spring training.
Who knows? Along with a certainly less-pressured Kaleb Cowart—who can learn from David Freese at third base—and Taylor Lindsey progressing at second base, a core of home-grown talent worthy of future extensions is actually in the Angels' system.
Ross D. Franklin/Associated Press
Arte says, "Have fun."
Josh Hamilton enters the spring with some added bulk. Andrew Romine has followed the Trout-2013 trend, coming in with some extra muscle too.
Pujols is healthy. Jered Weaver is healthy. And according to C.J. Wilson, there is a collective readiness about this group of Halos (h/t MLB.com's Alden Gonzalez).
What that all means for the season remains unknown, though.
Spring Training it s time when fans, and especially the media, fill the oftentimes monotonous grind with predictions, revelations and hypothetical that trickle over from the offseason. It's all about what a team needs to do to overcome what it didn't do during the offseason, wrapped up in the excitement of another baseball season and a ton of Instagram pics.
Rarely, does any of the hype foreshadow how a team will perform Opening Day...or the 161 games after that.
There will always be a power display—like J.D. Drew his first spring with the St. Louis Cardinals—that never carries over to the regular season—or career. There will always be the feel-good, under-the-radar story—like the Angels' Bill Hall in 2013—that fails to write a chapter outside of March.
It happens.
The key for the Angels is to ignore all of it, erasing the possibility of burning out before they meet up with the Seattle Mariners—for real.
The best advice: Listen to what Angels owner Arte Moreno—yes, that guy—said to the team during a pre-practice meeting.
Have fun.
Unless otherwise noted, all stats and contract info were courtesy of baseball-reference.com.
Follow Rick Suter on Twitter @rick-suter.