How Bill Belichick, Patriots Defense Can Hold Red-Hot Andrew Luck in Check
January 8, 2014

Rob Carr/Getty Images
Just when you think you have him beat, you don't.
That phrase applies to both quarterbacks in Saturday's divisional round playoff showdown between the New England Patriots and the Indianapolis Colts, with Andrew Luck having already led a league-record eight fourth-quarter comebacks in his two-year career.
His latest last-minute thriller was the second-biggest comeback in postseason history, as the Colts came back from down 28 points against the Kansas City Chiefs to win and advance to this game. How do you stop someone capable of leading such a thrilling rally?
If you ask Patriots head coach Bill Belichick, the team will have to prepare for everything.
"Great long-ball thrower," Belichick said. "Very accurate. Has a good touch on short, intermediate passes. Reads defenses well. Does a good job checking plays at the line of scrimmage and making some of those adjustments. Active in the pocket. Hard guy to tackle. Hard guy to bring down. Good feet. Can scramble and run. Can scramble and buy time to throw. Has good vision down the field. Makes good decisions. There's not really any weaknesses to his game."
He may be right, but there are some weaknesses in the Colts offense. Here's what the Patriots must do in order to keep Indianapolis in check.
Tackling at a Premium
Fundamentals are important in every game, but against the Colts (and especially in the playoffs), they are magnified.
The Patriots need to make sure tackles. The Colts are one of the premier teams when it comes to picking up yards after the catch. Luck earned 52.7 percent of his yards on YAC, the fifth-highest of any quarterback in the league, according to Advanced NFL Stats. Likewise, his 3.2 air yards per pass attempt are the sixth-lowest in the league.
Colts receivers, yards after catch
Receiver
Yards after catch
YAC/Reception
T.Y. Hilton
391
4.8
Trent Richardson (w/ Colts)
274
9.8
Coby Fleener
252
4.8
Donald Brown
242
9
Darrius Heyward-Bey
137
4.7
Da'Rick Rogers
116
8.3
Griff Whalen
116
4.8
LaVon Brazill
54
4.5
Source: Pro Football Focus
When it comes to YAC, it's no surprise that wide receiver T.Y. Hilton tops the list. He has been the Colts' leading receiver by a long shot, with 30 more receptions and over 400 more receiving yards than anyone else on the team.
No surprise, the running backs have been the most effective in YAC on a per-catch basis, with Trent Richardson and Donald Brown leading the way, each at over 8.9 YAC per reception in the regular season.
One interesting nugget from Pro Football Focus is this: Although the Colts earn a lot of their yards on YAC, they're not overly reliant on the screen game. Only 299 of Luck's passing yards came on screens, which is just 7.8 percent of his production through the air. For context, Luck is 19th out of 38 quarterbacks on the list, and the league-high belongs to Eagles quarterback Nick Foles, with yards gained on screens accounting for a whopping 16.4 percent of his passing production.
In short, there's no trick to stopping the Colts from getting their yards after the catch. It comes back to fundamentals, so the Patriots will have to be disciplined in their tackling techniques when the Colts pass-catchers get their hands on the ball.
Pressure and the Blitz
Luck is a versatile quarterback who can beat you any number of ways.
"That's what makes him a really good quarterback," said Patriots safety Devin McCourty. "He can do it all. If you let him sit back in the pocket and throw, he'll hurt you there, and if you don't contain him and keep him in the pocket, he can run around and he's able to make plays there, too."
It's going to be cold at Gillette Stadium, but the Patriots would be wise to bring the heat on the Colts quarterback.
Teams have not sent extra defenders after Luck nearly as much this season (29.5 percent of his dropbacks) as last season (33.5 percent), but according to Pro Football Focus (subscription required), Luck has still struggled at times when teams send pressure or the blitz.
Andrew Luck when blitzed
Pressure
Att.
Com.
Com. %
Yds
YPA
TD
INT
Sk
Rate
No pressure
411
280
68.1
2977
7.2
20
5
0
100.2
Plays under pressure
204
92
45.1
1288
6.3
7
7
33
63.1
When not blitzed
433
270
62.4
3111
7.2
19
9
18
89.9
When blitzed
182
102
56.0
1154
6.3
8
3
15
83.0
Source: Pro Football Focus
When defenses send five defenders or more after him, Luck's passer rating dips from a solid 89.9 to a more pedestrian 83.0, his yards per pass attempt dip from a solid 7.2 to an unspectacular 6.3, and his completion percentage drops from 62.4 to 56.0.
When timed right, those blitzes can directly lead to big plays. On this 3rd-and-8 against the Tennessee Titans, for example, the Titans sent five defenders on the pressure. A sixth defender faked the rush off the edge before dropping into coverage on tight end Coby Fleener.

NFL Game Rewind
Hilton (circled in yellow) ran a post pattern from left to right. 

NFL Game Rewind
Luck was pressured hard by the middle linebacker and was hit right as he released the pass. He got it off barely in time, but he had to throw it before Hilton had turned around to look for it. Hilton got his head around in time to find the pass and got his hands on it, but the ball was not put in a good spot for him to make the catch.
NFL Game Rewind
It bounced off his hands and caromed into the waiting arms of safety Bernard Pollard. 
There's a lot of talk about how Luck's ability to scramble is hard on an opposing defensive front seven, but it affects the secondary as well. 
"He's not a guy that, as soon as he scrambles, he's going to run," McCourty said. "He's going to scramble, buy some time, and throw the ball downfield. Whenever he breaks the pocket or he scrambles, it's key that we get on guys and start matching up, and not just letting guys run free."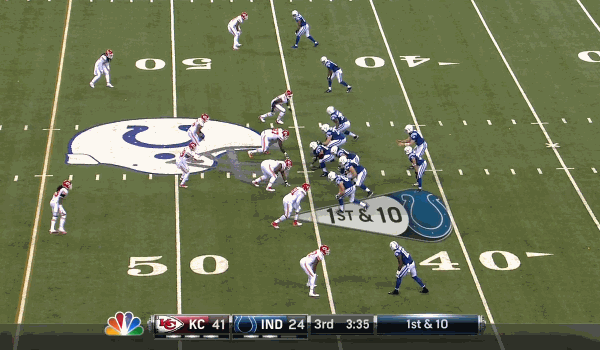 NFL Game Rewind
The Chiefs didn't even send a pressure or blitz on this play, and they were still burned by Luck's legs because they couldn't contain him in the pocket. Chiefs outside linebacker Justin Houston rushed too hard inside, allowing Luck to roll to his right. He continued to elude the pressure, avoiding defensive end Allen Bailey as he continued to keep his eyes downfield. 
Luck made it to the sideline, where he quickly tossed the ball to LaVon Brazill. Before you knew it, Brazill had gained 30 yards on a huge play that otherwise could not have happened.
Yeah, people do this against me all the time in Madden NFL. It's very frustrating.
Luck's proficiency while throwing on the run was explored by Nick Underhill of MassLive.com:
When on the run, the Colts quarterback has shown great ability going to his right, where he completed 20-of-28 attempts for 197 yards. He is 7-of-17 for 67 yards going to his left, and 4-of-5 for 57 yards stepping up through the middle of the pocket. The majority of these plays were designed bootlegs, though some, such as a 30-yard completion to LaVon Brazill, during which Luck scrambled to his right and danced around defensive end Allen Bailey before delivering the pass, have been created in the moment.
The Patriots will have to be very disciplined in that respect because Luck doesn't necessarily scramble more in certain situations. He ran the ball 46 times after dropping back to pass; 23 times when pressured and 23 times when not pressured, per Pro Football Focus.
Sending the rush at Luck is a good start for slowing down the Colts offense, but it goes much deeper than that. The Patriots secondary must also be disciplined when Luck is on the move, staying true to their assignments and not being caught out of position.
Bracket T.Y. Hilton
It's no secret that Hilton is Luck's favorite target. His elite speed has made him one of the game's premier young receivers.
"A burner, man," Patriots cornerback Aqib Talib said of Hilton. "He's been doing real good all season. He had a real good game this past weekend. He's hot right now. He's getting a lot of targets. He's a good receiver."
Taking Hilton away should be the start of the game plan for the defense, and that means bracketing him over the top with a safety to prevent him from dominating in the vertical passing game.
Of Hilton's total targets, 19.4 percent were on passes 20 yards or more beyond the line of scrimmage, per Pro Football Focus, and he has been one of the league's most effective receivers in that role. At 5'9" and 178 pounds, though, he's not a receiver who can beat double-teams with size. An extra man covering him means Luck must fit the ball into a tighter window.

NFL Game Rewind
The Oakland Raiders were able to hold Hilton to three catches for 20 yards in Week 1, thanks to a plan that took Hilton out when he went deep. On this play, Hilton (circled in black) runs downfield at full speed at a slight angle, attacking the middle of the Raiders defense. The Raiders were bluffing a Cover 1 Robber look, which is where one safety is deep and another (the "robber") takes away the intermediate throws over the middle by sinking into coverage in that area.
Instead of Cover 1 Robber, though, they were actually in Cover 2, with two safeties ready to defend the deep pass.
As a result of the Raiders' disguise, Hilton looked a lot more open than he actually was, leading Luck to launch a pass to Hilton.

NFL Game Rewind
However, both safeties converged on him as the ball arrived (with incidental contact slightly before it got there). Colts fans were looking for a flag, but none was thrown as the ball fell incomplete. 
The Patriots love to disguise coverages to throw quarterbacks off their game. They'll show one look and deliver another. No matter what the Patriots are doing pre-snap, they would be foolish not to take Hilton away when he runs deep.
But it's not all about taking him away when he runs vertically. The Colts like to get Hilton involved by having him use his speed to stretch a defense horizontally before then turning upfield for those aforementioned YAC.

NFL Game Rewind
One way to do that is by running him across the field on a drag route. Here, we see him run from left to right, with Fleener clearing out the coverage underneath on that side of the field.
NFL Game Rewind
Once Hilton hits the soft spot in the defense, Luck unloads the pass, leading his receiver into the throw so that Hilton can continue to run at full speed without breaking stride. Hilton was able to get away from one tackler before being brought down, but picked up five extra yards after the catch for the first down.
For that reason, the Patriots' coverage underneath will be just as important as their coverage deep. The Patriots may be willing to let Hilton make the grab on those drag routes, but they'll have to get sure tackles from cornerbacks Alfonzo Dennard (11 missed tackles) and Talib (seven) and safety Steve Gregory (10), per Pro Football Focus. 
Between the Colts' short, intermediate and deep routes, the Patriots will have to be prepared for it all from Hilton.
Erik Frenz is also a Patriots/AFC East writer for Boston.com. Unless otherwise noted, all quotes obtained firsthand or via team news releases.