49ers Special Teams Unit an Underrated Weapon for San Francisco
December 11, 2013
Jason O. Watson-USA TODAY Sports
Under the direction of head coach Jim Harbaugh, the San Francisco 49ers have truly been a three-phase team—one that not only stresses offense and defense, but special teams as well. This year, perhaps more than ever, this team has had to lean more heavily on two of the three legs of this proverbial tripod.
While we already talked about Vic Fangio's defense bailing this ailing 49ers offense out of trouble, how about the S/T unit coming back to life? 
Fairly under the radar, this is a sect of the San Francisco team that has done a complete 180 since last year's debacle. Falling from the No. 2-ranked corps in 2011 to the 20th in 2012, it was a unit with more holes than a colander, really missing out on the contributions of Blake Costanzo and Colin Jones in particular.
But this regression did not get past the command center in Santa Clara.
The offseason came, and the 49ers front office veered a bit off course in order to address the special teams unit. It was still odd to see in today's NFL; where most of the time and resources are spent finding out who can score points and who can rush the passer.  
It's part of what makes this team unique (and "complete").
Signing wide receiver Kassim Osgood, safety Ray Ventrone and linebacker Dan Skuta wasn't all that earth-shattering at the time. Most didn't even know it happened. In fact, many of you are probably wondering who the heck these three guys are. But that's the kind of offseason it was.
Looking back on it now, the most decorated free agent San Francisco acquired happens to be a 38-year-old place-kicker.
So let's just say general manager Trent Baalke wasn't going to ruin the day of any other GMs or coaches around the league by making these deals. Nevertheless, cool, calm and collected, this team carried on with its own unique needs in mind and effectively weaponized the special teams unit once again, giving itself a leg up on the competition. 
Now a few months into the season, we've seen just how essential it has been to the success of the 49ers in 2013. Let's take a look at how a tiny thing like special teams can impact a football team.
Andy Lee and the Tony Montana Squad
Coming into the 2013 season, three-time All-Pro punter Andy Lee has ranked as a top-eight player at his position in each of his last three years, according to metrics at Pro Football Focus. Even as a special teamer, Lee is performing at the highest level and is a model of consistency.
He hasn't had a punt blocked since 2011. He's only had three blocked in his career, and they've all been separated by three years' time. Still going strong, Lee is top-10 all-time in yards-per-punt average (third for those that played over five years). Perfection is rare at this level, but Lee is pretty close to it.
With his long, accurate boots, Lee is like an appendage of the defense with the way he pins the offense back and puts it in a hostile situation. 
This year, San Francisco is second in net yards per punt attempt (42.6), even though 51.1 percent of Lee's punts are returned, which is the sixth-most in the league. This speaks to the precise location of his kicks, combined with the coverage unit running clean alleys down the field and closing on the returner.
Clearly, all these boots down the field would mean nothing if it wasn't for the Tony Montana Squad coming in to clean up. 
On top of being second in net punting, the 49ers special teams are also statistically the league's best punt-and-cover unit away from their home stadium, via NFL Team Rankings. This is a squad that rises to the occasion, playing its part to complement the defense and continuously bail out an offense that struggles on third down. 

On the 34 punts that have been returned, the 49ers have given up only 284 yards (8.4 yards per return).
Kickoff coverage has been stout, too. They're one of three teams left that haven't allowed a non-offensive touchdown. So, aside from avoiding pick-sixes, safeties and fumbles recovered for TDs, the special teams coverage has done its part, not letting up a single lane to a runner this year in any capacity.
It is watertight.
It has also faced a few of the best return men in the league, successfully locking up Keshawn Martin (Texans), Patrick Peterson (Cardinals), Ted Ginn Jr. (Panthers), Darren Sproles (Saints), Golden Tate (Seahawks), Ace Sanders (Jaguars) and Tavon Austin (Rams). 
It even got Darius Reynaud cut from the Tennessee Titans following a critical muffed punt, per Paul Kuharsky of ESPN.
Week in and week out, there might not be a more complete coverage team in the league right now. While it's hard to see, the 49ers are winning field position in virtually every game because of this assembly on the punt and kickoff teams. 
Secret Superstar: Michael Wilhoite

Steven Bisig-USA TODAY Sports
According to 49ers stat-keeper Jeff Deeney of Pro Football Focus, the special teams stud this season has actually been linebacker Michael Wilhoite, a second-year undrafted free agent from Washburn University.
Wilhoite is currently tied for the team lead in special teams tackles, neck-and-neck with the unit's captain C.J. Spillman, racking up 11 solos on the year (including kickoffs and punts). That number also ties him for sixth in the league overall, as far as coverage teams go.
The 27-year-old sophomore player hasn't just shined in the shadow of the team's best gunner, either. Try its franchise player.
Starting two games in place of injured linebacker Patrick Willis, the young backup tallied 20 tackles, two stuffs and one pass deflection, via ESPN. A former college safety-turned-linebacker, Wilhoite is light on his feet, has a big dense frame at 6'0", 240 pounds and patrols the field instinctively.
That athleticism, aggressiveness and general knack for making tough open-field tackles is what makes him a star on special teams.
This season, Michael Wilhoite is the player that best demonstrates the team's next-man-up mantra, as well as the successful in-house farm system it's developed in Santa Clara under the new regime.
The Squad Makes Plays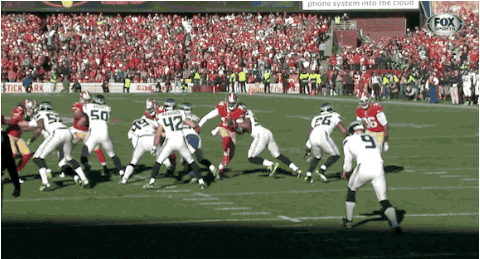 h/t Fansided
The 49ers are tied for the league lead in blocked punts this year (2). 
Proficient Field Goal Unit

Brian Bahr/Getty Images
Time and time again, the 49ers offense falls short in the red zone, bringing on the field-goal unit. This has been an eternal struggle for this club, even under new leadership. But it really became a problem in 2012 when once-sure-legged veteran kicker David Akers began his downward spiral.
Not having a reliable kicker spells big trouble for a 49ers team that has inadequacies in goal situations.
It had to make a change in the offseason and did so by bringing in the NFL's best leg from the year prior. Since arriving with the team, 2012 Pro Bowl place-kicker Phil Dawson has been unshakeable for the 49ers, accounting for one-third of the team's points scored this year.
In 11 games in red and gold, he's gone 23-of-26 from the field with only three misses that were not very significant or in any way degrading to him as a performer.
When it has mattered, he's delivered. Dawson is perfect from 20-39 yards out (14-of-14) and 9-of-12 from 40-plus (two misses from 50 or more). There's only been one kick that you can really knock him for this season, and that was a miss from the 40-yard range. But that's it. Other than that, he's been infallible.

Kirby Lee-USA TODAY Sports
Sure, he missed two kicks from 50-plus yards out, but one includes a 71-yard free kick in St. Louis in Week 4. The other was a 53-yarder that went wide right in that game. Not to mention, before that, Dawson made his last seven from 50-plus yards out, going back to his All-Pro season with the Cleveland Browns.
So cut the guy some slack.
And believe it or not, that 71-yarder, which was essentially a punt, was actually his last recorded miss. Since then, he's connected on 20 straight field goals this season, which includes longs of 52, 53 and 55 yards.
And following a Week 1 miss that hooked left, Dawson has also hit on 17 consecutive at a turbulent Candlestick Park, so clearly he's stabilized over the course of the season.
"Candlestick has been very humbling," Dawson said, via Ron Kroichick of the San Francisco Chronicle. "I've yet to gain any kind of confidence that I know what I'm doing there. Every kick has my utmost attention, because the first one haunts me - that I can do everything right and still miss the kick."
Nevertheless, the modest All-Pro has been on fire since settling in with long snapper Kevin McDermott and holder Andy Lee. And at Candlestick Park in Week 17, he had his biggest kick of the entire season, nailing a clutch 22-yard game-winner to defeat the mighty Seattle Seahawks.
*And for what it's worth, Phil Dawson also a perfect 35-of-35 on extra-point attempts this season. Might not seem like a big deal, but Matt Prater, Mike Nugent, Blair Walsh and Robbie Gould can't say that same.
Special thanks to Jeff Deeney of Pro Football Focus for providing advanced statistics. Regular statistics courtesy of Pro Football Reference, unless specified otherwise.