With yo-yo handles and next-level court vision, Brooklyn Nets point guard Deron Williams should be a natural addition to the NBA's collection of no-brainer superstars.
Yet the 29-year-old finds himself on the outside looking in on that exclusive club during his ninth season in the NBA. Slowed by injury and wrapped with an unsightly "coach killer" reputation, the three-time All-Star is still searching for his "Aha!" moment.
There's plenty of blame to go around for Brooklyn's sluggish 6-14 start. Williams, whose troublesome ankle has kept him sidelined for all but nine games, gets more of a free pass than his first-year head coach (Jason Kidd) or the rapidly aging Boston Celtics imports (Kevin Garnett and Paul Pierce).
But the basketball world can't issue a full pardon to the hobbled floor general. Not with his struggles taking root well before the season started.
And not while he's carrying the weight of an entire franchise across his shoulders.
Diminishing Returns
Finding a competent peer to challenge for Chris Paul's title as the Association's best point guard has never been easy. Thank CP3's career 25.6 player efficiency rating (sixth best in NBA history) for that.
But thinning the point guard playing field used to be a breeze. If anyone had the skills to lay claim to Paul's throne, Williams was that player.
By his third NBA season, Williams appeared on the cusp of superstardom. His scoring (18.8), assists (10.5) and shooting (.507/.395/.803) all reached career highs.
When those notable numbers held steady over the next three seasons (19.4 points, 10.5 assists and a .460/.338/.831 slash line), his case for that lofty praise was compelling.
But something was lacking from Williams' resume. For as good as he was individually, his teams never rallied around his presence. The Utah Jazz, where he spent the first five-plus seasons of his career, were perennial playoff participants but failed to generate significant postseason noise.
That noise stopped altogether during the tumultuous 2010-11 season. Jerry Sloan, a coaching great and mainstay on the Utah sideline, resigned in mid-February shortly after a heated exchange with Williams.
Williams' tenure didn't last much longer. Less than two weeks later, he was shipped off to the then-New Jersey Nets.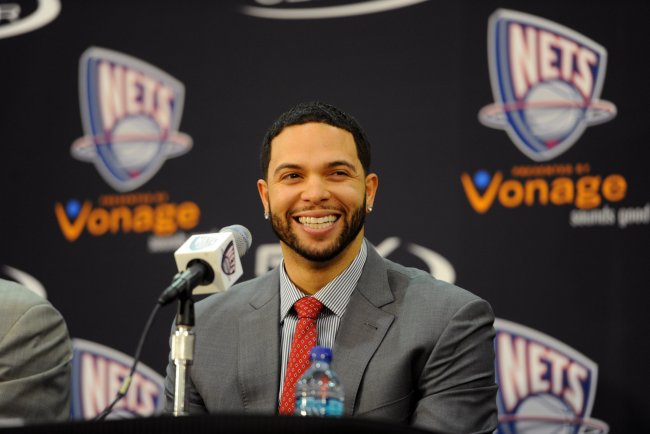 Jesse D. Garrabrant/Getty Images
Whatever spark he'd found in Utah—perhaps spurred by Sloan's system that Williams raved over last season—never found its way to his new franchise. Team success has proven even harder to come by.
Those Williams-Paul debates were taken off life support last season. Williams' superstar credentials may be headed for the same fate.
In the nine games he's managed to play this season, he's never looked like the same player. His scoring (9.3), shooting (40.5 field-goal percentage) and even his floor time (24.1 minutes) have all plummeted to new career lows.
His ankles have drawn Stephen Curry levels of scrutiny. They sapped his effectiveness for the early portion of the 2012-13 campaign (16.7 points on 41.3 percent shooting pre-All-Star break), before a round of cortisone shots and platelet-rich plasma therapy helped bring it back (22.9 points on 48.1 percent shooting after the break).
Although the ankle problems sound similar, finding a solution to them is a brand new challenge. Podiatrist Dr. Shazia Amar D.P.M. explained to The Wall Street Journal's Alex Raskin that another round of cortisone shots might not be in the cards:
You just have to be careful with them because what they do is also thin out muscles, skin and ligaments. [The shots] tend to make them a little bit weaker, so you're allowed only three cortisone injections in one trigger-point area.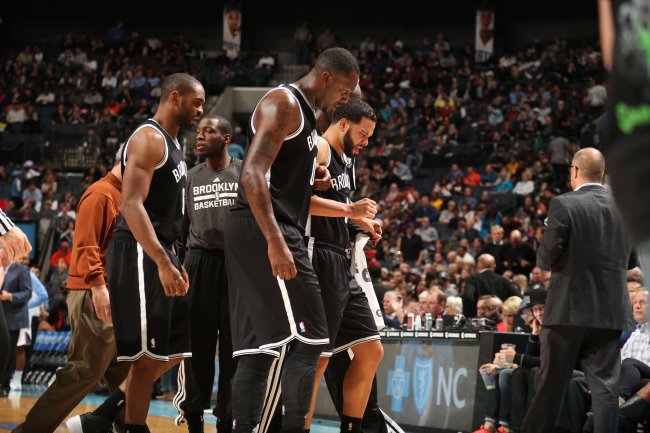 Brock Williams-Smith/Getty Images
The Nets mortgaged their future—along with roughly $180 million out of owner Mikhail Prokhorov's pockets—on their ability to win now. The transformation from pushover to on-paper contender started around the same time that Williams inked his five-year, $100 million deal to stay with the Nets.
With so much at stake—both for Williams and his Nets—and so little time to realize those goals, the onus falls on Williams to find his old All-Star form and finally figure out how to use that talent to elevate the players around him.
Exhausted Excuses
Manufactured dynasties, clearly what Nets general manager Billy King had envisioned this roster could be, carry no guarantees.
One of the few certainties, though, is that if losses start to pile up, as they have in Brooklyn (6-14), the blame game will be sure to follow.
Kidd's coaching competence has already been called into question. Kidd's former lead assistant Lawrence Frank was the first official domino to drop, as a job reassignment has cost him a seat on Kidd's bench.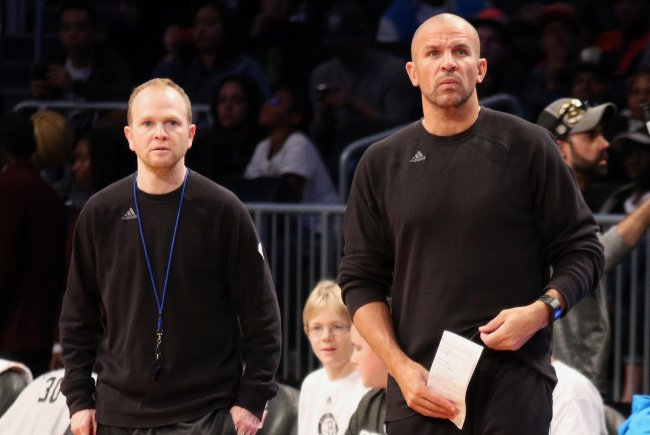 Nathaniel S. Butler/Getty Images
When a should-be contender is struggling to the tune of a net rating of minus-8.1 points per 100 possessions (28th overall), there are plenty of worthy recipients of the incessant finger-pointing.
Again, though, Williams has largely skirted by blame-free. But that will surely change if these Brooklyn blunders continue.
After missing the last nine games, Williams said he's "definitely" suiting up for Brooklyn's Tuesday night clash with the Boston Celtics, via ESPN New York's Mike Mazzeo.
Obviously, that's good news for the Nets. Journeyman Shaun Livingston has been as close to a bright spot as the Nets have seen this season (10.2 points, 4.9 assists per 36 minutes), but his ceiling tops out at "competent reserve."
Williams, not Livingston, should be the captain of this ship. His inclusion in this star-studded starting five (Williams, Paul Pierce, Brook Lopez, Kevin Garnett and Joe Johnson)—a group that has played just 78 minutes together—is what sent those championship expectations running through the Brooklyn streets this summer.
At his best, he's still a game-changer. He hasn't lost his handles or his three-point stroke (37.5 percent). He still has the quickness to take his man off the dribble and the savvy to spot his scorers when the help defense comes.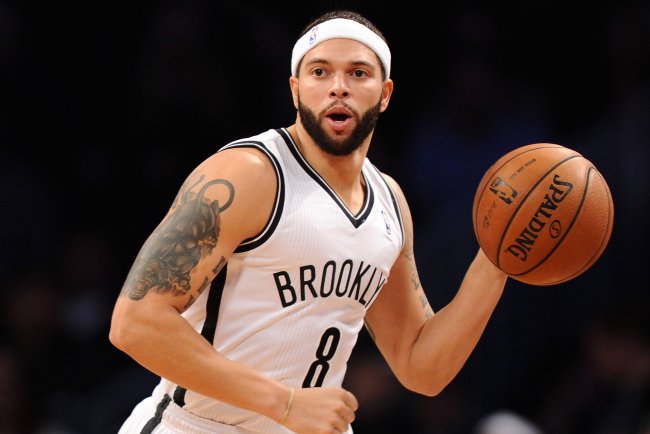 Maddie Meyer/Getty Images
Williams was never meant to be this group's question mark. He, along with rising star Brook Lopez, was supposed to be a constant presence. It was players like Johnson (32 years old), Pierce (36) and Garnett (37) that were tabbed for the wild-card roles.
Where do you rank D-Will among NBA point guards?
But it's been a while since anything went according to plan for Williams. And he's all but lost the luxury of time.
If this system isn't best suited for his skills, he needs to adapt his game to fit this system. If there are too many moving parts around him, it's his job to put that puzzle together. Even if he continues working without a full deck, he must use what he has available for Brooklyn to play his strongest hand.
The criteria for superstar status hasn't changed. Patience is a mirage, not a virtue in Williams' quest to join that elite company.
Mounting loss column, hobbled ankles, injury-ravaged rotations and all, the basketball world will cast the same set of critical eyes his way that it's used over the course of his career.
If Williams is ever going to erase those doubts, the time is now for him to make his move.
Unless otherwise noted, statistics used courtesy of Basketball-Reference.com and NBA.com.