The lowly Brooklyn Nets confirmed their true identity Thursday night after getting blown out, 113-83, on their home floor by the New York Knicks (losers of nine straight entering the night).
Nets head coach Jason Kidd prefaced the matchup by saying earlier this week, "It's the rivalry and both teams stink," per Mike Mazzeo of ESPN New York.
Now we know which team stinks more.
In fact, the Nets became the first team to suffer multiple 30-point losses this season:
The Nets are the first team with multiple 30-point losses this season.

— ESPN Stats & Info (@ESPNStatsInfo) December 6, 2013
They are 2-8 in their last 10 games and now 5-14 overall.
Obviously injuries have played a role in the Nets' woes so far. The rotation has been devastated by health problems from Andrei Kirilenko's back, to the ankle problems of Brook Lopez and Deron Williams, to Jason Terry's knee and even Paul Pierce's broken hand.
Any team in the NBA would struggle to win games with that many key injuries.
With that said, the Los Angeles Lakers have played most of the season without Kobe Bryant and Steve Nash. Their best player at the moment, Pau Gasol, has been playing through a foot strain.
Despite that, the Lakers have somehow fought their way to a 9-9 record in a much tougher Western Conference.
With a loss to the struggling Knicks, the Nets are running out of excuses. Coach Jason Kidd looks completely lost on the sidelines, and Thursday night's affair was no exception.
While the Nets were getting blown out in the fourth quarter, Tim Bontemps of the New York Post echoed what many were probably thinking:
Why are Brook Lopez and Joe Johnson still in this game?

— Tim Bontemps (@TimBontemps) December 6, 2013
The Nets beat writer brings up a very important point. Why on earth was Kidd leaving two of his best players in the game when the W was clearly out of reach? Brooklyn didn't have an ice cube's chance in Phoenix of making a comeback, yet Lopez and Johnson were still in the game, risking unnecessary injury when this roster can ill afford it.
This coaching snafu looks even worse just days after Kidd reassigned assistant coach Lawrence Frank—someone with actual coaching experience and success—to "doing daily reports."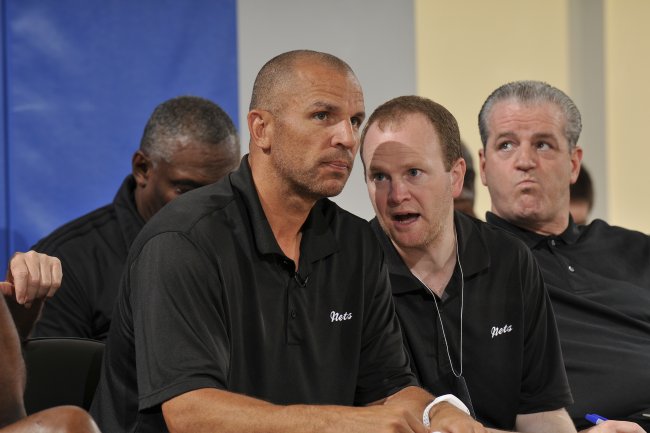 Fernando Medina/Getty Images
The Nets can't stay healthy, the coaching situation is a mess, and Kevin Garnett looks like a shell of his former self.
KG finished with just six points and six rebounds and got shown up by Andrea Bargnani, who was ejected by referee Joey Crawford for trash talking Garnett.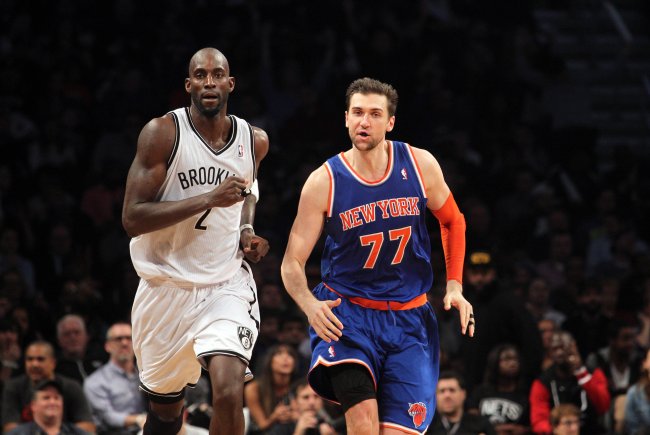 Brad Penner-USA TODAY Sports
Bargnani gets tossed after some trash talk to Garnett following a jumper in his face. When Andrea Bargnani is getting the best of you....

— gary washburn (@GwashburnGlobe) December 6, 2013
The Nets offense is scoring just 95.3 points per game, which ranks them 22nd in the league. The defense is surrendering 102.8 points per game, which ranks them 28th.
Brooklyn is getting outplayed on both ends of the floor, and because nobody can stay healthy, they haven't been able to build any chemistry.
The only saving grace for the Nets thus far is the fact that they play in the shoddy Eastern Conference. Only two teams in the East sported a winning record entering the night.
As a result, the Nets may still have a chance of sneaking into the playoffs even if they have a losing record at season's end.
For the moment, however, the Nets are trapped in the NBA cellar, just above the Knicks (4-13) and Milwaukee Bucks (3-15) and Kidd's inept coaching has him sitting on a scorching hot seat.