Raiders Sticking with McGloin, Keeping Pryor Option Open
Use your ← → (arrow) keys to browse more stories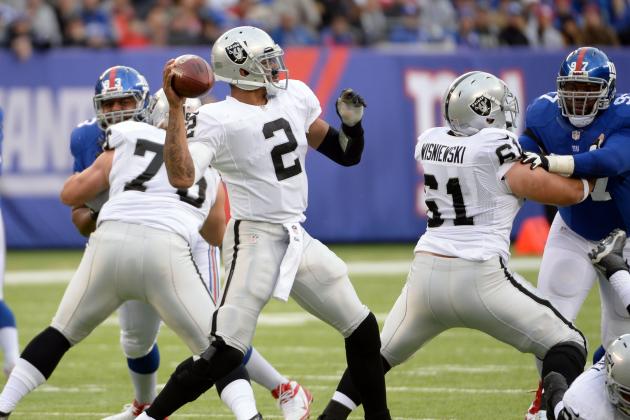 Robert Deutsch-USA TODAY Sports

The Oakland Raiders haven't fully committed to Matt McGloin as their starting quarterback for the remainder of the season. It just seems that way.
What happens after 2013, however, is anyone's guess.
One day after Oakland's Week 13 loss to the Dallas Cowboys, head coach Dennis Allen gave McGloin a lukewarm endorsement and said the undrafted rookie had played well enough to stay in the lineup.
At the same time, Allen also noted that the Raiders still want to see more of Terrelle Pryor, who was the team's starting quarterback until suffering a right knee sprain against the New York Giants on Nov. 10.
That's because, in truth, the Raiders simply aren't yet ready to commit to McGloin or Pryor as their starter in 2014. The team's starting signal-caller next season might not even be on Oakland's roster right now.
Trying to figure out what to do at the quarterback spot is a top priority for the Raiders as they head into the final month of the regular season.
"That's something that we definitely need to see," Allen said. "We need to have a good evaluation of what we have at the quarterback position as we move forward. These last four weeks will be instrumental in us being able to do that."
McGloin wowed observers in his first NFL start against the Houston Texans in Week 11, when he threw three touchdowns without an interception. He's come back to earth since then and has been only modestly effective in each of the past two weeks.
Like Pryor, McGloin suffers from a lack of quality talent and depth at the wide receiver position. The recent emergence of Andre Holmes has helped, but the overall production from Oakland's receivers has been disappointing.
The Raiders have also had occasional problems running the ball. When that happens, like it did on Thanksgiving when Rashad Jennings and Darren McFadden combined for just 48 yards on the ground, the quarterbacks have struggled to make up the difference.
The positives for McGloin so far have been his ability to make decisive, quick throws and the confidence with which he operates in the pocket. The McGloin-led offense has had a much smoother, crisper rhythm to it—even in the losses to the Tennessee Titans and Cowboys.
Pryor, though, offers a unique package of athleticism that McGloin clearly does not.
The former Ohio State Buckeye has not played in three straight games, yet remains Oakland's second-leading rusher behind Jennings. Pryor's ability to escape pressure and avoid sacks was pivotal earlier in the season when the Raiders' offensive line was in shambles.
Now that the line is relatively healthy, it will be interesting to see how Pryor holds up if or when he's given the chance to line up behind center again. His confidence was clearly shaken after getting sacked nine times by the Kansas City Chiefs in Week 6, and he's been skittish in the pocket ever since.
Allen didn't say for sure whether Pryor would play again at quarterback this season, but indicated that the Raiders need to get a better feel for him.
That could be using Pryor as a second quarterback on the field for a trick play, lining him up as a wide receiver or doing any number of things to take advantage of his speed.
"We want to try to see more of him at some point," Allen said. "That's something that we want to look at moving forward, but we'll see how that plays out."
Unless otherwise noted, all information and quotes used in this and any report by Michael Wagaman were obtained firsthand.