Ohio State vs. Michigan: Great Call to Go for 2, Bad Call on Play Itself
November 30, 2013

USA Today
The 2013 version of Ohio State vs. Michigan had it all—amazing individual performances, emotions running high, a full-on brawl and a game that went back and forth all day long.
However, despite all the craziness in the first 59 minutes, it came down to just one play with 0:32 left on the clock.
Michigan scored on a two-yard pass from Devin Gardner to Devin Funchess to make it 42-41 and faced the hardest of decisions: Go for it and revel in the glory of taking down Ohio State, or kick the extra point and live to play overtime.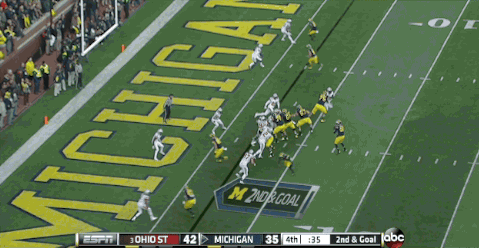 BR Social Team
Brady Hoke decided to go for two, knowing his team couldn't stop the rushing attack of Ohio State and that his Wolverines had just scored 20 points in the final quarter.
He also trusted the seniors on his team to get the job done:
It was a decision Hoke's counterpart, Urban Meyer, would've made as well:
The evidence for the decision was pretty overwhelming—Ohio State gashed Michigan to the tune of 393 yards rushing on the day.
Running back Carlos Hyde set an Ohio State record versus Michigan with 226 yards and a touchdown. Quarterback Braxton Miller had 153 yards and three touchdowns on 16 carries himself.
It all pointed to a Michigan defense that was unlikely to be able to stop Ohio State in overtime and an offense that couldn't run the ball with its running backs as the game went on.
Outside of a 38-yard run by De'Veon Smith, the Wolverines ran for just 66 yards on 16 carries in the second half.
With the way things were going in this game, something had to change, and Hoke's gut reaction was the right one—go for two at home and let the chips fall where they may.
The problem was, instead of sticking to what had worked for Michigan all game long—the stretch option—offensive coordinator Al Borges went completely vanilla.
It resulted in the slot receiver, Drew Dileo, being blanketed, and the throw to him by Gardner was picked off to seal Ohio State's 42-41 victory and perfect regular season.
BR Social Team
What was curious was Michigan going away from a play that had worked for it multiple times all game long—the option to the back side of the play.
No doubt that a hobbled Gardner, who injured his ankle and gutted it out most of the second half, played a part in the decision-making.
However, this was one play for a massive upset against your hated rivals. Gardner had been sucking it up all second half; one more play wouldn't have killed him.
The biggest problem with that kind of play call is it doesn't give the quarterback or anyone else on the field any other options. Either the slot receiver is open and you hit him, or it's a dead play.
When you have the game on the line, you have to give your team some options, and a play to the outside would've at least allowed for a run, pitch or pass option and thus given the Wolverines a greater chance at success.
For a team that was given no chance by anyone to win this game, Michigan laid it all on the line and nearly came away with a historic upset in this rivalry.
The final play was just the latest example of an Al Borges call gone wrong and another frustrating example of why this Wolverines team ends the regular season 7-5.
Questionable play-calling and not putting playmakers in the best position to do what they do best hurt Michigan on the final play, just as it has all season long.
Changes in the play-calling or play-caller has to be priority No. 1 when Brady Hoke evaluates the 2013 season.
Andy Coppens is Bleacher Report's lead writer for the Big Ten. You can follow him on Twitter @ andycoppens.