Robert Griffin III, who has fallen under a bevy of scrutiny over the past 48 hours, believes he is the victim of an attempted "character assassination."
Following the Washington Redskins' 27-6 loss at the hands of the San Francisco 49ers on Monday night, RGIII responded to the claim that he asked the team to eliminate "bad plays" from film study, per The Washington Times' Zac Boyer:
Griffin on film report: "People are trying to character assassinate me and that's unfortunate."

— Zac Boyer (@ZacBoyer) November 26, 2013
For the uninitiated, NFL.com's Mike Silver, via the NFL Media PR Twitter account, reported on Sunday morning that Griffin had made the request. Silver also said that some within the organization view the talented quarterback as "insecure":
.@MikeSilver: RG3's "bad plays" weren't put up on board in team meetings while at Baylor; has asked Redskins to do the same but they haven't

— NFL Media PR (@InsideNFLMedia) November 24, 2013
.@MikeSilver: "Inside the building when you talk to people familiar with this situation they perceive RG3 as kind of insecure."

— NFL Media PR (@InsideNFLMedia) November 24, 2013
Head coach Mike Shanahan quickly extinguished the flame, however, and told The Washington Post the report was "completely false," and now Griffin is making it clear the attacks on him hold no validity.
It's amazing how quickly things can change.
At this time last year, RGIII was taking the NFL by storm. With his exhilarating dual-threat ability, he was in the midst of a transcendent rookie campaign that had some around the league talking about how he could change the game.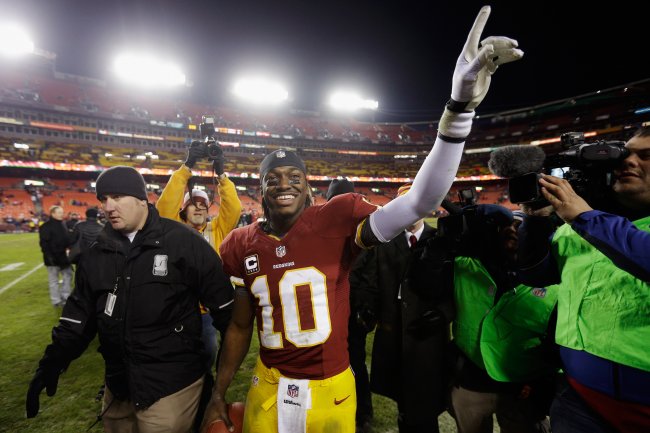 Rob Carr/Getty Images
What made him even more compelling, though, was his infectious character. Griffin was always smiling and always seemingly having a good time. Every single report gushed about the former Baylor product both as a football player and a person.
Now, here we are, with someone—depending on whether or not you believe Shanahan and Griffin—either leaking a false report to tarnish or "assassinate" his character or leaking a true report to attack and expose his character.
It's amazing what losing games can do to an organization.