Tom Brady's Rant at Referee Highlights Inherent Biases Judging Athletes
November 19, 2013

Bob Donnan-USA TODAY Sports
Tom Brady, to many fans and some in this profession, is the NFL's golden child. Brady is the embodiment of what it means to be a quarterback, a leader through and through and possibly the greatest ever at his position.
To hear general talking-head media speak of Brady is akin to hearing someone speak of their first-born. He's the passionate, good-looking, excellent man we all want to see in ourselves and the type of person who should have three Super Bowl rings.
I'm not saying I believe any of this myself. But the overarching sentiment surrounding Brady is worth pointing out, because it's clouded the entire narrative regarding the finish of the Patriots' loss to the Panthers on Monday night.
By now, you've either watched the game or the highlights or had someone tell you about it at the office. Down 24-20 with 59 seconds remaining, Brady did what leaders do and drove New England all the way down to the Carolina 18-yard line with one play to win or lose the game. Under duress, the two-time NFL MVP fired an ill-advised pass in the direction of Rob Gronkowski, which was picked off by Robert Lester to end the game.
ESPN Broadcast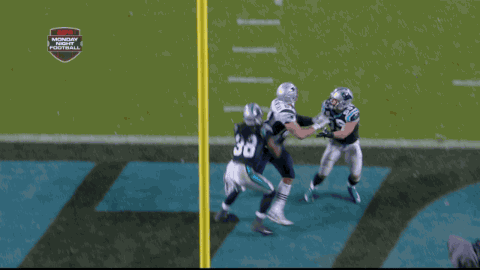 ESPN Broadcast
Only it didn't look that way at first. At first, a flag had been thrown by back judge Terrence Miles for defensive pass interference on Panthers linebacker Luke Kuechly. But after a conference with officials, the flag was picked up, no foul was called, and the Panthers walked away with their biggest win of the Cam Newton era.
Arguably the best game of the 2013 NFL season had ended in mass confusion. And Brady wanted answers. Now. So, as the referees were jogging to the locker room, Brady, flanked by backup quarterback Ryan Mallett, chased after head referee Clete Blakeman and the ESPN on-field audio picked up the clip you've likely seen on YouTube. 
"That is f---ing brutal," Brady said.
In the immediate aftermath, two camps quickly emerged. On one side, there were folks just as confused as Brady about the lack of pass interference and total lack of explanation from Blakeman. On the other, there were folks feeling massive amounts of schadenfreude—none more so than Raiders fans who remember the "tuck rule."
Conspicuously absent: the camp criticizing Brady for not only chasing down an official, but also yelling in his face and spouting off expletives. Not a peep. Not a hard-hitting #hottake. Nothing. 
It's at once weird and totally understandable.
I'm not saying that Brady was wrong to confront Blakeman. New England got screwed. Anyone with two eyes and a workable understanding of football knows that was pass interference or at the very least defensive holding. The ball was "uncatchable" because Kuechly literally pushed Gronkowski out of the area of the pass. Perhaps Gronkowski doesn't catch the pass unimpeded, but the point was that his progress to the ball was impeded.
Either way, it's a penalty.
Depending on your perspective on the new rule preventing teammates from pushing each other forward on field-goal attempts, this is the second time the Patriots were screwed out of a win this season. Those two losses could be the difference between a playoff bye or playing in the Wild Card Round. You can understand why Brady was upset, and his reaction wasn't over the top.

Bob Donnan-USA TODAY Sports
Brady didn't threaten, didn't bully. He, like all of us watching, just wondered what in the bleep was going on here. The only reason this is getting so much discussion is because Brady dropped a live f-bomb on TV and OMGGGG someone said a curse word. As if you all haven't already told your boss and co-workers to eff off six times already today in your head.  
The problem here isn't Brady's reaction. It isn't that his mouth should be washed out with soap. It's that the entire reaction to the postgame fiasco has been clouded by the fact that it was Tom Brady cursing out an official, and that somehow makes it OK.
Don't believe me? Imagine if it were Dez Bryant.
Imagine if it were the media's favorite nonsensical villain chasing down an official with hate in his eyes and cursing him out for not calling pass interference on a play where he was held. Imagine if it would have cost the Dallas Cowboys, admittedly a favorite whipping boy of mine, a game instead of the Patriots.
If you don't believe that the reaction would have been wildly different, you haven't been paying attention.
Remember the Cowboys' Week 8 loss to the Detroit Lions? The one where Bryant was shown passionately talking to Tony Romo and arguing with tight end Jason Witten?
It was labeled a tirade. Bryant's "rants" were childish, the latest indicator of his inability to mature and be a positive teammate and a positive influence on society. Fox's Brian Billick, who was calling the game, told Bryant to "grow up" and essentially called him classless.
Of course, it took about a day before evidence came out and everyone had to stick their entire legs in their mouths. Bryant's tirade? It was a passionate plea of encouragement for the most part, telling Romo "we're the best"—just wildly gesticulating while doing so. 
Whoops.
One could say that the criticism regarding Bryant happened because he was yelling at teammates, and to a certain extent I would agree. But Brady received no such vitriol when he was making Aaron Dobson's life a living hell on the sidelines. Or any number of other examples of Brady yelling at teammates or offensive coordinators.
It was "leadership."
Want a different analogy, not involving Bryant? What happens if it's Newton chasing after the ref, right after making an abhorrent mistake to cost the Panthers another close game? Remember, Newton and Ron Rivera were at one point an insane 1-9 in games decided by one touchdown or less at a point earlier this season.
Remember our friend Billick? He once called Newton a petulant child, and he wasn't alone in that sentiment. Instead of focusing on the call with Newton, most would likely have wondered why he was trying to deflect blame for his latest screwup. And wondering when this damn kid would just grow up.
Streeter Lecka/Getty Images
And it'd be patently unfair. 
More than anything, though, this is more of a reputation issue. Brady is a "winner," perhaps the best at his position ever. He's bestowed the same leeway of someone like Michael Jordan, who would incessantly chirp at officials and berate teammates and even punched Steve Kerr in the face—while still being revered by fans and media.
When they say winning cures everything, they're mostly saying it gives you carte-blanche to act like a world-class jerk and get away with it.
Elsa/Getty Images
Quarterback bias also plays a factor. Because it's the most important position in the sport, quarterbacks are given automatic "leader" distinction from the outside even if they haven't earned it within the locker room. We expect quarterbacks to act and speak a certain way, and we balk the second one eschews what we want from a LEADER.
Brady earned that reputation early. He won three Super Bowls before the age of 28, built a dynasty with Bill Belichick and plays in a market (Boston) famously adept at spinning the narrative however it so chooses. 
On Tuesday morning, the narrative was that the Patriots lost due to an incorrect call. There are just scant mentions of the fact they'd have to score on the very next play; a touchdown wasn't guaranteed. The Patriots would have won because Tom Brady is a winner, and his chasing after an official after the game was totally justified. 
I'm not denying the latter point. But it's more important that we start looking at why the Newtons and Bryants of the world aren't afforded the same opportunity.
Follow Tyler Conway on Twitter: