It was not that long ago that San Francisco 49ers fans and analysts were talking about their team returning to the Super Bowl after the 2013 season.
After an anemic performance in Week 10 against the Carolina Panthers, hopes may have shifted to the 49ers making the playoffs at all. Following San Francisco's 10-9 loss at home against Carolina, the 49ers have gone from one of the NFL's elite teams to an "upper echelon" team in the middle of the pack.
Take a look at CBS Sports' Pete Prisco's NFL Power Rankings for a better explanation.
Watch NFL Power Rankings Live online right now: http://t.co/PCZKH7Pote or on the CBS Sports Mobile app: http://t.co/FHPsjzwFIC

— CBSSports.com (@CBSSports) November 12, 2013
This author does not need to go into much detail surrounding the ineptitude of the 49ers offense. We know there are problems. To be frank, there are a lot more than initially thought at the beginning of the season.
Instead, let us examine how San Francisco went from being one of the top NFL teams with their eyes on nothing less than a Super Bowl to becoming a franchise merely hoping to get into the postseason.
To do this, we shall also examine what lies ahead over the duration of their remaining schedule.
It is a tough road for the 49ers, and nothing is guaranteed. The NFL has a way of surprising us each and every year, and it seems as if San Francisco is just as vulnerable to this facet.
Weeks 1 Through 10
The 49ers' dominant performance against the Green Bay Packers in Week 1 seems like a distant memory to 49ers fans. Followed by back-to-back uninspiring losses to the Seattle Seahawks and Indianapolis Colts in Weeks 2 and 3 respectively, it was easy to be concerned with what faced San Francisco in the coming weeks.
Fortunately enough, the 49ers were able to pull off five wins in a row, scoring at least 31 points in each of those contests.
The streak put San Francisco right back in the discussion as favorites in the NFC West as they trailed Seattle by one game before Week 10.
The formula for the 49ers was relatively simple—solid and opportunistic defense combined with a power running game.
Quarterback Colin Kaepernick did not have to be the stud in any of those games. In fact, Kaepernick threw for more than 200 yards in just one matchup during San Francisco's five-game win streak.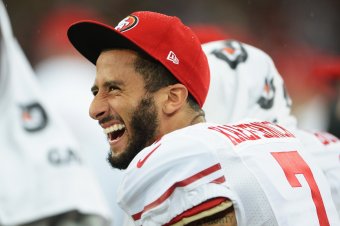 Michael Regan/Getty Images
Instead, the 49ers followed the plan mentioned previously and it worked.
After a blow-out win against Jacksonville in Week 8, followed by their bye week, San Francisco looked sharp enough to continue their dominance and had their eyes on catching the Seahawks within the division.
It is also worth noting that the team was getting stronger. Players who had been injured for some—or most—of the season thus far were returning as reinforcements, and it appeared as if the 49ers had found a formula to win games decisively.
Then came Week 10.
The visiting Panthers were, and still are, no joke.
Entering the game, Carolina was riding a four-game winning streak of their own, and their defense was ranked second in the NFL in points allowed.
It was going to be a tough matchup—one the 49ers were not going to take lightly—yet San Francisco should have been able to beat the Panthers. They were at home and coming off their bye. The nearly two weeks of preparation should have given them the edge.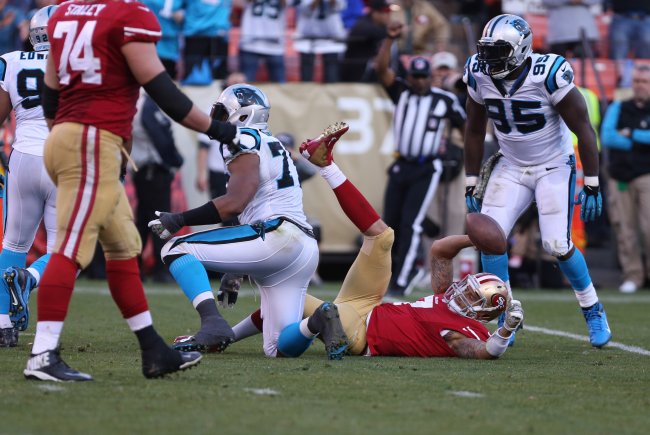 Kelley L Cox-USA TODAY Sports
Instead, the 49ers were embarrassed on their home field.
In spite of a strong defensive performance, San Francisco did not get anything together offensively. Anyone who watched the game could see this.
Familiar story: #49ers offense invisible in loss to winning team. http://t.co/XeXXmCThuH

— Eric Branch (@Eric_Branch) November 11, 2013
"We have to execute better, all around," Kaepernick said via Matt Maiocco of CSN Bay Area. "We just have to go out and be able to make plays."
The game was eerily reminiscent of the 49ers' performance against the Colts in Week 3. There was nothing by the way of a passing game, and while the 49ers were able to establish the run in the first half, San Francisco all but abandoned it in the second.
It is funny how important one game can be in an NFL season.
Week 11 at the New Orleans Saints
As if San Francisco's postseason prospects were not thwarted enough by the Week 10 loss to Carolina, the 49ers now have to travel to New Orleans to take on a red-hot Saints team that is 5-0 at home this year and just demolished the Dallas Cowboys 49-17 in Week 10.
In many ways, this could be the turning point for San Francisco's season.
A 49ers' win would put them at 7-3 and in a respectable position to reach the playoffs, and maybe—just maybe—give them a shot at catching the Seahawks within the division.
The Carolina loss could turn into an afterthought and be cited as one of those games at which San Francisco simply balked.
But how feasible is this?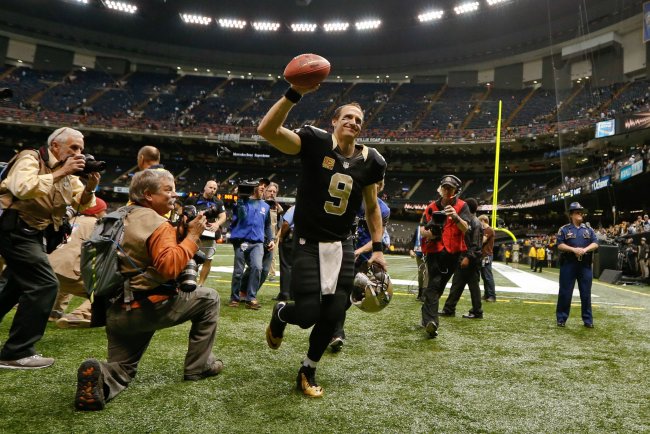 Derick E. Hingle-USA TODAY Sport
First off, let us examine Saints quarterback Drew Brees and the New Orleans offense.
Brees should be classified as NFL "elite," and the 49ers have faced two quarterbacks—Aaron Rodgers and Andrew Luck—this season that I would consider in the same category.
San Francisco did a good job limiting Rodgers and Luck in each of those games, yet both games were at Candlestick Park. With Brees owning a 129.8 quarterback rating in New Orleans this year, it is almost assured that he is going to do some damage.
The 49ers defense will have to limit Brees and the Saints offense as best as they can. In addition, we should assume San Francisco will try to reestablish the running game, as it has been their one consistent offensive option this year.
49ers linebacker NaVorro Bowman realizes how important the defense's output will be in this game given the team's offensive woes.
Video: #49ers LB NaVorro Bowman's mindset vs. Saints is "assume the defense is going to have to win the game." http://t.co/IyyRBEvCgM

— Matt Maiocco (@MaioccoCSN) November 13, 2013
Even more of a concern is that San Francisco's stellar rookie safety Eric Reid could possibly miss this game after a concussion knocked him out of the 49ers' loss versus Carolina, per Cam Inman of the San Jose Mercury News.
Likely same #49ers S Eric Reid RT @RapSheet: #Saints will be w/out S Kenny Vaccaro (concussion) this week vs. #Niners and possibly next week

— Cam Inman (@CamInman) November 11, 2013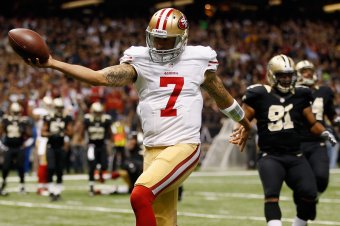 Chris Graythen/Getty Images
From San Francisco's offensive standpoint, they will have a tough time matching up against a Saints defense that is fifth in the league in points allowed. The 49ers cannot continue the trend of what CSN Bay Area's Ray Ratto called a "one-dimensional" offense that was revealed against the Panthers.
In spite of the 49ers' best hopes for a victory in this matchup, it is entirely plausible that San Francisco falls to 6-4—something that seven out of eight CBS Sports NFL analysts predict will happen.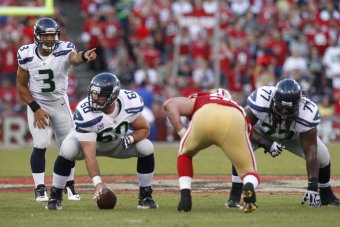 Cary Edmondson-USA TODAY Sports
The Remaining Schedule
Let's assume for a moment that the aforementioned scenario describing a 49ers loss in New Orleans happens and San Francisco falls to 6-4.
Suddenly the thought of the 49ers repeating as division champions would be all but eliminated.
As stated by Michael David Smith of NBC Sports, the NFC West belongs to the Seahawks. Looking at Seattle's remaining schedule, it is hard to fathom the Seahawks losing three of their last six games, especially considering four of them are at CenturyLink Field.
San Francisco, though, must be even more concerned with making the playoffs at all. Further contributing to the concern is the fact that the 49ers have a difficult schedule facing them over the remainder of the season.
49ers Remaining 2013 Schedule

| | | |
| --- | --- | --- |
| Week | Opponent | Opponent's Record |
| Week 11 | @ New Orleans | 7-2 |
| Week 12 | @ Washington | 3-6 |
| Week 13 | St. Louis | 4-6 |
| Week 14 | Seattle | 9-1 |
| Week 15 | @ Tampa Bay | 1-8 |
| Week 16 | Atlanta | 2-7 |
| Week 17 | @ Arizona | 5-4 |
Pro Football Reference
There is the matchup with the Saints that has been previously described.
Then, the 49ers will travel to Washington to take on the Redskins in Week 11. At the beginning of the season, Washington may have been considered an easy opponent, but the Redskins are playing better as of late, which is indicated by their offense generating at least 27 points in three of their last four games.
San Francisco will then host the St. Louis Rams and Seahawks in Weeks 12 and 13, respectively. St. Louis is also playing better sans quarterback Sam Bradford and boasts a solid running game, along with an improved defensive front.
Seattle would love to come into Candlestick Park and put an exclamation point on the season by defeating the 49ers in Week 13.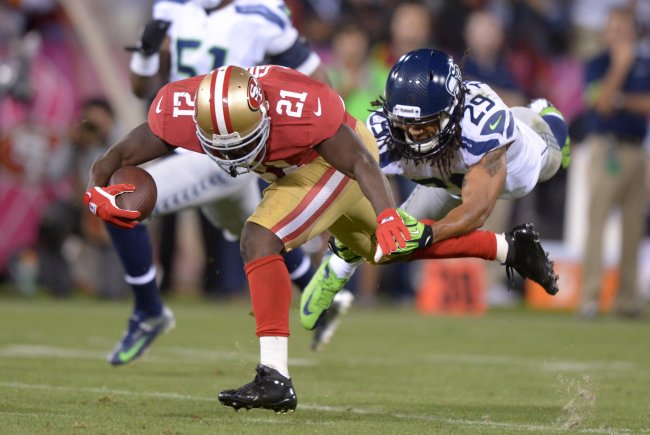 Kirby Lee-USA TODAY Sports
The 49ers will then take on the Tampa Bay Buccaneers, Atlanta Falcons and Arizona Cardinals to round out the regular season, with the matchup against Atlanta being the only home game.
Out of those three remaining games, only the Cardinals figure to be a relatively tough matchup, with Arizona boasting a 5-4 record and the 12th-ranked defense in points allowed.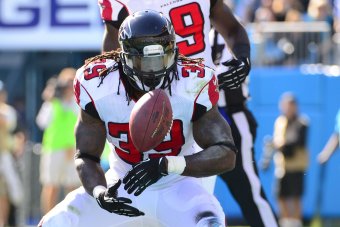 Bob Donnan-USA TODAY Sports
As stated by Bob Fitzgerald of the 49ers' radio home KNBR, San Francisco has the eighth toughest remaining schedule in the NFL.
Let's assume the 49ers lose to the Saints in Week 11. They could hand Washington a defeat but could lose one of their two home games—probably versus Seattle—over the following two weeks.
Tampa Bay and Atlanta figure to be easy wins—although nothing is guaranteed—but the Week 17 matchup in Arizona could prove to be a difference maker. The Cardinals will likely be playing for their playoff lives as well, and that game could go either way.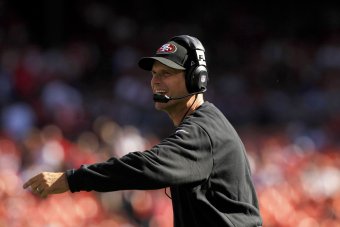 Cary Edmondson-USA TODAY Sports
Scenarios and Chances
Time for the good stuff—or the bad stuff, if you are looking at it that way.
San Francisco is no longer gunning for a division crown. Granted, stranger things have happened, but at this point, the 49ers' best-case scenario is to try and get in as a wild card.
There are plenty of other teams in the mix that are gunning for the same thing. Arizona (5-4), Carolina (6-3), the Chicago Bears (5-4), the Green Bay Packers (5-4) and Philadelphia Eagles (5-5) are seeking the same goal, per Adam Stites of SB Nation.
Smith of NBC Sports describes this further, saying:
The 49ers and Panthers are currently a game ahead of the pack at 6-3, and I'll be shocked if they don't end up as the two NFC wild card teams. The 5-4 Bears, Packers and Cardinals are all in the mix, as are the 5-5 Eagles, but the Panthers and 49ers are pretty clearly the two best in the wild card chase.
Smith goes on to argue that Carolina and San Francisco have the best chances of making the playoffs out of all those teams.
That is a good sign for the 49ers in spite of their recent woes.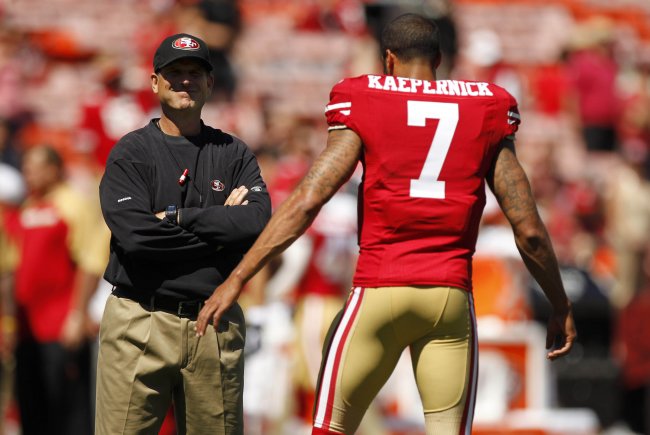 Cary Edmondson-USA TODAY Sports
Based on their remaining schedule, it is logical to assume San Francisco will finish with a record of 10-6 with their three additional losses at the hands of the Saints, Seahawks and possibly the Cardinals.
Of course, the best-case scenario is the 49ers finishing out the season with a perfect record and ending the regular season at 13-3. Could that happen? Possibly. Is it likely? Probably not.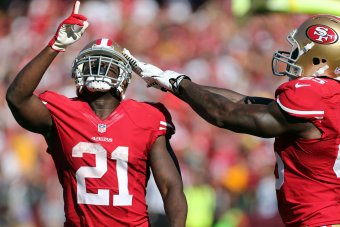 Kelley L Cox-USA TODAY Sports
Smith's assumption that San Francisco makes the playoffs is a good thing for 49ers fans.
Yet examining a DVOA playoff odds report generated by Mike Harris of Football Outsiders, San Francisco has a 64.8 percent chance of making the playoffs—down 13.7 percent from the week before.
Sportsclubstats.com gives the 49ers a slightly better chance, at 79 percent.
Heading into the 2013 season, San Francisco was nothing short of a lock to make the postseason. Now there is a substantial chance they'll miss the playoffs altogether.
That is a tough pill for 49ers fans to swallow.
---
How do the 49ers finish the 2013 regular season?
There is plenty of football left to be played. One loss, especially one so ugly, can put fans and analysts into a tailspin.
Stranger things have happened. The 49ers could reel off another long winning streak and, combined with some Seahawks misfortune, may find themselves back in the hunt for a division crown.
Even if that is not the case and San Francisco winds up finishing at or about 10-6, the 49ers are still in pretty good shape for making the postseason.
Factor in other elements that this team has, such as the return of wide receiver Michael Crabtree and the eventual debut of defensive end Tank Carradine, and San Francisco could easily get back on track in quick fashion.
It is not time to panic by any means. Each game is still critical and losses will still hurt, but the 49ers remain in good shape heading forward.
Let us see how it all pans out.
All statistics, records and accolades courtesy of Pro-Football-Reference.com unless otherwise indicated.
Peter Panacy is a featured columnist for Bleacher Report, covering the San Francisco 49ers. Follow him @PeterMcShots on Twitter.