Tom Brady and the Patriots passing offense remain the center of attention for their up-and-down play, but on Sunday against the Pittsburgh Steelers—and until their passing game gets its mojo back—their best bet is to call on a heavy dose of Stevan Ridley and the running game.
The Patriots have racked up 30 rush attempts or more in five games this season and are 5-0 in those games. They haven't reached that number more than nine times in a season since 2006. They have also racked up over 130 yards rushing in five games this season, and haven't done so more than eight times in a season since 2004.
When their running game is on point, they're hard to beat. If they want to sharpen that point, they should be giving the ball to Ridley more often than weeks past.
Up until last week, there didn't seem to be much separating Stevan Ridley from LeGarrette Blount outside of the eyeball test. They each averaged 4.1 yards per carry, but through Week 4, the two had almost the same number of carries—Ridley with 47, Blount with 46.
Ridley was out of action with a knee/thigh injury for the Patriots' 13-6 road loss to the Cincinnati Bengals, and Blount saw the majority of the carries, with 12 on the day.
It didn't take long after Ridley's return for the Patriots to realize what they had been missing out on. He ran the ball 11 times for 61 yards and two touchdowns in the first half of his first game back, against the Saints, and finished with 20 carries for 96 yards on the day.
His 19-yard run in the second quarter provides a perfect anecdote for what Ridley brings to the table. Tight end Michael Hoomanawanui got a nice seal block on the outside linebacker, and once Ridley saw the hole, he hit the gas and ran straight through it without any hesitation.
Those are the kinds of runs we saw from Ridley on a regular basis in 2012, and those are exactly the kinds of runs that have been missing from the Patriots offense when Ridley is not on the field.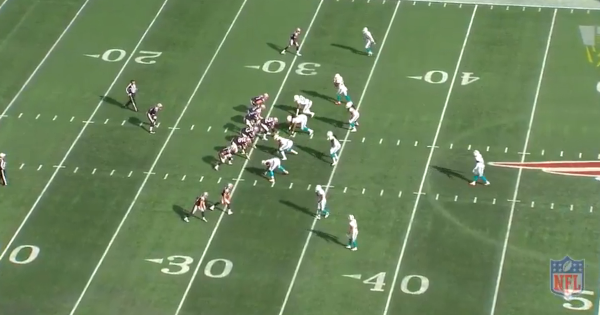 On this play against the Dolphins, for example, the Patriots wanted to run the ball off right guard. Blount lined up behind Brady in a single back set in 11 personnel (one running back, one tight end, three wide receivers), the Patriots' personnel grouping of choice this season.
The Dolphins matched the grouping with a nickel front (the extra defender in the box is safety Reshad Jones) which should give the running back a favorable look to run the ball.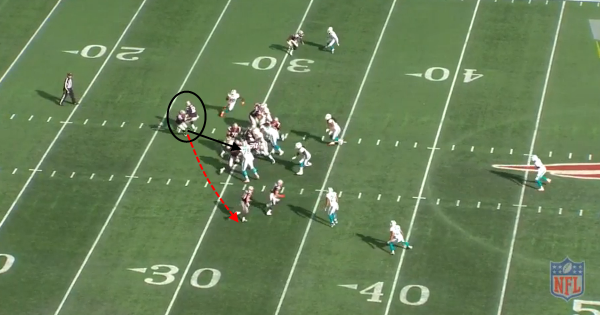 By the time he took the handoff at the mesh point, the Dolphins had already done a nice job of closing up the lanes in the middle. There was some space to be had on the outside if Blount had bounced the run that direction. Instead, he dipped his head and plowed forward for a gain of two yards.
Patriots running backs, first half (> 5 carries)

| | | | | |
| --- | --- | --- | --- | --- |
| Player | Attempts | Yards | Yards/attempt | Touchdowns |
| Stevan Ridley | 50 | 247 | 4.94 | 3 |
| Brandon Bolden | 22 | 85 | 3.86 | 1 |
| LeGarrette Blount | 31 | 83 | 2.68 | 0 |
pro-football-reference.com
Ridley's burst has been exactly what the Patriots need in the first half of games.
Yet, in the team's eight first quarters this season, Ridley has 19 carries for 121 yards (6.37 YPA), while Blount's 18 carries have picked up 50 yards (2.78 YPA). There's certainly something to be said for having a fresh back—Ridley's YPA dips pretty far in the fourth quarter, where he has 19 carries for 43 yards (2.26 YPA)—but there's also something to be said for using the right back at appropriate times.
Rich Hill of Pats Pulpit laid out one of the most compelling statistical arguments you'll ever read, indicating that Ridley is the better back in nearly every possible way, whether it's short-yardage, goal-line, first, second or third down.
In a perfect vacuum, the Patriots would play Ridley in the first, a combination of Ridley and Bolden in the second, Bolden in the third, and then Blount in the fourth, but that's not how football works. The Patriots should continue to operate out of the committee in order to keep defenses off balance, but serious considerations for snap distribution must be made. Ridley deserves more snaps in the first half and in short yardage. Blount deserves his time to knock out the opposition in the fourth. Bolden can keep Bolden on.
That being said, with running back Shane Vereen out of the picture with a wrist injury, Ridley still has more burst than any other back on the roster and has shown it by storming out of the gate with an average of 4.94 YPA in the first half. That's a 1.08 yard-per-carry advantage over Brandon Bolden, the second-most efficient first-half back.
Ridley has six of the Patriots' 10 first-half carries of 10 yards or more. Those are vital, explosive plays that get the running game off to a good start.
Patriots running backs, second half (> 5 carries)

| | | | | |
| --- | --- | --- | --- | --- |
| Player | Attempts | Yards | Yards/attempt | Touchdowns |
| Brandon Bolden | 13 | 84 | 6.46 | 1 |
| Shane Vereen | 11 | 70 | 6.36 | 0 |
| LeGarrette Blount | 34 | 182 | 5.35 | 1 |
| Stevan Ridley | 42 | 152 | 3.62 | 1 |
pro-football-reference.com
Blount's value has been augmented in late-game scenarios. He is averaging a team-high 5.35 YPA in the third quarter and after, a full 1.73 YPA higher than Ridley, whose 3.62 YPA is second-best on the team in those situations.
Blount still has an important role in the offense. Every team needs a complementary back.
The problem is, there will be fewer carries to go around when Vereen returns from a wrist injury (which could happen after the bye, as he returned to practice on Wednesday for the first time since Week 1). He got off to a hot start, with 101 yards on 14 carries against the Bills and seven catches for 58 yards. That's the one-two punch the Patriots were really hoping to have all season. For at least one more game, though, the Patriots are without one of those two punches.
For now, and for the foreseeable future, the running game remains an important component of the Patriots offense.
"It's definitely different," Steelers defensive end Cameron Heyward said, via Steelers.com. "In the past it's been like the running game has been interjected, not like it's been something you really had to focus on. When they establish the run they're a much better team, they can use the play-action. We gotta stop that early and make them one-dimensional."
How many carries should Ridley get per game?
In theory, this should be a big week for Ridley and the Patriots running game. The Steelers have been heralded for their high-pressure defensive scheme under coordinator Dick LeBeau. But while they remain stifling through the air, opponents have made some noise against them on the ground. The Steelers have allowed 121.8 yards per game on the ground. They also yield 5.64 yards per carry in the first half, which is the highest average in the
NFL
.
In defense of the Steelers defense, they were doing well against the run in their two wins, holding the Ravens to 82 yards and the Jets to 83 yards, but in allowing 197 rushing yards to the Raiders—including a 93-yard touchdown by quarterback Terrelle Pryor—they gave up their highest total on the ground since 2007, and before that, since 2000.
Regardless of the opponent, it's clear the Patriots can't rely on their passing game this year as they could in years past. There is still time for them to get up to speed, and with the return to health of key players such as Vereen, Rob Gronkowski and Danny Amendola, there's reason to believe they will hit stride. There have been flashes of it all year already, with Brady occasionally getting on the same page with one of his rookie wide receivers.
When the running game has been productive, and when they've stuck with it, their offense has looked much better overall. Silly as it may seem, taking the ball out of Brady's hands may not be the worst thing for the Patriots offense at this point.
Erik Frenz is also a Patriots/AFC East writer for Boston.com. Unless otherwise noted, all quotes were obtained firsthand or via team news releases.