It's hard to imagine how a player who recently signed a six-year, $42 million extension could somehow be underappreciated, but that's exactly the case with Dallas Cowboys linebacker Sean Lee.
Most people are just now starting to take notice of Lee, who is currently tied for second in the NFL in tackles and one of eight players with four interceptions, which leads the league.
Didn't get a chance to mention on @SportsCenter, but ##Cowboys LB Sean Lee playing MVP worthy football. League MVP that is!

— Louis Riddick (@LRiddickESPN) October 30, 2013
Lee was a second-round pick of the Cowboys out of Penn State back in 2010. In fact, the Cowboys traded with a division rival, the Philadelphia Eagles, in order to do so, moving from No. 59 overall to No. 55 in order to select him.
Lee had injury concerns coming out of college, most notably an ACL tear during the spring of 2008 that caused him to redshirt that season. Even in just his fourth year with the Cowboys, Lee has already missed 13 games over the course of his NFL career.
But the Cowboys thought enough of Lee's ability when he's healthy to give him more than $16 million in guaranteed money.
However, the Cowboys still protected themselves by adding playing-time incentives into the deal, and Lee responded exactly the way you would want a player to respond, via Todd Archer of ESPN Dallas:
I've said I need to find a way to stay on this field, and the contract is extremely fair, where if I'm on the field the whole year I'll be able to get paid. At the same point, if I do have injuries, it protects the Cowboys, and I think that's fantastic, especially with the injuries I've dealt with in the past.
Lee has also responded by playing the best football of his career this season, which is exactly what you want to see from a guy who just got the type of deal that all players seek.
NFL's leading tacklers through eight games

| | | |
| --- | --- | --- |
| Player | Team | Tackles |
| Vontaze Burfict | Cincinnati Bengals | 85 |
| Sean Lee | Dallas Cowboys | 81 |
| Kiko Alonso | Buffalo Bills | 81 |
| Paul Posluszny | Jacksonville Jaguars | 80 |
| Karlos Dansby | Arizona Cardinals | 71 |
NFL.com
The 27-year-old possesses an exceptional blend of speed, instincts and athleticism. It's the combination of these three traits that really separates him from other linebackers. It's not just about being athletic, because there are thousands of athletes out there that can put up great workout numbers. You must also have the functional athleticism that translates to the NFL.
Here's a play early in the season against the Kansas City Chiefs where Lee demonstrates all three of these attributes: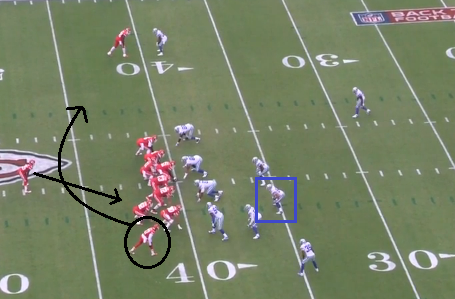 Lee is highlighted in the blue box on the play. The Chiefs were in 12 personnel with two wide receivers, two running backs and a single tight end.
Chiefs wide receiver Donnie Avery (black circle) took the pitch on an end-around after they faked the dive to running back Jamaal Charles.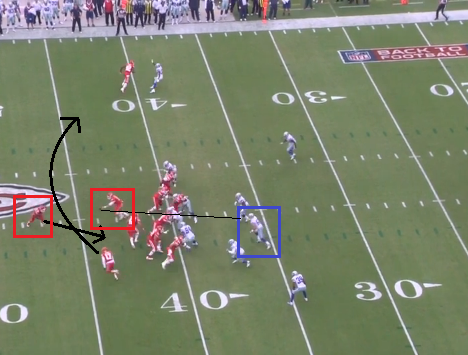 You will notice that Lee reacts to Chiefs quarterback Alex Smith extending the ball on the play-fake, as he drives forward in reading the run.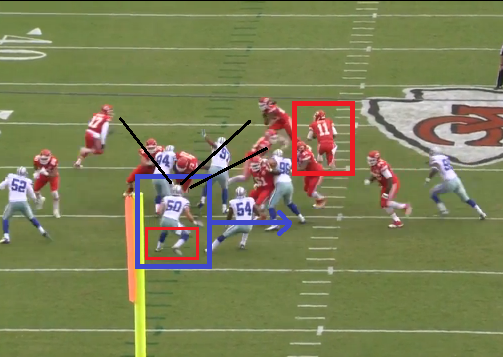 Now, you see that Smith brought the ball back in, while Lee was able to spot Avery starting to come around. Also, Charles was not near Smith for the handoff, and fullback Anthony Sherman, who had been lined up in a three-point stance off-tackle, had come back around as the lead blocker for Avery.
All of these things told Lee to watch for the end-around. You can also see the athletic balance he displayed compared to the other Cowboys linebacker, Bruce Carter, as Lee planted his left foot and was ready to drive and react to the play.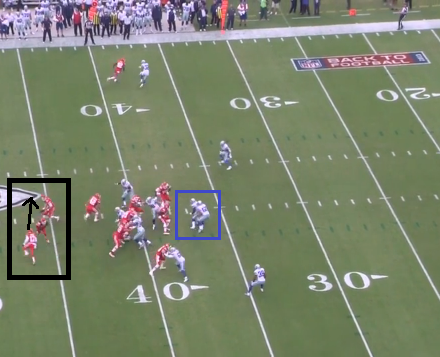 Lee's superior instincts and functional athleticism are clearly discernible relative to Carter's, mainly because they are side by side on the same play, and Lee literally ran into Carter after he saw Avery about to take the pitch.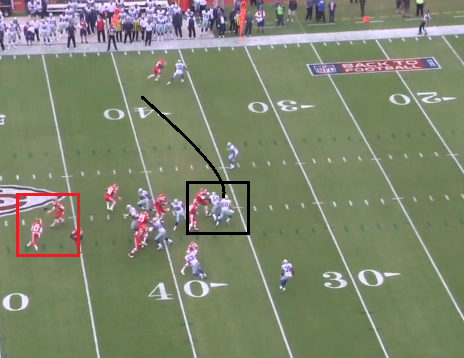 The disruption allowed the Chiefs blockers to get to the second level on Carter, which meant that Lee's route became that much longer against the speedy Chiefs receiver who already had momentum coming around to get the pitch.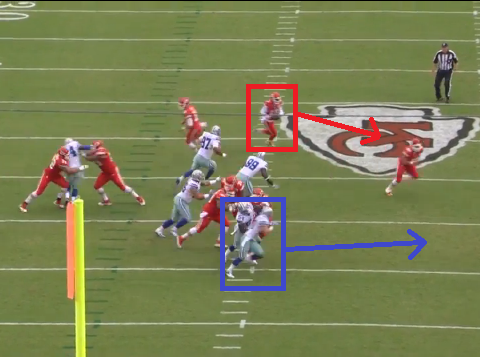 Lee got around the blockers, and this is a good shot of where he's at in proximity to the shifty receiver. Remember, Avery is known for his speed and this play was set up well.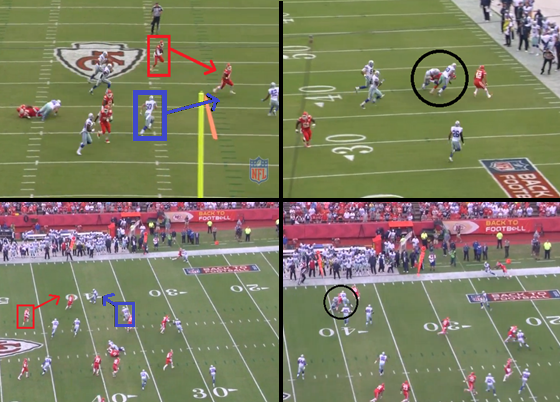 The closing speed and open-field running ability that Lee demonstrated on this play is unbelievable. This is what "special" looks like at the linebacker position.
The three unique traits Lee possesses stood out on this play: the instincts to recognize the end-around quickly; the functional athleticism to get around Carter and smoothly find a lane to the outside; and the closing speed to chase down a speedy receiver.
That play showed you how Lee gets from sideline to sideline and racks up all of those tackles, but this next play displays his coverage ability.
Sean Lee is the best coverage middle linebacker in the NFL. So glad he's finally healthy. #Cowboys

— Matt Miller (@nfldraftscout) September 29, 2013
Lee exhibited his athletic ability in space on that last play, but how does he move within a confined area in coverage?
This picture below shows Lee's movements within the box on a fake dive, fake end-around pass attempt to Detroit Lions receiver Calvin Johnson. Lee ultimately picked the ball off after a deflection by Cowboys cornerback Brandon Carr.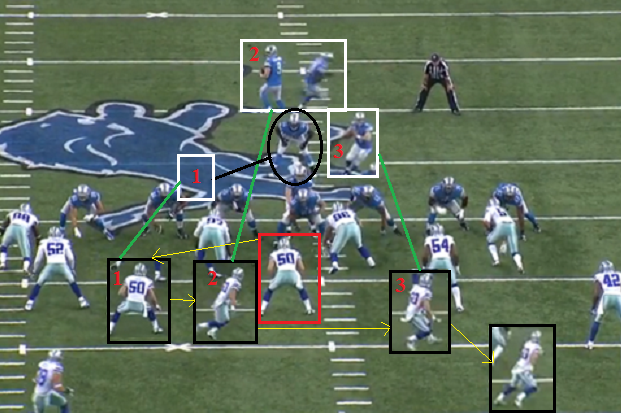 Lee's initial position is indicated by the red box. The yellow arrows illustrate his movement throughout the play. The red numbers coincide with the offense's movements and what Lee was reacting to at that time.
His first movement to the left (No. 1) was in response to the fake dive that the Lions initially showed off the snap. The running back (black circle) moved to his right and Matthew Stafford carried out that fake. The green line shows you what Lee was reacting to and where.
The second fake (No. 2) was an end-around to the receiver. You can see that Lee reacted by driving back the other way and keeping his eyes on the backfield to see the pitch on the end-around.
Once Lee saw that Stafford didn't give it to the receiver on the end-around, he planted and drove (No. 3) to get deep in his drops as he saw Stafford looking downfield.
There was some pressure on Stafford, but he still got the pass off to Johnson. Carr then did a nice job of getting his hand in there and deflecting the ball.
Sean Lee's instincts and effort always put him in position to make plays. Just picked off a tipped ball

— Daniel Jeremiah (@MoveTheSticks) October 27, 2013
Lee, who not only read all of the run-fakes and was ready to cover each of those inside the box, was athletic enough to drop back 16 yards afterwards in order to be in position to intercept the deflected pass.
With his hot start to the season, the world may now finally be starting to realize what the Cowboys already saw in Lee. After all, Dallas did give him a $42 million deal for a reason.
If you were starting an NFL team and you got to choose one linebacker from this group, who would it be?
The linebackers that have become household names over the past few years, like the 49ers' Patrick Willis and Navarro Bowman or the Chiefs' Derrick Johnson, must now welcome Lee into their company. There is no doubt that he should be getting his due right alongside these guys.
It's hard to fly completely under the radar when you're putting up the kind of numbers that Lee has so far this season, adding an NFL Defensive Player of the Week award to boot.
He's currently Pro Football Focus' (subscription required) No. 3 inside linebacker, trailing just the New England Patriots' Brandon Spikes and the aforementioned Johnson.
By the end of the season, Lee should be a household name and be in the discussion as one of the NFL's premier defensive players—not just at the linebacker position but overall. He deserves to be mentioned, and at this rate, you won't have a choice but to include him because he's flat-out dominating right now.