Arsenal Players as Hollywood Movie Stars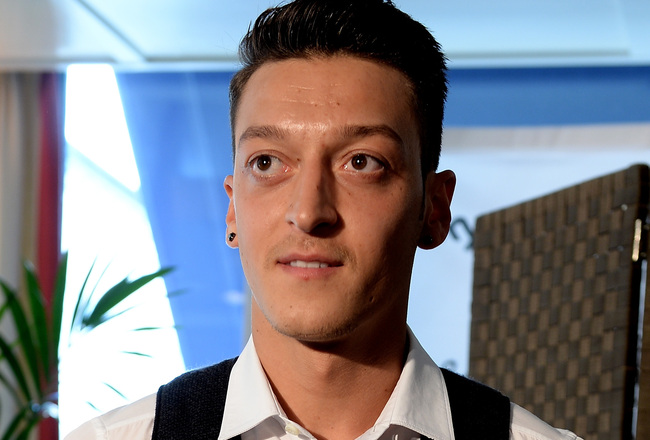 In recent years, football has evolved into pure showbiz. The glamorous world of Premier League football is now not too dissimilar from that of Hollywood.
It's a world dominated by huge stars, whose talent and charisma places them on a pedestal above their clamouring fans. Players are no longer just athletes, just as Hollywood icons are no longer merely actors. They are stars.
Over the next few slides, we attempt to draw parallels between the stars of Arsenal football club and the silver screen.
Here we go: Lights, camera, action!
Mesut Ozil Is Buster Keaton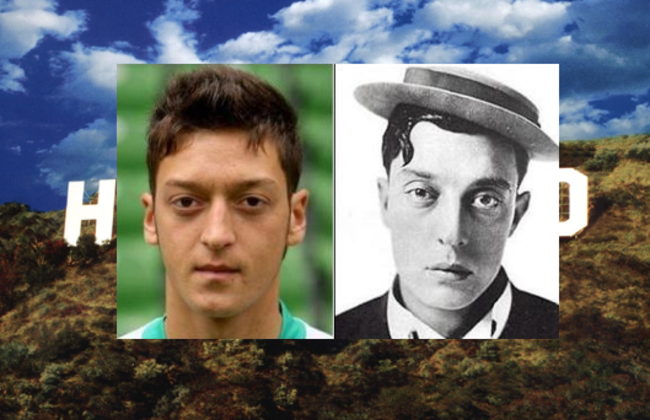 Image via totallylookslike.com
Sometimes there is an uncanny physical resemblance between an Arsenal player and a star of the screen.
Buster Keaton was arguably Hollywood's biggest star during the 1920s. However, if he were around today, he'd regularly be stopped in the street by Arsenal fans wondering if he was any relation of their own blockbuster star, Mesut Ozil.
Both men have trademark lank hair and orbicular eyes.
It's there that the similarities end. Keaton was a clown. He was renowned for his slapstick comedy. Ozil, on the other hand, is known for his grace and skill.
Arsenal supporters enjoy watching Ozil just as much as Keaton's adoring fans lapped up his huge catalogue of films.
Per Mertesacker Is Andre the Giant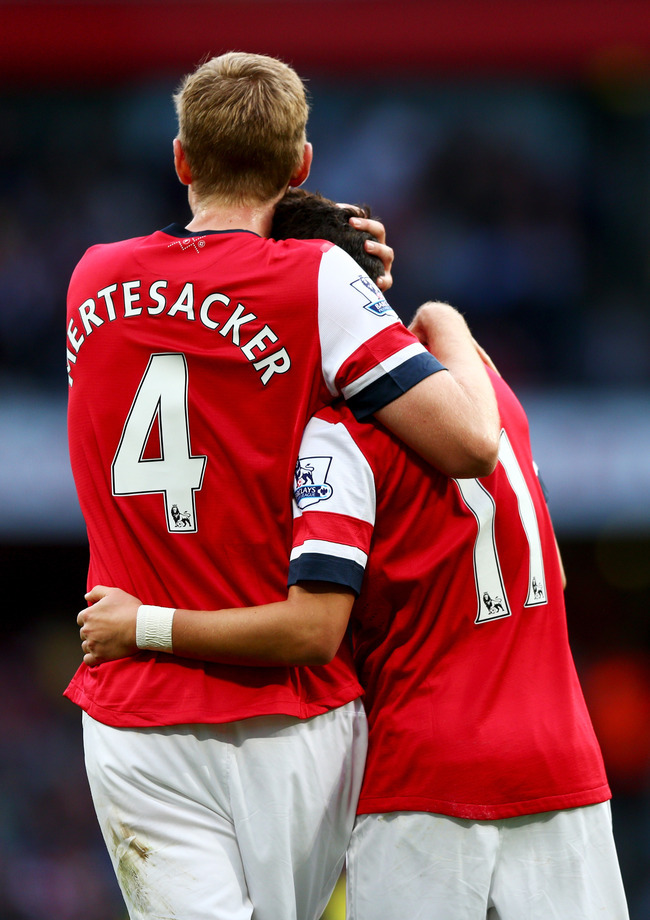 Per Mertesacker is, in every sense, a giant figure in the Arsenal dressing room.
Hollywood has had plenty of big men, but none bigger than Andre Rene Roussimoff, better known as "Andre The Giant."
Andre was a professional wrestler for many years with the WWF (now WWE) before making the move to Hollywood. His most famous role came in 1987, playing Fezzik in The Princess Bride.
Fezzik is essentially a burly bodyguard, and that's the same function that Mertesacker plays for his diminutive team-mates.
Santi Cazorla Is Adam Sandler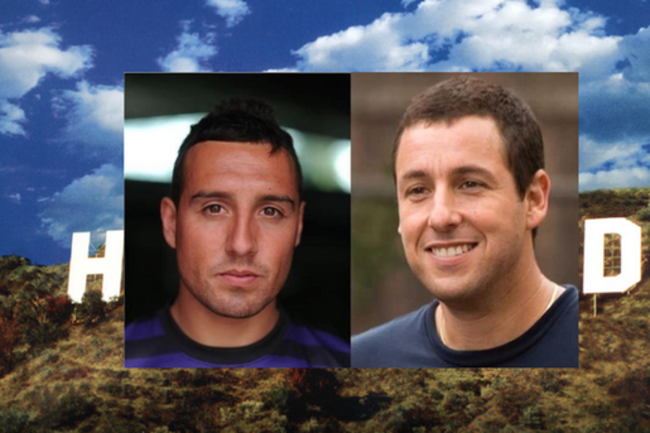 Image via Arsenal.com & Raindance.org
Santi Cazorla and Adam Sandler could be brothers.
The likeness is extraordinary. However, one's a star comedian and the other is a dazzling footballer.
Sandler has appeared in some sports-related films, notably The Waterboy, but none that suggest he has anything like Cazorla's exquisite sporting talent.
Tomas Rosicky Is Jared Leto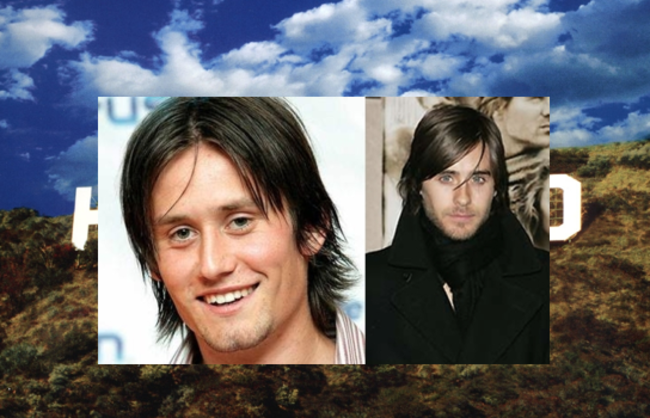 Image via Golazovideos.com
Tomas Rosicky and Jared Leto share floppy hair, stubble and a slight frame—but that's not all.
Like Leto, Rosicky is also a lover of music. The Czech midfielder's love of heavy metal is the bane of the Arsenal dressing room.
Aside from acting, Leto is the lead singer and guitarist for the band Thirty Seconds to Mars. Rosicky is not content with one vocation, either: as well as starring in central midfield, he's also equally happy to play on either wing.
It seems that Leto the artist and Rosicky the sportsman are both very versatile.
Arsene Wenger Is Rowan Atkinson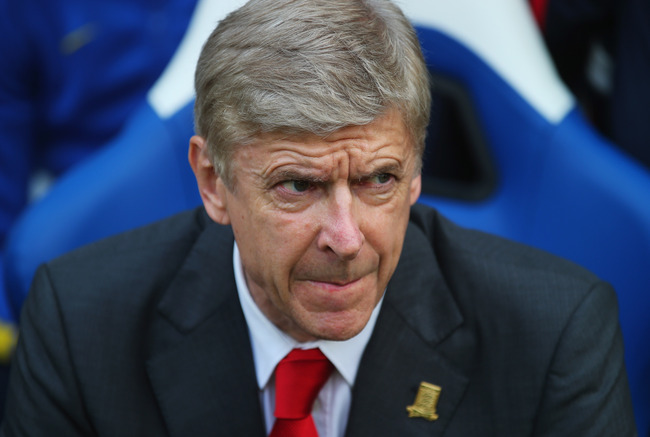 Like British actor and star of the Johnny English series Rowan Atkinson, Arsene Wenger has angular features, gangly limbs and a neat side-parting.
However, he also shares Atkinson's gift for physical comedy, as his recent struggles with a zip demonstrate.
Jack Wilshere Is Macaulay Culkin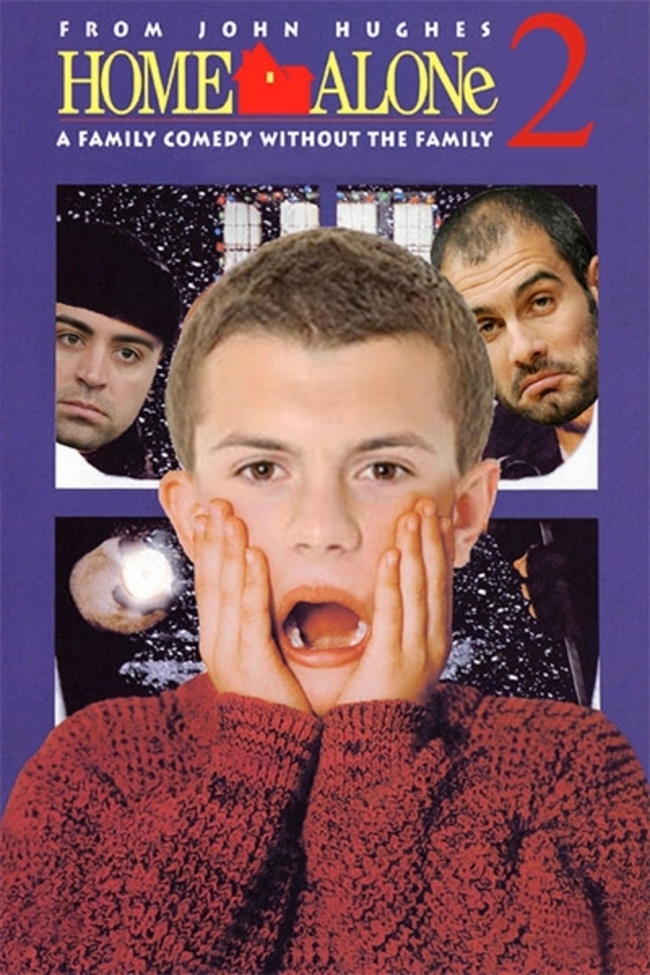 Image via Guardian.co.uk
In his day, Macaulay Culkin was the bright young thing of Hollywood.
Jack Wilshere is much the same at Arsenal. He is seen as both a current and future star. Inevitably, that brings with it certain pressures and a huge amount of expectation.
Arsenal fans will hope Wilshere is strong enough to handle those demands. In recent years, Culkin has faded into the background, unable to escape the shackles of his juvenile stardom.
Wishere will need guts and hard work to ensure greater longevity.
Nicklas Bendtner Is Robert Downey Jr.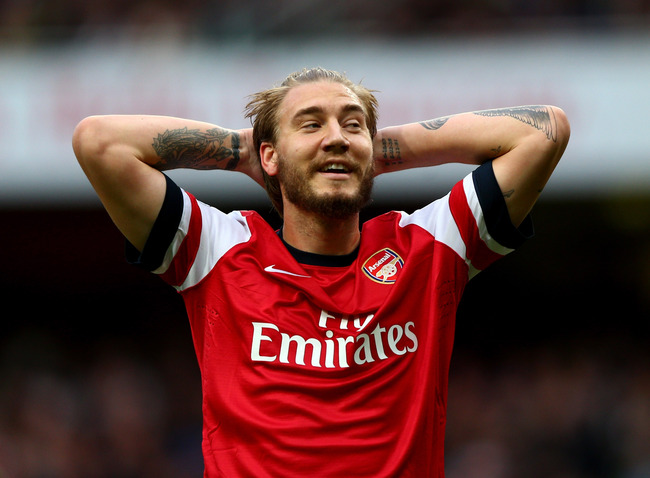 Nicklas Bendtner and Robert Downey Jr. are both comeback kings.
Downey Jr.'s Hollywood comeback is the stuff of legend. It's a story so extraordinary that it could make a move in its own right. After five years of substance abuse and occasional trouble with the law, Downey Jr. cleaned up his act and resurrected his career to tremendous effect. He is now one of Hollywood's most celebrated stars.
Bendtner's crimes have been less severe, and his subsequent rise less dramatic. However, he has been handed a fresh start at Arsenal and an opportunity to rebuild his reputation.
Arsenal fans will hope he can follow Downey Jr.'s example and seize this second chance.
Aaron Ramsey Is Theo James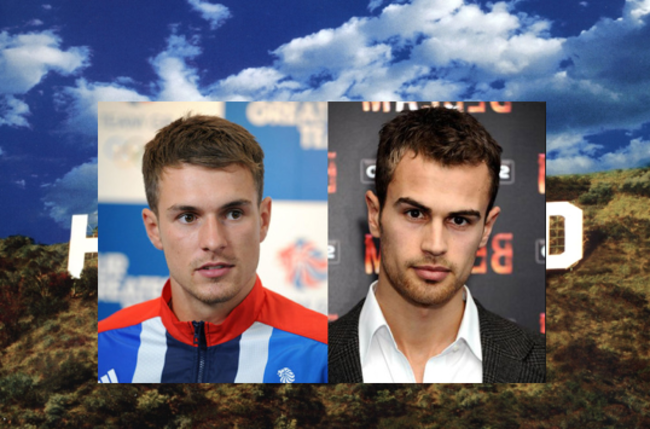 Image via footballerswholooklikeactors.tumblr.com
Theo James is six years older than Aaron Ramsey. If they were the same age, it might not be impossible to tell them apart.
Theo James is a classic Hollywood heartthrob, while Ramsey's recent performances for Arsenal have certainly made Gunners fans' hearts beat a little faster than usual.
What other Hollywood stars do Arsenal players resemble? Is there a Hollywood actor that matches Olivier Giroud's chiselled looks, Bacary Sagna's consistency or Wojciech Szczesny's athleticism? Let us know below.
Keep Reading

Arsenal: Like this team?